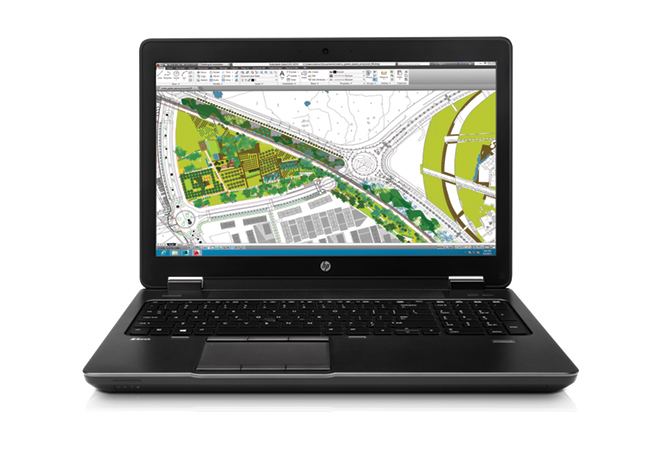 REVIEW: HP ZBook 17inch
Posted on Feb 7, 2014 by Alex Fice
The 17" is a bit of a beast at 3.5kg but it's man enough for the job with a possible three SSD drive bay and a NVIDIA Quadro KM5100 GPU inside. Good enough for real time 4K debayering!
HP have unveiled their new workstations and laptops all with the 'Z' brand intact. The company has included the entertainment industry in their list of high priority markets. ADAM GARSTONE introduces his lap to the large and streamlined new 17in ZBook.
They call it the post-PC era. In Western Europe, sales of PCs dropped 12.8% last quarter – in the UK sales dropped even more – with global shipments falling for the fifth quarter in a row, around 11% down on last year's quarter. Margins are squeezed, PC manufacturers are losing money, and I'm to blame – well, me and others like me – I'm writing this on an iPad.
Hewlett-Packard – HP – have suffered along with the other PC manufacturers, but hope to reverse the trend by concentrating on a section of the market that still needs more processing power, more graphics performance and more I/O than a tablet can ever hope to provide. They have a range of products specifically targeted at post-production, graphics creation, computer aided design and scientific and engineering analysis. They've recently added a couple of laptops to this range – a 15" and a 17".
The 17" is a lump at 3.5kg, but it wears its weight well, disguising the behemothicity (yes – I made that word up) with some nicely moulded plastics and a panel of anodised, brushed aluminium. Beautiful it isn't, but at least you won't find a bunch of proto-sentient monkeys hanging around it if you leave it propped against a rock.
It has to be a lump, because HP have crammed a lot of stuff into it. The review model had a Core i7-4900MQ (4 cores) running at 2.8GHz (but you can get a 3GHz version) with 16GB of 1600MHz SRAM (expandable up to 32GB) and a 128GB SSD. This makes it a reasonably fast laptop, but HP have coupled this to an NVIDIA Quadro K5100M graphics card.
All this gave the HP ZBook 17 a very respectable NovaBench score of 1715.
HP haven't skimped on features either. There is a DVD (BluRay R/RE optional) drive, a fingerprint reader, ExpressCard/54 slot, a Smartcard reader, 2 x USB 3 (and a USB 3 charging port) and a USB 2, DisplayPort and, interestingly a Thunderbolt 2 port. WiFi is the latest 802.11ac. The keyboard is nicely backlit, great to type on, and includes a numeric pad – unusual for a laptop and most welcome.
For the truly weird amongst you, the three mouse buttons below the trackpad are duplicated above it. Presumably, someone asked for that…
In practice, the ZBook performed as well as the NovaBench score predicted. The DaVinci Resolve user interface seemed particularly snappy, disc I/O was good and grading playback especially good, given that it was coping with sharing the graphics card between the UI and the CUDA processing. Adobe Premiere Pro was equally impressive, and Avid ran well, though it's not as capable at wringing performance out of GPUs as the other two – or, to put it another way, it isn't as dependent on having an expensive GPU… The SSD makes a big difference in the performance of Windows, though only 128GB could be a limitation.
The range of new ZBooks from HP have been designed for industries like professional video with their Thunderbolt and USB3 connections and multiple drive bays with something called DreamColor.
I would have to level one criticism at the ZBook 17 however – the display is a rather measly 1920×1080 (though there is a 10 bit DreamColor version as an option – still 1920×1080). We've got used to rather higher resolutions nowadays and, more importantly, software developers kind of assume that you'll have more pixels than this, and design their user interfaces appropriately – Resolve, for instance, recommends 2560×1440, though it just about works on 1920×1080.
If you want a higher resolution, the ZBook 15 is available with a 3200×1800 display, but it seems a shame that HP couldn't get someone to make a 17" panel with a few more pixels.
Battery life is, also, mediocre by modern standards. The ZBook throttles down its performance when power is disconnected – the NovaBench score drops to 1212 – but I still only got a couple of hours of (hard) use. I suspect that most people will use the ZBook with external power anyway, with occasional battery use when they are just typing documents or surfing the web (whereupon HP claim up to 12 hour of battery life). There is little point in spending the money on such a high-performance machine and then only using it in throttled back mode. Besides, if you want to carry the ZBook 17 around with you on a day-to-day basis, you'll need some kind of surgical support.
There are a few specialist manufacturers with faster 17" laptops than the HP Zbook 17, but they are few and far between, and I would tend to go with the reliability, support and guarantees available from HP. For post-production – from editing or grading, to 3D animation – this would be my first choice for a Windows laptop.
Other Options
Choosing a computer these days is a matter of configuring what you want and HP work very much like that. Within their new zBooks the 14, 15 and 17 there are choices like DreamColor. DreamColor is available for the 15 and 17 only as the 14 is deemed to be too small and underpowered to take advantage of the tech.
The Dreamcolor option gives you a couple of things, firstly it's an IPS display which gives you better viewing angles and colour consistency from top to bottom. It is also colour managed and natively a wide gamut display. It has calibrated 1D LUTS inside what HP call the DreamColor engine which snap that down to the Red, Green, Blue, White and tone curve of any number of standard colour spaces, Rec709 for instance. 
If you were spec'ing one of the ZBooks for professional video use you would want the DreamColor screen to give you the consistency out in the field. With Thunderbolt 2 as part of the package (again not available with the 14 UltraBook), you're maybe looking at capture, transcode and grading all on this platform – that's the promise anyway. The ZBooks also have USB3 on-board, but Thunderbolt 2 is the best way to ingest.
Thunderbolt give you access to PCI Express card cages from companies like Sonnet so you could have an SDI I/O card for example at the end of your Thunderbolt cable. In fact at a recent HP event they were showing a Canon C500 4K camera ingesting straight in to a 17" ZBook as part of an NVIDIA real time debayering 'proof of concept' using CUDA on their GPU. There was an AJA converter box in there too, but it was real time.
The differences between the 15 and 17 are few but worth noting. The 17 has better NVIDIA graphics with 8GB on the card so more CUDA cores. So if you're using Premiere Pro or After Effects and you have lots of CUDA accelerated VFX you'll get further with the 17 inch before you have to duck a frame rate or something. Another difference is the 17 has three bays for drives where the 15 has two. The 15 can be configured with one SSD or one hard drive and an optional optical drive but you can get rid of the optical and put in another SSD or hard drive in. For the 17 there are two bays plus the optical bay which you can eliminate so you could have three SSDs and stripe them together making sure storage isn't your bottle neck.
The ZBook 14 is an UltraBook meaning that it comes in under a certain weight threshold for a certain level of capability. The graphics inside are from AMD not NVIDIA. Things you will lose going down to the 14" are the multiple drive bays, you don't get Thunderbolt, as mentioned you don't get a DreamColor option. It does though come with a touch option, a by product of tablets, with glass that goes right to the corners.