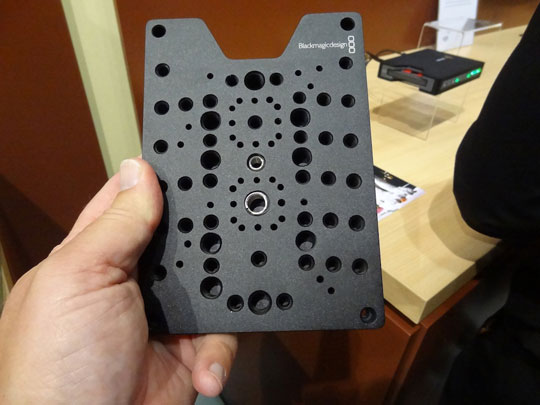 REVIEW – Blackmagic Design's HYPERDECK SHUTTLE
Posted on Sep 20, 2011 by Alex Fice
Blackmagic Design's Hyperdeck ShuttleADAM GARSTONE forsees a potentially lucrative market for this 'idiot proof' SSD recorder
Draw any conclusions you like, but I like simple things – wooden toys… iPod classics… Richard Hammond. And I like Blackmagic Design's new HyperDeck Shuttle for its simplicity too.
That simplicity starts with the design. Hewn from a single chunk of aluminium, you simply plug an SSD drive in the front, HD-SDI or HDMI in one side, and the other side has transport controls that would be familiar to any kid who recorded the radio onto Compact Cassette in the '70s.
You need to be careful to choose a fast SSD drive, because the HyperDeck records uncompressed 10-bit, 4:2:2 video, from SD up to 1080p30, directly to a Quicktime file. A 128GB Kingston SSDNow V+100 will cost you about £170 and is good for about 13 minutes of 1080p30. There isn't a cover on the SSD slot, so I would be a little nervous about dust, rain, cat fur etc.
The unit can be powered from 12v or it has an on-board Li-ion battery – the charge state is indicated by four LEDs on the transport control panel. They are a little too bright, which results in some of the light from the lower charge state LEDs leaking through to the higher indicators making it a bit hard to tell when the battery is about to go flat. A minor gripe…
So – when you want to record your video you press the Record button. When you want to stop recording you press the Stop button. Handily, the buttons light up to tell you that you've pressed them. To play something you have recorded, press the Play button and you can jump to the next recoding with the Next button, and the previous one with the Previous button. I suspect even Richard Hammond could use it.
Pull out the SSD drive and plug it into an eSATA dock (I used the peculiarly named, but excellent, Sharkoon Quickport Duo – under £45) to offload the Quicktimes and start editing straight away.
Blackmagic Design showed this new 'cheese plate' at the IBC for the ShuttleThe HyperDeck Shuttle has a USB port as well, though this is just for control and firmware upgrades, you can't access the disc data through it. An impending upgrade will bring recording of timecode embedded in the HDMI and SDI data – it would be handy if some enterprising third party manufacturer made a box that jammed to external timecode and inserted it into an HDMI stream, although many of the newer pro-sumer camcorders with HDMI outputs already include timecode in the data. Whilst we're talking about third party developers, someone needs to come up with a way of mounting the thing on a camera that doesn't rely on bungees, gaffer tape or velcro.
It's worth pointing out that the Shuttle also records 16 channels of audio from the SDI stream, and 8 from HDMI. It's a big shame that the Canon 5D doesn't output a decent HDMI signal, as that would be a massive customer base for this product, but if I were shooting anything with a Sony F3 I would want to record on the Shuttle to do justice to the F3's fantastic S35 sensor and cine lenses. Plus, at just £195 (excluding VAT) it fits pretty much anyone's shooting budget.