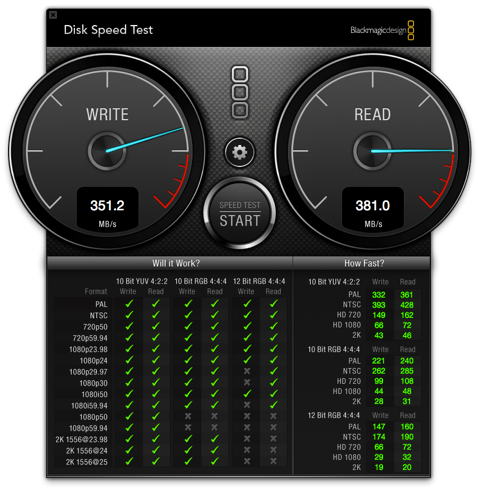 LaCie Rugged Portable SSD Drives
Posted on Jun 30, 2014 by Julian Mitchell
The new LaCie SSD drives are quick but expensive.
Data. Lots of it. Really huge amounts. That's what we all deal with every day. And, sooner or later, you have to move chunks of it from one place to another.
LaCie's orange clad, Neil Poulton designed portable hard discs have been around for a number of years now. They've always been a reasonably rugged – protected as they were by that bold, rubberised plastic buffer – but they relied on spinning ceramic discs and delicate magnetic heads which can never be as tough as solid state storage. The newer SSD versions of the same design are are a better bet for true, 'chuck it in your bag and forget about it' strength, plus they bring a welcome data transfer speed jump.
The latest update to the drive increases the available SSD size to 500GB and includes both Thunderbolt and USB 3, along with some tweaks to the design. There are 1TB and 2TB spinning disc versions available with the same interfaces. The Thunderbolt cable is now integrated into the unit and isn't removable – the orange cable presses neatly into a groove around the edge of the disc and then the connector sits underneath a rubber panel at one end of the unit. LaCie recognise that you are likely to lose the rubber cover over this panel, so they give you a spare.
The SSD drives are around three times faster than the disk versions.
The panel also houses the USB 3 connector, for which a short, detachable cable is provided. The rubber around the connector is a bit thick, so the cable doesn't seem to quite engage completely – it didn't ever fall out in use though. With just a single Thunderbolt interface there is no possibility of daisy-chaining devices, though a portable drive like this is rarely left connected – you plug it in, transfer the data and then send it back to set – so I doubt this is a practical limitation.
The drive is powered over Thunderbolt or USB, and hits 350MB/s write speeds and 380MB/s read speeds over both interfaces – three times faster than the spinning disc versions. As someone who seems to lose a good portion of my life watching data copy, that speed increase is very welcome.
And, at £400 for the 500GB SSD version, they are expensive but not stupidly so – though that's a lot more than the spinning disc version, so if you don't need the data transfer rate and/or solid state drop-ability, stick with the older technology.
ADAM GARSTONE