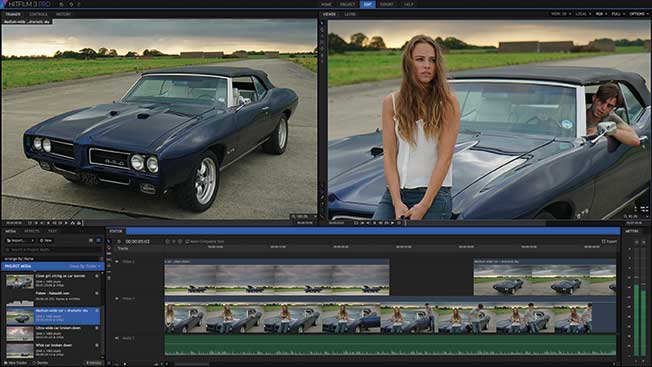 HitFilm Pro 3 Mini Review
Posted on Mar 3, 2015 by Julian Mitchell
HitFilm Pro 3's Editor, unfortunately not that usable.
Perhaps an off-the-wall alternative to Smoke, Nuke and Fusion is HitFilm (www.hitfilm.com). Now in its third release, Hitfilm is a surprisingly capable 3D compositing and VFX solution – with the added benefit of editing facilities. That's where things start to unravel.
Hitfilm's effects paradigm is layer based – like After Effects – rather than node based like the other three. There is a full 3D model import and rendering engine, 3D lights and cameras, lens flare, a very capable, physics-based 3D particle simulator (with collision deflectors, gravity and even the ability to modify parameters based on music tracks). There are 3D muzzle flash simulations, procedural fire, layer shattering and atomic particles from 3D models, colour correction, and 2D and 3D tracking with Mocha built in. Version 3 now has camera projection, OpenEXR and OpenFX support, and HitFilm's effects are now installed as plug-ins for your NLE – if you use Adobe (AE and PP), FCP X (and Motion) or Sony Vegas.
All this is wrapped up in a surprisingly intuitive user interface. HitFilm is fast – using your graphics card for image processing wherever possible – and seems to be very stable.
Unfortunately, however, Hitfilm is let down by one, serious limitation. There is no way to import or export sequences from/to other software packages – there is no support for AAF, XML or even an old-fashioned EDL. The editing facilities aren't strong enough to cut even a short-form production, so not having this workflow integration limits the use of the timeline.
Having said that, if you ignore the editor, HitFilm is still a powerful, stand-alone compositing and VFX package – at a very attractive price of £229.