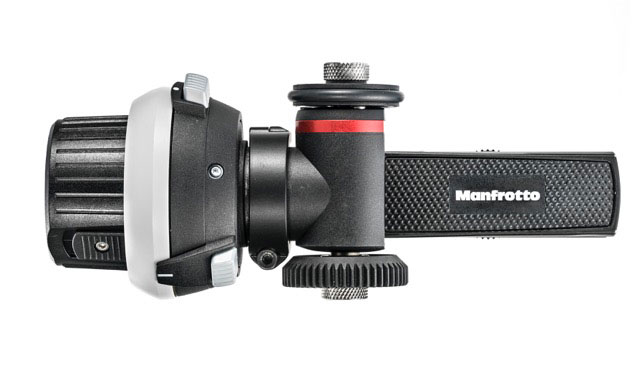 Zero Backlash Follow Focus From Manfrotto
Posted on May 11, 2015 by Alex Fice
The new follow focus from Manfrotto.
Manfrotto has launched a new Follow Focus that combines a zero backlash mechanism for a precise focus together with hard stops that make it easier and more accurate to select a focus range between two points.
A zero backlash mechanism means that the operator can pull a very precise focus with both an HDSLR and a camera with interchangeable lenses. This advanced mechanism potentially eliminates vibrations and uncertain results caused by manual direct focus.
You can also select a focus range between two points, thanks to its hard stops. You can change not only the gearbox direction but also the Follow Focus' position when it's mounted on the rods: this way the Follow Focus can be used with different lenses.
Accommodating various lens diameters is also possible thanks the upper slide bridge that can be moved and adjusted to the left or to the right.
Manfrotto's Follow Focus' mount is compatible with 15mm/0.59" rods, it weighs 0.45kg (1 lbs) and it is supplied with one 50 tooth/0.8 module drive wheel, one ø35 mm friction wheel, one gear ring to be fitted around the lens, two marking disks that enables the operator to mark focal reference points and one 3mm Allen Key.
The Follow Focus is now available for £519.95.
Manfrotto's new follow focus.