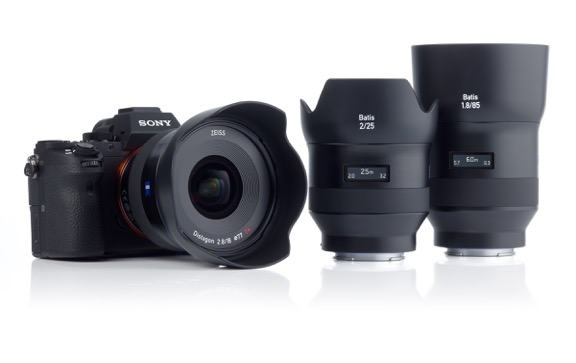 Zeiss Launch Super Wide Batis Lens For Sony Cams
Posted on Apr 14, 2016 by Alex Fice
ZEISS has announced the super wide Batis 2.8/18 lens for initially the Sony E-mount. A 99˚ field of view will give cinematographers some interesting aspects for their A7s and other Sony cameras, especially in small places and large vistas. The lens also has an OLED display to show focus distance and depth of field depending on the camera sensor used.
The 2.8/18 follows on from the first two focal lengths of the Batis range, the 2/25 and the 1.8/85. Zeiss Dr. Michael Pollman is sure that the 18mm fits in to the range nicely, "In spite of the extremely wide angle, we have succeeded in adapting the image quality of the ZEISS Batis 2.8/18 perfectly to the two different lens types".
The super wide-angle camera lens has 11 lens elements in ten groups and draws on the ZEISS Distagon optical design. Four of the lens elements are aspheric on both sides and seven are made from special types of glass. The Floating Elements design permits constantly high image performance in the focal plane – from the minimum object distance to infinity.
All ZEISS Batis lenses support all the operating modes and functions of the current range of E-mount cameras so you get a smooth auto focus and a grippy, rubberised focus ring.
The lens will be available from May 2016 priced at £990.84 (excl VAT) .