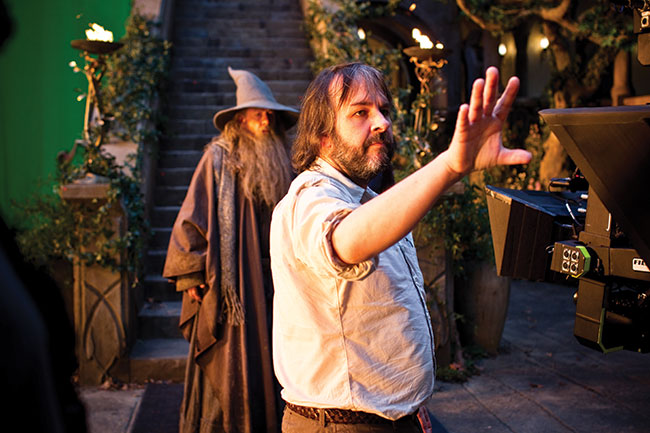 Winning The Frame Game
Posted on Feb 19, 2013 by Alex Fice
Director Peter Jackson with a couple of Epics and a wizard
The Hobbit Editor Jabez Olssen had the unenviable task of sorting through the 50,000 clips that were shot for the new trilogy.  Add to that the demand for 48fps stereo and you've got an unexpected journey all of your own.
It was promoted as the biggest test for digital cinematography since George Lucas vowed never to use film again. The Hobbit, An Unexpected Journey, was not only one of the first films to use RED Digital Cinema's EPIC cameras in 3D but also to shoot double speed at 48 fps. But how practical was that for the crew and how did all the data get organised in to something that was editable for so many different releases?
Editor Jabez Olssen is New Zealand born and one of the crew who has worked throughout the Lord Of The Rings trilogy in this new prequel trilogy, he worked as an assistant editor on Fellowship Of The Ring and The Two Towers, somehow missing out on The Return Of The King. But his career is marked by other Peter Jackson films including editor of The Lovely Bones and additional editor on King Kong. He is also editor of the next two Hobbit films.
So Jabez is used to the way Jackson works but was he ready for this job with its 266 shooting days of the main unit, 195 days of a second unit and 11 days of pick ups?
Jabez explains the basics of the shooting, "48fps was shot on set, for each eye as it was a 3D shoot. So we were effectively generating 96fps of data. After all the shooting days we had over 50,000 clips, 25,000 per eye. (But each clip might contain several 'normal' takes, as often the cameras were not cut between takes. 2,200 hours of footage shot, 1,100 x 2 eyes (24 million feet of film equivalent)! The largest shoot day was 11 hours of footage per eye. These figures are for all three movies combined."
The offline edit was all done on Avid Media Composers. By the end of post on the first movie they had 13 systems, 12 PC and one Mac. Nine of these had Avid Nitris DX hardware inside. But how was the workflow organised for such a large amount of data?
"For the offline edit we worked in 2D at 24fps with Avid DNxHD36 media. The Avid media is stored on an Avid ISIS 7000 with 116TB of mirrored storage giving 58TB of active space, this contains all the footage so far captured for the three Movies. All clips were logged and injected with notes and metadata by assistant editors and filed within the Avid Projects structure, once 'By Day' and once 'By Scene'.
"Scene Rolls, Sequences per scene with footage as it was shot were delivered to the cutting room for guidance on splitting and selecting then roundtrip-ed through assistant editors until it is organised as required. All clips are also logged with all their metadata inside a Codebook Database for any non Avid metadata requirements.
"An off site live Media backup was kept up to date on an Apace vStor system that could be immediately switched over to in the case of failure. Project backups were done daily with internally created backup software.
Actress Cate Blanchett and Director Peter Jackson
"In terms of the 'camera neg', the 5K Red 'r3d' files from set. After being checked by a team working on set, they were duplicated and sent over fibre to Park Road Post who backed it all up to LTO tapes. They then did a 'One light' telecine type grade pass on their SGO Mistika systems, screened rushes daily and converted all the 48fps 3D material into the 24fps offline Avid media (DNxHD36) for us in the Picture Editorial Dept. Converting 48fps to 24fps was done simply by discarding every other frame, a process called 'disentangling' (which is also what it is called when you extract a 2D video file from a 3D one where the image for both eyes is recorded one after the other in the same stream. Because it is effectively the same thing)."
How did they use Media Composer on location?
"The shoot itself was over a year long, and for the majority of that time we were filming at Stone Street Studios in Wellington. But for a three month block we were traveling around remote locations in New Zealand.
"The Editing Rooms are based adjacent to Stone Street Studios, and whilst we were shooting there we had a fibre network connecting our Unity ISIS storage system to the stages. As Editor I was based on set for the entire shoot. I had a portable Avid system (based on a HP workstation mounted into a roadcase on wheels) that would be setup beside Peter's directors chair each day. By plugging in the cable I would have full instant access to all our media, just as if I was sitting in the main cutting room back in the offices. This way Peter and I could work together when he had down time between setups.
"If we needed a more secluded environment to work, we also had a mobile editing room set up in the back of a large camper van type vehicle, that was driven close to which ever stage we were shooting in. Inside it was a full Avid system, and large Plasma monitor and couch for Peter. We called it the 'EMC' for Editorial Mobile Command.
"Also if we were not shooting during the weekends, we would edit on a Saturday, and in this situation we would go back to the editing department offices and cut in the main Cutting Room.
"When we left the Sound Stages and went off on location we took a Mac laptop based Avid system with us, with an array of hard drives that held a selection of footage on them. This was a much smaller more nimble setup, that meant I could setup on a small table, beside where Peter was directing, even if he was half way up a mountain or something. Hard drives with each days rushes were sent back and forth from Wellington each day from where ever we were. Also the EMC mobile cutting room was driven around the country on location too, and parked at the Production base camp for each location. Peter and I could use this if we got time (or rained out). Otherwise the Assistant Editor who came on location could use it for preparing footage."
By our reckoning there were six versions of the movie, a 48fps stereo, 24fps stereo, 24fps 2D and all at both 2K and 4K. How did they conform the various versions for the DI?
"We did not do the DI at 4K at all. This was primarily due to cost and time for the VFX shots if they had been done at 4K (it is four times the data of 2K).
The DI was conformed at Park Road Post using an array of SGO Mistikas, it was all 2K and was primarily done at 48fps 3D with the other versions, 24fps 3D and 24fps 2D derived from that.
"Beyond the three main deliverable formats we also delivered the 3D versions at different brightness grades."
How was the 24fps version prepared from the 48 fps master?
"Many frame blending tests were done with different systems, but we tended to like the results we got from simply discarding every other frame."
Does Peter Jackson work very hands on, or are you left for long periods to cut sequences, with tweaks and final approval from Jackson only occurring occasionally?
"Peter is very hands on with the editing process. During the shoot, as I was on set, most of the work that Peter would do with me was reviewing footage and selecting takes. I would then do an edit of the scene on my own whilst he was directing the shoot. Later during post (or during a Saturday cutting session during the shooting period) we would edit the scene together from scratch, and at the end have another look at the original assemble I had done. Occasionally we might blend them in some way."
Tell us about the process of working with so much CGI and motion capture material.
"We had a great previz team who would generate shots for us when we were missing something for the cut that would eventually be CGI.
"Editing a live action film that has a lot of CGI can be a very multi layered process. You are not only editing horizontally between shots, but vertically within the one shot. Stacking layers of background plates and performance captured elements and various things, trying to make each shot work as a cohesive whole.
"The performance captured material would be roughly rendered for us and we would treat it like live action footage, selecting the best performances and cutting them in, although we did have the advantage that if we needed a new angle or camera on it we could just order it up.
"It was a long job and a big job. Which can be both a great thing and a hard thing all at once. The share size of the production; three films, all the CG material, the large cast and the large amount of footage all adds to the challenges both technically and creatively. Meeting the challenges is always a highpoint.
"As always the people are one of the great things about this job. Peter, the cast and crew and my team back at Editorial, all make it interesting and doable.
"Personally I enjoyed being on set and seeing the movie shot. Which is quite a rare opportunity for an Editor, we are often locked away in a dark room. But actually being there and seeing how Peter was directing a scene was enormously useful to me when it came time to do my initial edit. Also being able to go on location and see some of the most beautiful parts of this country was a great thrill."
Jabez Olssen is currently in post production for The Hobbit: The Desolation of Smaug which is due out later this year.