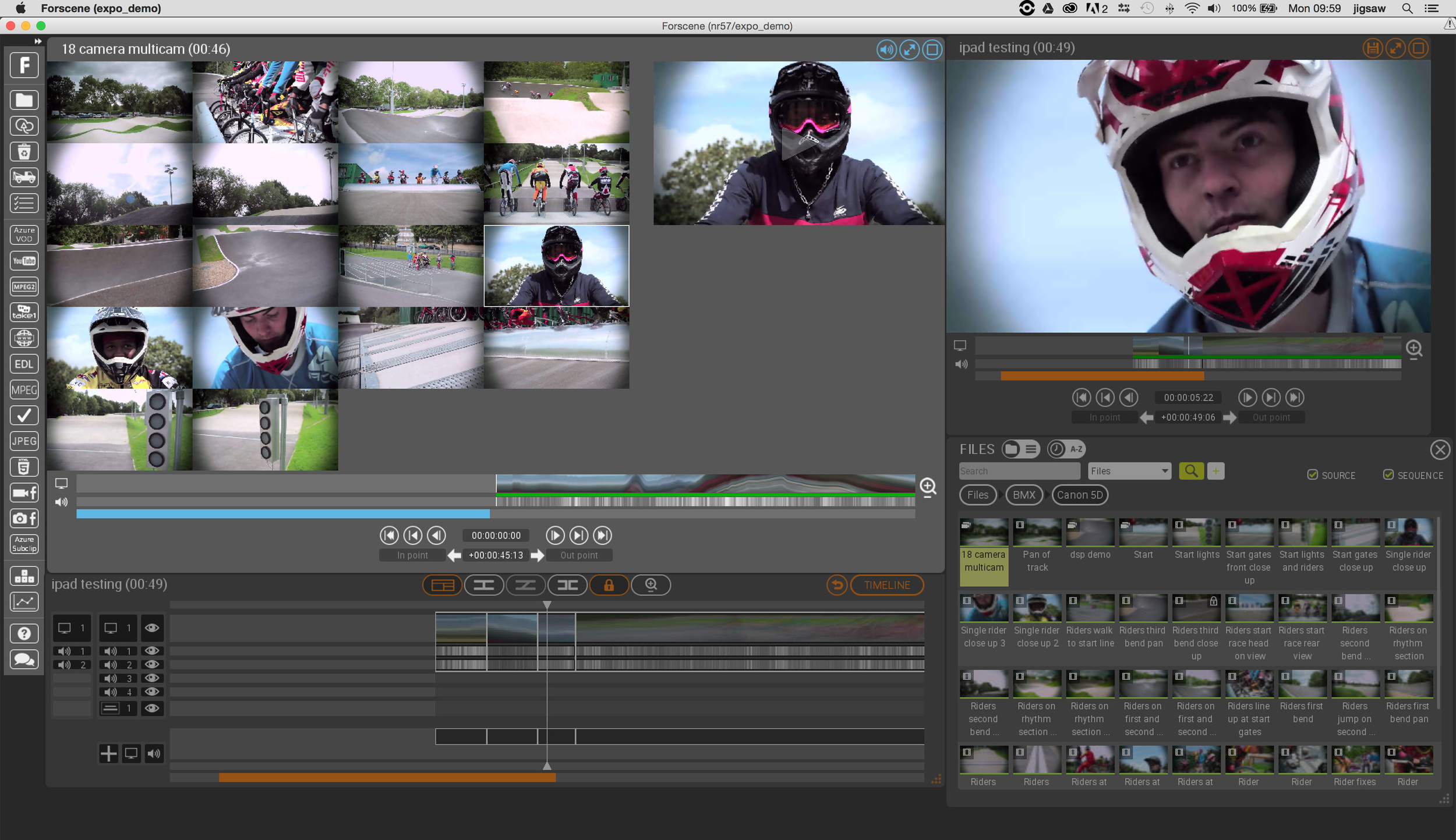 Virtual Editing Gets A Step Closer
Posted on Jul 30, 2015 by Alex Fice
New Multicam features for Forscene include logging up to 18 cameras simultaneously.
The virtual editing system of Forscene continues to tease editors with its promise of hardware-free editing using cloud-computing and a standard Internet connection. New features include a virtual sports workflow with Multicam editing and expanded Social Networking.
Forbidden Technologies claim that their Forscene virtualised digital-rights workflow is the first completely hardware-independent solution for the post-production and distribution of web-based content. Visitors to the forthcoming IBC2015 can see the workflow in action with Forscene's ingest server running as a virtual machine on the Microsoft Azure platform to transcode and ingest live video streams into Forscene accounts. Remote editors then use Forscene to create video packages and publish them directly to social media platforms and back to the Microsoft Azure cloud for distribution.
Another new feature is dual-system audio, which allows Forscene to marry original video and audio source files that were recorded separately. This feature means that Forscene can now be used as a primary editing tool, with native rushes ingested directly into Forscene without the need for transcode or upload from other systems.
Forscene also has the ability to publish completed edits directly to social media platforms and content distribution networks. Improvements to this feature are 1080p YouTube publishing, handling of HLS streams, and integration with Twitter.
The Multicam capabilities now include being able to log up to 18 cameras simultaneously and users can now perform live cuts on multicam sequences. Designed to mimic the live switching of a mixing desk, the new multicam edit functionality allows editors to play a multicam sequence and select cameras on the fly during playback.
Forscene will be on display at IBC2015 on stand 8.B38e. Visitors who book a demo will also get the opportunity to experience Forscene's virtual workflow firsthand by taking part in a racing simulator challenge. Immediately afterward, they will be able to edit their race footage on a tablet using the Forscene app and share the video on social media — all without using any Forscene hardware.