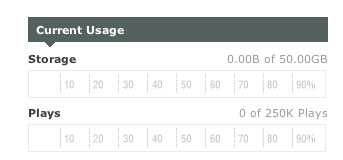 VIMEO Target Businesses With Pro Product
Posted on Aug 5, 2011 by Alex Fice
The new VIMEO Pro gives you 50GB to play withJULIAN MITCHELL re-visits the caring sharing video web site that is VIMEO as it makes its move on the professional side of the business
It was never going to be long before video sharing site VIMEO looked to involve another market segment in their creative sharing philosophy. VIMEO had set itself up as an antidote to YouTube, even if it had been its predecessor, with its insistence on creatives sharing their video productions all designed in playschool colours and encouraging positive comments (negatives comments are usually binned and their writers sometimes banned).
You can open a basic VIMEO account for free and start uploading video immediately. But like a queue on a Ryanair flight you can also upgrade your account to a 'Plus' to jump the encoding line and increase your storage options. But there was nothing for the small businesses who were possibly looking to show off their portfolio in a customised and private environment. Enter VIMEO Pro, a new service importantly not hosted at VIMEO but it's own site, (vimeopro.com) and a service looking to create an environment that could be embedded on your own site. It is also a service not bound by the 'no negative comments' community rules at the main site.
On the face of it VIMEO Pro is a toolkit with preset templates to get you going for portfolios, rushes, white label movies, you name it. You also get a customisable player where you can put your logo and you get all the analytics that you might need (although the analytics are the same as VIMEO Plus).
VIMEO by launching this service will start competing with some larger and more heavyweight video services like Brightcove, ($99 a month for 50 videos), or Ooyala, ($500 a month) and Longtail (about $100 as a one-off figure). VIMEO Pro is $199 a year (£130 approximately) and you get a whopping 50GB storage and 250,000 plays. The encoding is the same quality and waiting time as a Plus account but you can only upload 5GB at a time, again the same as a Plus account. Services like Brightcove and Ooyala use the Akamai edge servers infrastructure as do VIMEO so on the face of it VIMEO Pro is undercutting these other services massively, especially the first two.
Deborah Szajngarten, VIMEO's marketing director commented, "VIMEO Pro exists outside of the VIMEO community where commercial content has never been allowed. We've had demands from users for 'pro' and business levels services for a long time. You wouldn't use VIMEO Pro as your social media strategy but more for your video hosting platform, none of the 250,000 plays in the package are counted through vimeo.com even though they might appear there."
The big features include 'video review' which is a stripped down player and comment page which isn't indexed or listed anywhere.  This could be clients from a wedding video service or VFX clips for a movie. Portfolios are also going to be a big draw with their themes and templates. "These pages are very customisable and have some templates dedicated to certain services like for advertising studios. You can create as many portfolios as you want."
The Brightcoves of this world are really geared up for large media companies who want very reliable enterprise solutions. VIMEO is yet again democratising video hosting by being cheaper than those enterprise hosters but perhaps offering customisable solutions for individual businesses who aren't obsessed by security, although VIMEO Pro will have secure access. It's the Apple way of business essentially.
50GB of storage which you can upload as soon as you like and 250,000 plays to start your businessBut what if you already have a VIMEO Plus account but you also want to use Pro. You also want to keep some videos that you want to keep public and in the community? You then use something called the 'Community Pass', and if those videos go viral it won't count against your 250,000 plays in your Pro account. Also there will be deals to cash in your Plus account to upgrade to Pro.
Perhaps the main pull of Pro is the storage on offer, if you have a Plus account you can use 5Gb of storage a week on a 'use or lose it' basis. With Pro you can load all your 50GB as soon as you like but in the 5GB chunks as mentioned before.
So will it be a success? At the price it should persuade those Plus users who are running a business to professionalise their video handling and also interest some production companies who have kept away from VIMEO because of its open door policy to whoever has a video to show. It's exclusivity with custom templates and players will add to the cool quota.
You also might think the basic uploading side should be on a higher level to the Plus account but that service is pretty good at the moment. We are reviewing the service at the moment and will post a further article in the next issue.