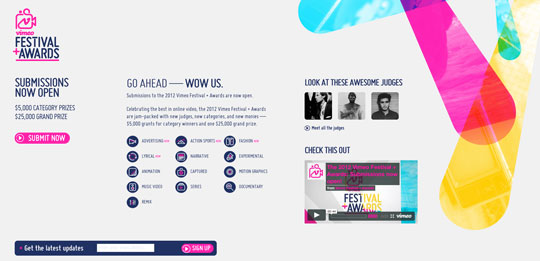 VIMEO Announce Second Year Of Awards With New Categories
Posted on Dec 15, 2011 by Alex Fice
The 2012 Vimeo Awards will carry four new categories including advertising and fashionVimeo opened submissions this week for their second Vimeo Festival + Awards. Prizes include grants of $5,000 to all of the category winners as well as $25,000 for the Grand Prize winner.
From now through to February 20 next year, filmmakers can submit their work for consideration in one of 13 different judged categories. This year Vimeo are spreading their net to include four new categories:
Fashion: 
Action Sports:
Advertising:
Lyrical: 
A full list of the video categories can be found at www.vimeo.com/awards.
Celebrity Judges for the new categories are Dave Drodga the Creative Chairman of Drodga5 for Advertising; British Fashion Photographer Nick Knight will be judging the new Fashion category; blogger Phillip Bloom for the Lyrical category and Skateboarder / Entrepreneur Stacy Peralta for the Action Sports Category (shouldn't they just call this the GoPro category). 
An independent jury will judge entries, which includes all of the category winners from 2010 as well as two industry figures per category.
Vimeo will accept submissions from December 13, 2011 through February 20, 2012 for a $20 (U.S.) fee per video ($5 for Vimeo Plus and PRO members) at www.vimeo.com/awards. Entrants can submit any original work that premiered anywhere online between July 31, 2010 and February 20, 2012 or any original work that has never been premiered before.  All entries must comply with the Official Rules of the Vimeo Festival + Awards. For more information on the Vimeo Festival + Awards, please visit www.vimeo.com/awards.