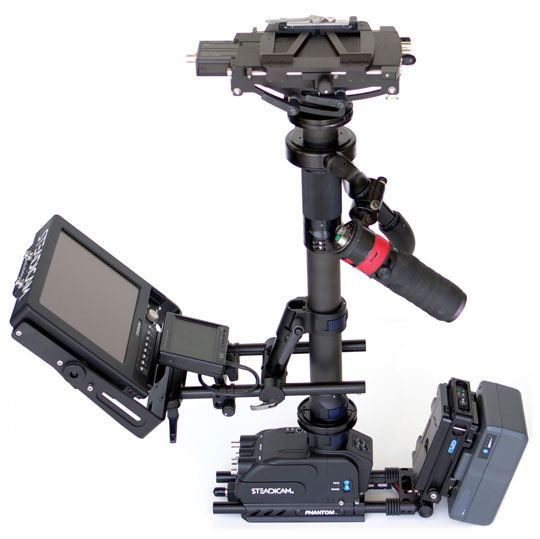 Tiffen Launch New Steadicam, Phantom-V
Posted on Dec 14, 2011 by Alex Fice
The new Steadicam Phantom-V, able to support loads up to 20kgJust in time for next year's Olympics Tiffen International has launched the Steadicam Phantom-V, a new member of the Steadicam range that is designed specifically for the HD broadcast television and 3D markets.
The first Steadicam Phantom on the market was a cut-down version of the top-of-the-range Steadicam Ultra2, but with two telescopic stages of the original four-stage post. The new Phantom-V is designed retains the Steadicam Phantom's tilting feature, has a short nose box to allow room to mount a 3D mirror rig. It also allows for a wide-angle lens with the camera set well back on the stage.
The Steadicam Phantom-V is wired for broadcast with three HD lines between the stage and the base. For 3D operation these can carry a stereo image and a return video. The rig is supplied complete with a video return monitor and includes the original Steadicam Phantom's high performance G70 arm and the same Ultra2 vest. The package also has an integral tally system.
The Steadicam Phantom-V is offered at the same price as the original Phantom with all the broadcast video extras included. A 7-inch 800-nit HD/SD monitor is supplied as standard. There is an option to upgrade to a Transvideo SuperBright Evolution 8-inch monitor. This has special software by Transvideo to communicate with the sled for the level display and frame lines functions. This means that the level senor is in the ideal position – under the post.