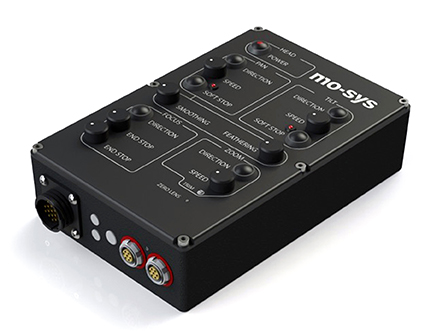 Upgrade your Jimmy Jib with a Mo-Sys B20 remote head
Posted on Apr 4, 2016 by Alex Fice
The Mo-Sys Head will be on their stand at NAB 2016.
Mo-Sys Engineering will showcase their B20 remote head integrated with a Jimmy Jib at NAB 2016. Jimmy Jibs are the industry standard for broadcast. Their versatility and economic price point made them the number one choice in TV studios and in sport broadcast all around the globe. Mo-Sys Engineering has created an interface for their high-precision B20 remote head specifically for broadcast.
The Mo-Sys B20 remote head is known for its very quick response with zero backlash and it could be an ideal companion for the Jimmy Jib in size, weight and versatility. It is quiet and can handle fast camera movements.
The Jimmy Jib control box is replaced with a control allowing you to alter speed, direction and ramping. Interfaces to the Jimmy Jib control inputs mean jib operators can use the familiar joystick and lens control. The new interface also opens up the possibility to use the B20 with other Mo-Sys inputs, like hand-wheels or pan-bars for more demanding shots.
Mo-Sys CEO, Michael Geissler said, "Where camera systems get really exciting is when you join up your technology. The Mo-Sys technology with a B20 Jimmy Jib provides also an economic solution for virtual set applications."
Mo-Sys robotic products are used in many Hollywood productions including prestigious movies like Life of Pi, Birdman, Spectre and Gravity.
The new control box still allows you to use your familiar joystick and lens control.