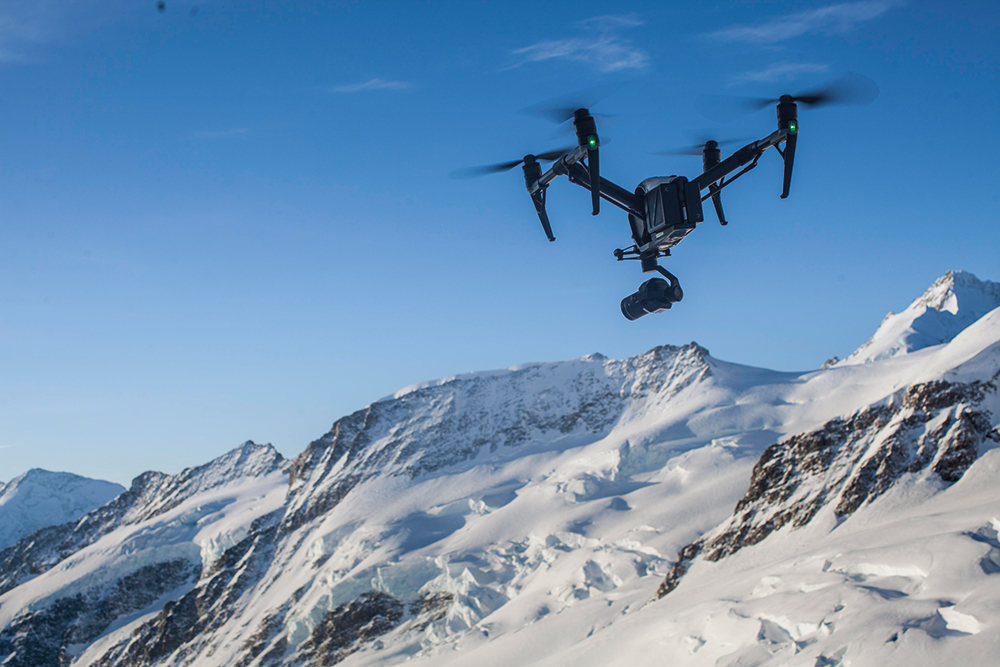 Up In The Air
Posted on Jul 25, 2019
How the Samsung Portable SSD X5 enabled professional drone pilot and drone camera operator, Lec Park, to transfer rushes as quickly as possible for an important job in Vietnam
---
Advertisement feature
In the professional video world, time is money. But let's break that down. Many people use Samsung's range of portable SSD drives, and there has always been a time advantage with these great drives. But maybe Lec Park's experience is more extreme than most.
Park is a pro drone pilot and camera operator who has just finished filming a TV series where footage was so highly valued, drones were sacrificed just to get the footage back safely. The series was based in Vietnam and featured almost continual airborne filming from many different types of boats – from canoes to larger rib boats.
Park explains: "The conditions in Vietnam are a great test for equipment. It's very hot, humid and sticky with huge storms around as well. If you blink, the weather changes. We've been on water the entire time we've been here. Flying the drone over water is always risky, and there was a need to have a drone available pretty much all the time. How we arranged it and what made the Samsung Portable SSD X5 so great was, when a craft landed, we had to get the footage off the cards as soon as possible. The portable drive was so quick at this."
Its Thunderbolt 3 interface is what makes the portable drive so fast. It works with Thunderbolt systems only, but is 25 times faster than a traditional hard drive.
"We were using the Samsung Portable SSD X5 as a shuttle device and transferring, say, 100GB of Raw recording in seconds. I've not seen anything so fast before," he adds.
Park was busy flying the drone, while DIT Joe Jamieson transferred the footage. "The portable drive was not as susceptible to heat and humidity as a spinning disc. It's an impressive piece of kit," Park says.
IMAGES When on location, Lec Park and his team relied on the speed of the Samsung Portable SSD X5 to back up footage in fast-paced situations
Airborne again
Moving boats and launching drones are not very compatible, so Park handheld takeoff and landing on the river. "We've been on every type of boat, but always travelling. It was mostly rough water and very risky. The kit isn't as important as the footage in this scenario. Sometimes, it was 50/50 whether we'd get the craft back," recalls Park.
"You're moving along the water at 60km/h and the situation is crazy; having such a fast way to get footage backed up in such a situation is priceless. Squalls would blow in so quickly. You'd see them coming, but they'd be on you quickly and you're still flying a drone! I just didn't want to have to ditch a drone, because we were getting such good material. I was thinking at one point of smashing the drone into the ground so we could save the footage," he admits. The Samsung Portable SSD X5 allowed Park to concentrate on swapping out batteries and cards to get the drone airborne again. This was a quick process, and by the time he had done it, the portable drive had transferred 100GB to the production laptop. "Ironically, because our backup was so quick, it was the older types of storage we had to wait for. It was great for us to have something so advanced, quick and ready faster than normal," Park enthuses.
Safe storage
Park also mentioned the Samsung Portable SSD X5 was great to use, because of its form factor and self-powering. "It could be put in a pocket or passed on to someone else without worrying about damaging it."
This is because the Samsung portable drive features a shock-resistant internal frame and rugged metal housing that can withstand drops of up to two metres. It's also compact, making it an ideal portable storage for content creators on the go.
"Even on the simplest jobs we would take advantage of the immense speed of this Samsung portable drive"
"We were hand-catching the drones 90% of the time and still travelling at maybe 35km/h. Once the craft was safe, it was a matter of getting it under cover, pulling the media out of the aircraft and passing that to Joe, who was the DIT in the boat," explains Park. "Joe was backing up the precious footage via the Samsung Portable SSD X5 as quickly as he could. I think he put the whole day on the 1TB portable drive. The fast drive allowed us to focus on slower cameras as ours was done so quickly," he says.
Away from the excitement of this type of job, Park is amazed at how fast this drive worked. "Even on the simplest jobs we would take advantage of the immense speed of this Samsung portable drive. At the end of shooting, editorial might want copies of different cards with certain footage on them. That might take around 45 minutes to transfer using slow, spinning disk drives.
"I would happily give a Samsung Portable SSD X5 to them or another department and let them copy the footage themselves. You're making your own life easier and they are getting a faster than normal transfer," Park points out.
For more information, please visit Samsung's website.