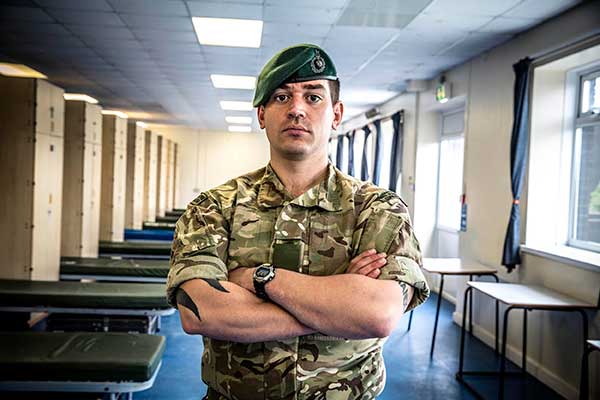 TwoFour's Marine's School – An IT Story
Posted on Aug 11, 2014 by Alex Fice
Channel 4's Marine's School has over 100 fixed camera rigs to catch the reality show.
Minicams and Twofour get up, close and personal with the Royal Marines.
"An intimate look at the intense journey from raw recruit to trained marine." That's the premise of Twofour's new Channel 4 series that follows the new cohort through their rigorous initiation into military life.
Twofour called in the assistance of Minicams, the fixed rig specialist, to help capture the goings on from the barracks to the mess.
"We had over 100 camera positions to rig – we understand that makes it one of the biggest rigs ever deployed for a UK TV series. To manage this number of cameras, we first needed to create a network that could give us total flexibility and transparency." Said Nick McLachlan, MD of Minicams.
The crew employed 50 Panasonic AW-HE60s PTZ cameras, which were controlled using standard network connectivity. With each camera having a unique IP address, Minicams could change and keep track of the location of each unit. Furthermore, users at both the head end and in MCR could verify at a glance that each camera was connected and active on the system.
"Ethernet connectivity helped make camera installation and frequent position changes a plug and play exercise." Continued McLachlan. "And the use of standard IT switching equipment rather than proprietary broadcast kit helped us keep the production's costs down – RS-422 equipment is simply not scalable or versatile enough for this kind of project. At the heart of the operation, we were also able to deploy a proprietary GUI interface that enabled reconfiguring the system for regular camera moves."
The entire rig for Marine's School was operated by six people.
The technicians were able to achieve another first on the project: the bi-directional nature of the fibre optic allowed camera control for all 100 PTZ positions to pass through a single cable. With a solitary fibre cable replacing multiple copper lines, the installation was simplified and potential points of failure were reduced. By using low cost network to fibre converters, costs were tightly controlled.
"Access to the filming space was sometimes technically difficult," remarks Minicams' Operations Manager Caroline Cass, "so fibre was a great time saver. The Twofour and Minicams teams had to work around the troops' movements and plan very carefully so having all control and reference signals continuously available at each camera position was essential."
The ability to re-locate camera equipment on the run was critical. The marines regularly move between the barracks and different training areas, so repositioning equipment on a regular basis to anticipate each sequence was a constant challenge. The technical team therefore had to work very closely with Twofour to support the editorial and ensure storyline consistency. The result is a programme that feels spontaneous, fluid and natural, yet was intricately planned and actively managed during the shoot. Indeed, the recruits themselves seem oblivious to the presence of the PTZ units, as the shower and barrack room humour scenes amply demonstrate.
One of the biggest challenges was managing three separate shooting locations. Separate nodes were set up to act as a local node for each area, with technicians able to move equipment freely between any of the pre-established positions. At the central MCR, Minicams' control software interfaced with the Panasonic RP50 hardware camera controller to activate and manage any PTZ device in each zone and instantly monitor the output on the multiviewer.
"In all, 20km of cables were rolled out in total, with 500m of optic cabling, so this was a major undertaking, especially when you consider that we shot during the country's wettest winter in history. However, with scrupulous pre-planning and clever engineering, we were able to have complete control over every camera and mic, wherever they were positioned and whenever they were moved." Notes McLachlan.
Because of the intuitive nature of the control surface, the entire rig could be operated by a surprisingly small team. This consisted of a vision engineer, technical manager, two hot head operators, sound engineer and audio / technical assistant, a remarkable achievement given the use of three locations, dozens of mobile cameras and multiple wireless microphones.
"The technical infrastructure and custom-made weatherproof housings withstood some of the worst weather we've had in years." Concludes McLachlan.
Twofour's Royal Marines Commando School is running on Monday at 9pm on Channel4.