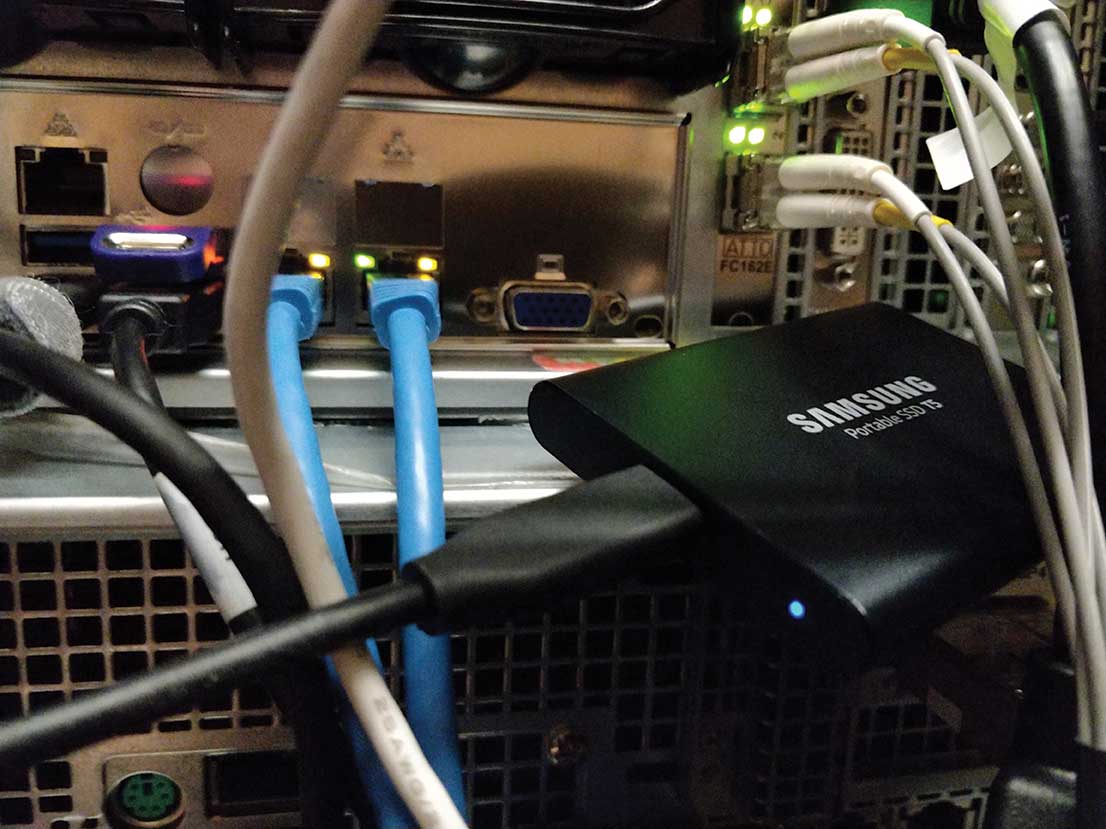 Trooping The Colour
Posted on Apr 19, 2018 by Julian Mitchell
The team at The Look very quickly found the Samsung Portable SSD T5 drive invaluable for their workflow.
The Samsung Portable SSD T5 drive may be small, but it's made a huge difference
to the workflow of this top London colour grading studio
The Look in London is one of the country's best colour grading studios, working on a mix of dramas, commercials and features. Its high-end media is produced by cutting-edge machines and high-resolution files are moved about with huge networks. But introduce an amazingly fast, small and secure Samsung Portable SSD T5 drive into the company's ecosystem and great things start to happen.
Chief Technology Officer and online editor Mark Maltby commented on the use of the Samsung Portable SSD T5 drive: "By the end of the test period this drive was the go-to drive for the team – it even replaced our 10GB network at times when we had to move content over the network and were getting unexplained low bit rates.
"It was also a lot smaller than most of the other current portable drives so it makes carrying it about simpler and more secure, as it will simply fit into a jacket pocket."
SPEEDING UP TURNAROUND
The Look specialises in picture post which is mainly colour grading and online edit work. They are also responsible for the delivery of all the files when those processes are finished. Grace Weston is a junior colourist at the post company and soon found work for the Samsung Portable SSD T5 drive to do. "What we have been using the portable drive a lot for has been fast turnaround on things like VFX shots. For instance, we had some VFX shots sent over at the very last minute via our FTP. Unfortunately, one of our machines had a really slow connection at the time, but luckily we were able to copy stuff on to the Samsung drive and then copy it off again really fast to save the session. That really saved the day as we weren't sure how we were going to manage it in the time we had. It was fantastic."
The Samsung Portable SSD T5 drive is small, light and portable.
Tight turnarounds are a fact of life in the picture post world and it turns out that in these situations these superfast Samsung Portable SSD T5 drives are perfect. Grace explains how the Samsung Portable SSD T5 drives work for The Look. "When we need files copied very fast and the client is waiting for a background plate or a VFX sequence, we can send this drive to them and they can send it back to us. We had a situation where the client needed to check colour spaces really quickly on their footage; we were able to send the drive almost immediately to them and the feedback was very positive and made us look very cool!"
Although The Look's FTP transfer is very fast, it doesn't mean that other people have a similarly fast connection; these are times when a physical drive like the Samsung Portable SSD T5 is perfect. "We're transferring 500GB files and so the 1TB T5 is perfect for that as it may take ages to download at the other end on a digital line. Also if many people are using the line for uploading or downloading, it may get slower as it tries to deal with all the traffic. I think receiving a portable drive like the Samsung SSD T5 impresses people because of its size, speed and capacity. Most of our smaller drives are physically bigger than this and not as fast. Aesthetically it looks great and it's self-powered. It's crazy that you can get so much space in such a compact drive.
"For us as a company, using this drive makes us look like we're ahead of the curve."
LOOKS MATTER
In the hugely competitive world of picture post Grace makes a good point. If her clients notice such an easy experience transferring files at hugely stressful turnaround times, then they will remember it for next time. But Grace also saw possible uses for the Samsung Portable SSD T5 drive in the studio. "On some of our main systems we don't have internal storage so rendering files out onto this drive is a definite possibility with its transfer speed of up to 540MB/s. You can also work off the drive at this kind of speed."
The value of the Samsung Portable SSD T5 drive for companies like The Look is only going to increase as files grow bigger with the need for uncompressed media. Currently terabytes of data are taking hours to transfer but more importantly using up hours of expensive machine time. "As a company we are looking at cutting down copying times from something like two hours to about 20 minutes," says Grace, "and these portable Samsung drives will be an influential part of that process. When you add in HDR material, we are getting 16-bit TIFF sequences that could come out at about 5TB for an hour."
More information: www.samsung.com/uk/ssd/