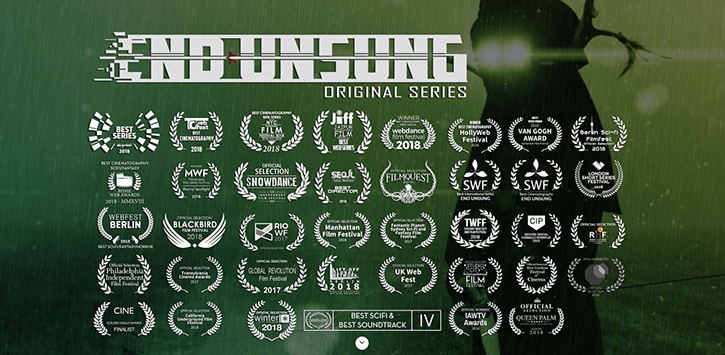 The Making of Sci-Fi Web Series END UNSUNG
Posted on Apr 3, 2019 by Julian Mitchell
Advertisement Feature
Rolf Lindblom is an award-winning filmmaker from Finland and behind the sci-fi web series, END UNSUNG. Here, Rolf reveals his filmmaking process, life as a creative person and fan of cinema, and why he loves Schneider-Kreuznach lenses.
The Way Rolf Works
His projects always seem to have too little time, too little light or too few crew members. That´s why there are two things he never compromises on – camera and lenses. They need to be top-notch and work well together. To add to his high-end camera, Rolf needs lenses that are fast, sharp and reliable. They also need to be future-proofed with whatever possible camera set-ups he might use going forward.
"For me, the importance of owning high-end cinema lenses comes first, especially when working with my digital series, END UNSUNG," Rolf explains. "Days of shooting are spread out with changes and surprises very common – so renting is not a practical solution for me."
Why Schneider-Kreuznach?

"The Schneider-Kreuznach Xenon Full Frame Prime Lenses price range and quality were just what I needed. And, of course, the lenses perform perfectly with any high-end commercial or corporate projects I have to work with – and they also seem to arrive with very short notice these days."
Lenses to Love 
The complete series was shot with the Xenon Full Frame Prime Lenses 35mm and 50mm on a Red Epic Dragon camera.
"There is something very cinematic and special – almost magical – in the footage you get when you combine Red cameras and the Xenon Lenses," Rolf rhapsodises. "For me, this set-up is very hard to beat. I love my lenses – they make me look good."
The editing was done with Adobe Premiere in combination with FilmConvert.
About END UNSUNG Web Series
The END UNSUNG world is very dark and realistic and most of the scenes are shot in natural light, with practicals or very low-light conditions – and that's where the Schneider-Kreuznach Xenon Full Frame Prime Lenses low-light capability (T-stop) comes in very handy. The series takes the viewer through multiple periods of time and space. It introduces them to various characters – with an assortment of motives, conflicts and interactions – all prompted by an engineered distortion of time and space, which has wreaked havoc upon and affected the characters'  lives and timelines in profound ways. The cause of this chronological chaos is a group of mysterious beings called travellers, who not only have the ability to manipulate events both past and present, but possess humans as well. But what are their origins? And what are their plans for all of humanity?
END UNSUNG has been considered for awards and nominations at 37 worldwide film festivals so far.
END UNSUNG – Episode 1 – Freja (4K) from Viking Film Productions on Vimeo.
Find out more information about the Schneider-Kreuznach Xenon Full Frame Prime Lenses and learn more about Schneider-Kreuznach cine optics.
Explore the Xenon Full Frame Prime Lenses live. Join Schneider-Kreuznach at booth #C7915 at the NAB Show 2019, taking place at the Las Vegas Convention Center (8-11 April).
Images by Rolf Lindblom