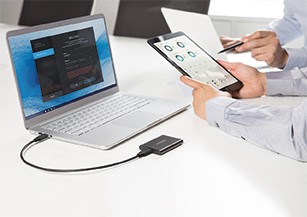 T5 – FASTER, safer
Posted on Nov 16, 2017 by Julian Mitchell
The Portable SSD T5's durable aluminium exterior comes in two finishes: Alluring Blue and Deep Black.
Samsung has introduced the latest in portable SSD technology, the T5 range. These drives answer the need for faster, safer portable devices for the media and entertainment industry
Just when you thought Samsung's range of portable SSD drives couldn't get any better, a new one appears, to do just that. The Portable SSD T5 raises the bar for the performance of external memory products. The T5 isn't just faster, but is built with Samsung's latest 64-layer V-NAND technology, delivering industry-leading transfer speeds with encrypted data security in a new compact and durable design.
The Portable SSD T5 range continues Samsung's innovative, forward-thinking approach to storage. When the company set about designing these drives, it focused on offering fast transfer speeds in a rugged and portable package. Not content with the T5 range simply being small, the company wanted the devices to be lightweight and pocketable, so professionals really could – and would – take them anywhere. And if they were using the Portable SSD T5 to transport their work, the device also needed to be secure. The result is four models perfect for busy filmmakers.
The facts
The app for Android smartphones and tablets enhances the convenience of the small, lightweight and durable Samsung Portable SSD T5.
Delivering stunning speeds of up to 540MB/s – up to 4.9x faster than external HDD products – the T5 is of special interest to content creators for its instant, easy access to data. Also, the T5 is smaller than an average business card at 74×57.3×10.5mm and incredibly lightweight at a mere 51g, comfortably fitting in the palm of your hand. The aluminium exterior comes in two distinct metal finishes – Deep Black (1TB and 2TB models) and Alluring Blue (250GB and 500GB models).
With no moving parts and a shock-resistant internal frame, the T5 offers users peace of mind as it can withstand accidental drops of up to 2m. The Samsung Portable SSD software for PCs and Macs with optional AES 256-bit hardware data encryption means it's easy to configure security settings and receive the latest firmware and software updates. A mobile app is also available for Android smartphones and tablets for even further convenience. In addition, the T5 includes two connection cables – USB-C to C and USB-C to A – for enhanced compatibility across numerous devices.
Who will benefit
Throughout this series of articles on Samsung Portable SSD media we have witnessed how these drives have changed working practices for experts throughout the professional media world. The new T5 will continue this trend.
We've spoken to numerous types of filmmakers all over the world: from indie shooters who swear by Samsung Portable SSDs to keep their filming going with the drive's huge capacities to corporate, wildlife, aerial and movie filmmakers who see the use of these portable drives as the natural next step in their storage stories.
"Light, fast, fantastically functional and fit for purpose" was one quote from a 30-year veteran of professional video. "We have big RAID drives but to have something like this which is small and can transfer that fast is game-changing" was another from an Emmy Award-winning film company. "Samsung's SSDs are the most portable external drives I've ever had – a terabyte in your pocket, incredible" from a TV editor on his commute and "It was incredible, crazy fast" from the head of an aerial film company.
Samsung Portable drives have changed the way editors and colourists move their media through their systems, always saving time, always delighting with extremely fast transfer times, huge capacities and a small footprint. But even more than this, these professionals trust these portable drives with their most important media files, in part thanks to the opt-in password protection.
Now, the Samsung Portable SSD T5 is here with its small footprint and even faster transfer times. In the coming months we'll be introducing even more media experts to the joys of working with these new SSDs.
Just imagine what you could do with a Samsung Portable SSD T5, the size of a business card, nearly five times faster than a spinning disk drive and with up to 2TB of storage available. Keep reading for more great storage stories!