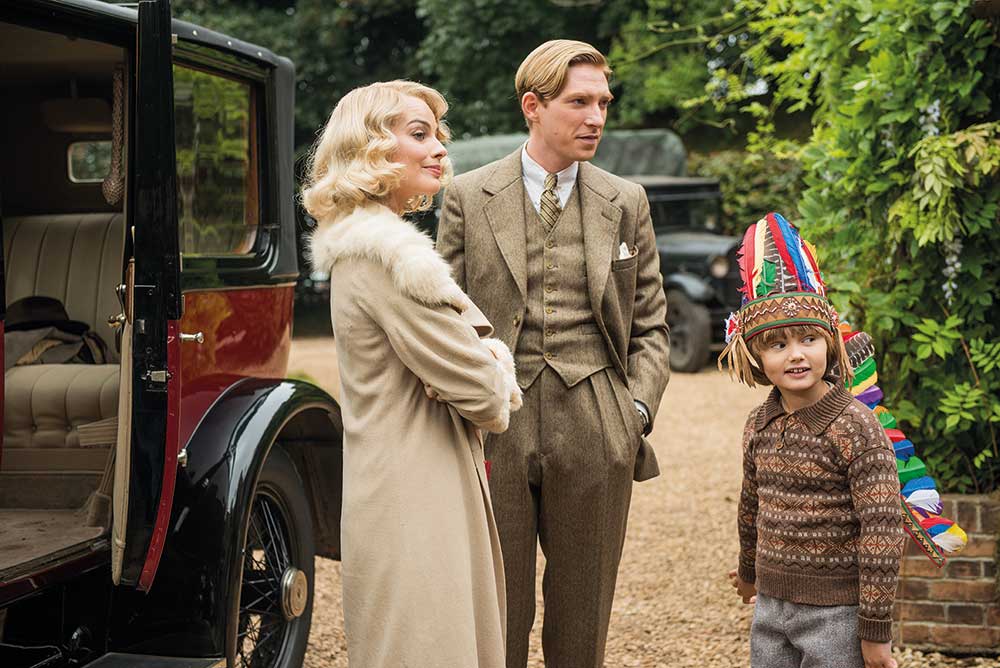 Bear Necessities
Posted on Dec 5, 2017 by Julian Mitchell
Ninety years after the world first read about the characters from the Hundred Acre Wood, a British film revealed the back story
Words Julian Mitchell
Domhnall Gleeson and Margot Robbie star as Alan Alexander and Daphne Milne.
Celebrity culture is an interest to us all, however we might deny it, but in the 1920s outside of Hollywood there was no such thing. When A.A. Milne wrote about his son's adventures in the woodland next to their home, he saw it only as a mild sedative for the deep hurt that the First World War had wrought on the country. Goodbye Christopher Robin turns the camera's eye to the impact that this new phenomenon of celebrity had on the Milne family, especially Christopher himself.
Although the stories of Winnie-the-Pooh and his friends are globally loved, there is less known about the originators. This was the interest for DOP Ben Smithard, who saw the film's narrative as no more or less than an historic biopic and devised the look accordingly. "It's a story about this little boy and his family. It's a family dynamic and the nanny, Olive, comes into it. This little boy was the most famous little boy in the world, when there were no famous little boys in the world. He was eight years old and at that age, back then, boys were never famous. He would never have known what was going on at that age. This is what fascinated me about the story – as you learn more about it and read the script the images pop into your head.
"That little boy found a life beyond his family in the forest, in the woodland around the country house that they moved to from London. Historically, it's a great story, very sad at the end, but it resonates in the modern world. This boy is shoved into this stardom and he has no idea what it is – all he wanted was his mum and dad."
Will Tilston plays Christopher Robin. here with Domhnall as his father.
Ben is no stranger to period pieces. He has recently shot two movies on 35mm, Viceroy's House (about the transition of power from Britain to India) and The Man Who Invented Christmas (about Charles Dickens writing and self-publishing A Christmas Carol). But Ben decided to shoot digitally for this movie: "I didn't think about film for this movie because the previous film that I shot was on 35mm. I've shot millions and millions of feet of film, so I don't feel the necessity to shoot on film. I thought that digital was the right thing to do for this project."
Looking for a look
Having decided on a digital capture, Ben chose the ARRI Alexa Mini camera with Zeiss Ultra Prime lenses to shoot it, but with the look always in his mind.
"It's a long process deciding how something should look: you speak to the director and most of the references you get are from photographs – that's never changed throughout my career shooting features, it's always photographs. I tried to find as many photographic references as I possibly could – sounds a bit dull really, but it's not!
"I guess the only movie reference that I used was The Tree of Life, by Terrence Malick. It's great, and so visual because there are literally only 20 lines of dialogue in the entire movie so your eye is always being pulled in by the visuals, and the visuals tell the story. I didn't really have that luxury because there's a lot of dialogue and a lot of story to get through. But there are moments that have the same type of gravity that The Tree of Life has.
"It was easy for me to imagine this boy running around a forest, really easy. It's a big part of the story because that's where he created this world. I tried to make that forest pretty amazing by trying to imagine myself as an eight-year-old and how big the forest would be. If you look at a forest from an adult perspective, it's different from what it would be if you were six, seven or eight years old. I hope I wasn't trying to be too clever and I hope it works – I was trying to portray this forest as he saw it, on a much bigger scale than for an adult. So you'll see that in the movie it's a heightened realism – there was a reference from the studio about magical realism and it's a tricky thing to define, you can take it in different ways and there are different methods of showing magical realism. But through a lot of conversations, I worked out what the definition meant and it's there and it is quite magical. Little boys and little girls make things up – that's the magic.
"For the heightened realism, some of it's in the script but for those scenes that aren't, most of it's in-camera. There are a couple of bits that were CGI because they had to be, as there was no physical way of doing those things in-camera. Kids like inventing things and re-inventing themselves; Christopher Robin just wanted to be a normal kid, the fame and acclaim that he got was just bizarre. Nowadays you would say that he was mismanaged, but I don't think his parents understood, either."
Some intimate, handheld moments enabled Domhnall, who plays A.A. Milne, to experiment with different emotions.
In the magical realism of the wood, Ben used a floaty type of camera movement to accentuate the fantasy. The wood started as a dark, forbidding place, then as the character emerged fantasy took over, including practical snow mixed with CG to enhance the hyper-realism.
"In the wood we used a lot of Steadicam and some MoVI rig, a bit of handheld. I tested a lot of methods for being able to shoot two feet off the ground, giving a very heightened POV of nobody in particular, and then being able to move up to four-and-a-half feet off the ground, which was Christopher's approximate height. There is a bit of that in the movie and I wish there had been more, but there's some really nice, observed moments in the film which isn't about height or anything like that but just about observing him with his father. For those moments I used long lenses, with the camera a long way away to let them play and let them be natural. There were moments I managed to get, of Domhnall Gleeson (A.A. Milne in the movie) early in the film, which are mirrored later in the film where he was allowed to let his emotion run riot – it was a different thing as it was handheld. He's a great actor and likes to experiment, which I do as well, and which we were allowed to do on this film.
"Because I've worked with the director Simon Curtis so much, I think I've produced some of my best work with him. He really gives me a lot of freedom and I think as a cinematographer you need to be pushed for sure, but you also need a bit of freedom to shoot the film. You can work at a pretty fast rate – you have to when you work with kids anyway (we shot 1000 slates on this movie) –  so can mould the film in quite a few different ways, but it was a joy to work on, I must admit. The cast were amazing, the crew were fantastic, and we shot in my favourite months in England which were September, October and November. They are the best three months of the year for me anywhere, which is maybe because I've had a lot of luck in those months. It's everything about those months; shooting in the summer, the sun's too high, and it can also be disappointing in August when it's supposed to be super-hot and can rain. It didn't rain much at all when we were shooting, it was like an Indian summer.
"Simon allows me to go off on my own journey and then come back together when we're doing the preparation for the movie. It slowly comes together."
Lighting
"I don't light massively differently from film to film – I do a lot of period, historical films which I enjoy, but I will vary it depending on the era; I just don't want it to look lit. I'm always trying to make it look a little bit darker – it's not a dark movie by any stretch of the imagination, but if they spend money on great actors and actresses, they want to see their eyes all the time and they want to see their costumes and things like that; there's always a bit of a fight. I think a good movie is about the balance of light and shade and if it's a good movie with lots of emotion, there's going to be some darkness there."
Lighting came through the windows, predominately, and wasn't enhanced when actors walked to the edge of the light. The camera then moved towards the actors in order to re-light them.
"I ended up shooting it on the ARRI Alexa Mini with Zeiss Ultra primes, which worked great because I wanted it to be quite wide and close, and those Ultra primes don't get bendy or distorted when you're quite close on people's faces. There is a shot of Domnhall, which I think is shot on a 16mm lens when he thinks he's being attacked by bees (the shot's in one of the trailers); the camera's about a foot away from his face but that's not distortion, more about a very wide lens right in front of a face – but I think it works.
"For the first time on a feature film I spent a little time before I started shooting in producing a look-up table, which wasn't exactly how the film looked but it wasn't far off. I really spent more time with the DIT on this film than I have ever done, and it worked. So I'm slowly getting in to producing a look before I shoot, or partially before I shoot the film, which I didn't really used to do, to be honest. I used to have an idea what I wanted to film to look like, but the real finishing would happen in the grade. I think with digital you have all these tools, why not use them?
"This whole film was shot on location so it's a little bit tricky to grade dailies and things like that. Some people say, why don't you grade it as you go along? But it doesn't suit me as I have a very good colourist called Gareth Spensley from Molinare who I work with pretty much all the time. But it's a really good-looking movie – the forest is bathed in beautiful sunlight, we had a lot of good weather for that. The darker moments are inside but I think it suits the movie: the little boy's darker moments are in the house. When he's out and running around the forest, that's the great times in his life."
Ben's colourist, Gareth Spensley from Molinare in London, explains how depth was used to enhance the magic wood. "The overall grade of the film is designed to give a subtle sense of the period. Using the Baselight's colour matrix, we gently accentuated the hues in the production design scene by scene. We wanted to avoid the more extremely saturated 'digital colours' and embrace more film-like hues. Using a matrix provides a much more creative approach, which can be tweaked more readily than working with inflexible generic film LUTs.
"The forest scenes had to convey a fundamental narrative beat – a real forest that inspires A.A. Milne's fictional Hundred Acre Wood and the famous characters that lived there. We developed a bespoke colour channel mapping from the raw Alexa at the debayer stage to maximise the colour depth in the forest, giving us the widest possible range of colour gamut to work with in the greens and browns. Simon and Ben also wanted the feel of the forest to develop throughout the film. Starting out as an ominous, eerie place and only later becoming the magical storybook forest. We used shapes and vignettes to add gloom in the early scenes, lifting these progressively through the film. For the most magical scenes, we used soft flares and animating dappled light mattes to add a greater feeling of magic, when the weather didn't quite hold."