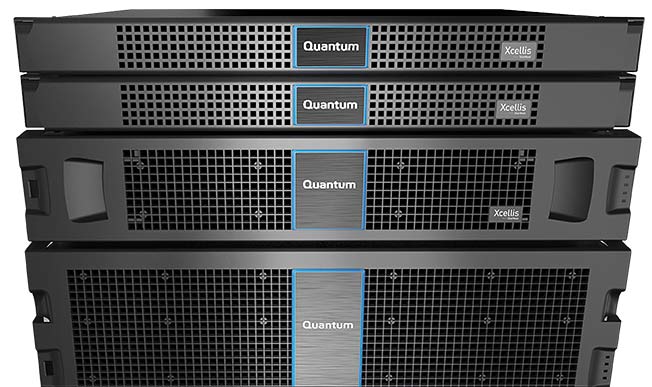 Storage Space – Nine newish video storage products
Posted on Aug 31, 2017 by Julian Mitchell
Another Definition Gear Group takes a look at your storage choices. Everyone knows that digital means you store more footage and that is as true for single storage as it is for networked attached devices. We appraise the newest and most interesting types and look for speed hikes, capacity blow-outs and even AI that might change the way you work
AKITIO Thunder 3 QUAD MINI
Akitio are a specialist storage company that we happened upon at the recent NAB Convention in Las Vegas. You could tell immediately that their products were high-end and when we heard that most of them were ex-GTechnology personnel it explained the feeling.
Our US readers will be happy as Akitio are based in Brea, California. UK readers less so as of this moment the company doesn't have distribution in Britain, but you can buy their products from Amazon.com. Check the power supply though.
Anyway, advert over as we spotlight one of their latest products – The Thunder 3 Quad Mini is unsurprisingly a smallish 4-bay storage enclosure designed to house up to four 2.5-inch drives. With Software RAID, four striped SSDs can reach data transfer speeds of up to 1375 MB per second while the Thunderbolt 3 interface provides sufficient bandwidth for additional 4K video signal streams and data transfers at the same time. (The transfer speeds for this benchmark were obtained using the AJA System Test tool with 4GB test files at 5K resolution.)
All this speed is wrapped in an aluminum case providing very good heat dissipation, plus an extra large rear fan keeping your drives cool during long hours of operation. The Thunder3 Quad Mini supports power delivery over USB-C, providing 15W of power to laptops like the MacBook Pro (late 2016) that support charging from a 5V/3A power source
The Thunderbolt 3 interface transfers speeds up to 40 Gbps. A second Thunderbolt 3 port supports Thunderbolt 3, USB 3.1 (10 Gbps), and DisplayPort devices. There is also a dedicated DisplayPort for an additional monitor to expand the workspace. It'll free up the second Thunderbolt 3 port for other Thunderbolt 3 (up to 5 daisy chained), USB 3.1 (10 Gbps), and DisplayPort devices.
CODEX M SERIES FLEXI DRIVE
You should know the name CODEX as this is the UK company that pioneered the digital data route from camera to post. Most of the big tent pole movies who shoot digitally will have a CODEX backed data pipeline from set to dailies to post.
Usually the big rental companies carry the CODEX machinery or you can talk to them direct. But now they are going to sell direct with a new type of drive and associated system set to disrupt the norm.
This is the M Series of drives which CODEX are calling 'A new concept for managing your data that bridges the gap between archive, near-line and online storage.' Simply put, it's a new type of LTO which has been the standard for archiving for years. Flexi drives have been designed to be just that, flexible. It's a new concept.
The system has different parts depending on your thirst for storage. The Media Vault Library can scale to Petabytes with multiple Flexi Drives and Flexi Drive Ultras.
The main part of the system are these Codex Flexi Drives, which are a high-capacity, secure, transportable storage solution. Each Flexi Drive has a capacity of 24 TB and quad data redundancy protection. Typical LTO file access in a tape robot is 1-4 minutes but with a Codex Flexi Drive it is only 0.008 seconds.
They are also fully recoverable and rebuildable in any other enclosure and alsocompatible with the MVL-51000 or MVL-52000 for Reed-Solomon Erasure Coded or ZFS disk formats.
Other parts of the system include a controller with very fast performance of 10Gbit, 40Gbit Ethernet or 16Gbit Fibre Channel which can bring data online in seconds, no waiting as you do with LTO.
There's also an expansion chassis, should you need it, with up to 14 x 24TB Flexi Drives. You can get up to five Expansion Chassis per Control Unit. It has1.8 Petabytes total capacity.
GTECH G-RAID THUNDERBOLT 3
G-RAID, it even sounds cool when you say it. At its base headline, the G-RAID with Thunderbolt 3 is a high-performance, dual Enterprise-class 7200RPM hard drive storage system featuring Thunderbolt 3. This is for serious users, the word Enterprise is the giveaway. You can also use it across Mac and Windows computers via a re-format for Win.
But apart from that, this unit is a thing of beauty, an object of desire. I know, but look at it and picture it in your studio.
You also get USB–C which supports USB 3.1 Gen 2 and HDMI connectivity to get you to other places.
With removable drives, this ultra-fast, high-capacity storage solution is designed for the most demanding applications while probably easily* supporting multi-stream HD, 2K, 4K and HDR video workflows. (*We haven't reviewed it yet but hope to soon).
Driving down through the pre-amble you get dual Thunderbolt 3 ports which gives you possible daisy chaining for up to five additional devices.
The HDMI port will also support HDR and 4K/60p video pass through. All this and a five year limited warranty.
Price wise if you look on the G-Tech site you can choose from 8TB at its minimum offer with Enterprise drives offering 500MB/s at $749.95 (at the time of going to press). Increase that to 12TB increases the price by $100; 16TB pushes that up to $1,099.95 and then tops out at 20TB which will cost you $1,549.95.
You can also boost that up to 24TB but there doesn't seem to be a price for that on their site. Spare Enterprise drives are also available through their site from at prices from around $200 to around $550 for the Spare 6000.
There's a certain irony that with of this gleaming tech on display in these pages of Gear Group, it's this quite simple iteration of Thunderbolt 3 that attracts the most.
LACIE 2BIG DOCK
The LaCie 2big Dock delivers everything you expect from them, high capacity, lighting-fast speeds, and enterprise-class drives — but yes there's more than that. Port by port, slot by slot, here is a docking station that gives back to you everything that modern laptops took away. Are you listening Apple?
For starters you get a beautifully designed storage product with the usual LaCie 'blue' eye but you also get an USB 3.0 Hub.
Via the front-facing hub, you can charge your phone or connect a shuttle drive or digital camera to offload footage or files.
You can power your laptop while simultaneously daisy chaining up to five additional LaCie 2big drives or other Thunderbolt or USB-C solutions.
But probably best of all you now have a place to put your SD and CF Card with slots right out front (It would be great if it was laptop as well)!
So directly ingest files from your drone, DSLR, GoPro, and other devices with these front-facing memory card slots. The unit's DisplayPort will connect to high-resolution 720-1080p and 4K displays.
But hold on this is a storage article! Don't sweat it, 2Big has up to 20TB of capacity for a big Raw-file library and has Thunderbolt 3 transfer speeds of up to 440MB/s. This is a great little DIT station in a box.
LaCie 2big Dock features Seagate IronWolf Pro drives and RAID optimisation for power management and reliability. And if all that isn't enough there's a five year limited warranty included on your system.
LACIE 6/12 big
Thunderbolt originally combined a DisplayPort with the serial data that plug-in PCIe cards use to communicate with the host computer. Basically, it's a way of externalising the signals that internal PCIe cards have used for the last decade or so. Unfortunately, internal cards get to access several of these serial data streams, making them very fast, so Thunderbolt has had some catching up to do. Thunderbolt 3 essentially combines four PCIe 3.0 channels, DisplayPort 1.2, HDMI 2.0 and USB 3.1 gen 2 into a single connector. It can shift data at twice the rate of Thunderbolt 2 – 40Gbit/s. It can also supply up to 100W of power to the external device.
The best thing about it, though, is that it doesn't matter which way up you plug in the connector. How many times do you do that thing with a USB plug where you try to plug it in, think it's the wrong way up so you turn it over, only to realise that it was right the first time?
LaCie's flagship Thunderbolt 3 products are a couple of RAID arrays – the 6big and the 12big. They are, fundamentally, identical but with the 12big having 12 disks and the 6big 6. Whichever chassis you choose you get 7200rpm, enterprise-class hard disks designed for 24/7 operation – video editing is well known to thrash disks to pieces. LaCie gives both products a five-year limited warranty that covers the disk drives (and the enclosure) so the company is obviously pretty confident in their reliability. Drives are hot-swappable.
The 6big is available in capacities up to 60TB, the 12big up to (unsurprisingly) 120TB. Both units feature two Thunderbolt 3 ports to allow daisy-chaining, plus USB 3.1. They come with cables for Thunderbolt 3 (or USB 3.1 – it's the same cable) and a USB-C to USB-A cable. If you want to use Thunderbolt 2, Apple has an adapter for about £24 plus VAT.
LEXAR 512GB CFast card
Let's start with a salutary lesson about the perils of owning new storage. A couple of years ago I moved house. At the back of a cupboard I found some bits I'd salvaged from an old computer; they included a 20MB hard disk. No, that's not a typo, I really mean megabytes.
One day Lexar's new 512GB 3500x (525MB/s) CFast card will probably be consigned to the same fate, but for now it represents the biggest capacity available in this format (and also the most expensive – for now).
We tested the Lexar in Blackmagic's URSA Mini – well known for being cruel to CFast cards. It easily handled the data rates for 4.6k Lossless RAW up to 30 frames-per-second – for frame rates above that you need to use Dual Card mode (as you do with all CFast cards). Once the data is compressed – Raw, ProRes (or DNxHR when it comes) – you're good to go at all frame rates with a single card. With the CODEX adapter in ARRI's ALEXA XT, and the AMIRA, this card supports ProRes 4444 up to 120fps (3.2k).
Transfers using a SanDisk Extreme PRO USB 3 topped out at 349MB/s writing and 408MB/s reading – the latter being about as fast as USB 3 will go. Write speed was a bit disappointing – Lexar claims the card is good for 445MB/s – but I would blame the interface more than the card – not that I often write data to a camera card. Lexar does a Thunderbolt 2 card reader, for about £100, which should push the card to its limits.
You're unlikely to need this new 512GB card if you are intending to shoot HD – particularly given its approximately £1000 price tag. But you may be someone who has to have the latest of everything.
At UHD and above, however, the reduced requirement to change cards – even given the URSA Mini's ability to hot-swap – could justify the price. But be warned, time is not a friend to storage.
OWC DOCK THUNDERBOLT 3
Here's another product that is an antidote to the parsity of ports (not easy to say quickly) that now populate or don't populate the slimest of slim laptops. But this time there is no storage attached. With 13 ports that you might need, OWC's new Thunderbolt 3 Dock is more of a port of London than a port of Felixtowe, and brings unbelievable connectivity to your laptop through an included Thunderbolt 3 cable. Of course it also delivers charging power to your laptop and other devices, all at the fastest speeds possible.
So what do 13 ports give you? Well, you can drive two 4K displays, connect and charge up to six USB devices, work with legacy FireWire storage, enjoy S/PDIF digital audio, wired networks, and read SD cards, all at twice the speed of Thunderbolt 2 and all through a single cable. That's all good.
Breaking that down with Thunderbolt 3 and this phenomenal bandwidth, up to 40Gb/s, Thunderbolt 3 Dock gives you the ability to drive the latest generation 5K displays, two ultra HD 4K displays, or a combination of 4K, HD and other displays with the mini DisplayPort port and additional Thunderbolt 3 port.
This 'super port' is also not so big at one inch high (2.5cm), nine inches wide (23cm) and 3.5inches deep (8.9cm). It's also only 54g in weight. So ultimately portable.
Getting down and dirty with the ports available; on the front of the device you've only the three ports available, a SD card reader, expanded analog audio in/out to connect speakers and microphones and a USB 3.1 port which will give you 5Gb/s data speed as well as power to your devices. Turning her over and you have; 4X USB 3.1 ports, a S/PDIF digital audio interface, blast from the past FireWire 800 for your old devices, gigabit Ethernet, Dual Thunderbolt 3 ports and a mini Display port.
QUANTUM stornext 6
StorNext from Quantum isn't exactly storage in the true sense of the word. There is storage involved of course but StorNext is agnostic to it. The system was created to solve the daunting problem of sharing access to increasingly massive data sets. The StorNext shared storage platform is purpose-built for managing large, data-intensive workloads, with the ability to efficiently and cost-effectively scale as needed.
Pinewood Post in the UK did exactly this when they installed a StorNext system to deal with the increasingly huge amount of data dealing with movies like Rogue One, Assasin's Creed and Doctor Strange. Each time another job came on they could just add more storage and more render stations to the network. Each show could use the other's processing power so they could render out on multiple systems.
There is a high level of automation involved and even articial intelligence which is part of their StorNext 6 product. The data management can optimise capacity through automated storage tiering. This means reducing the need for costly primary storage. Files can be automatically and transparently moved from flash, to tape, object storage or the cloud — all while optimising performance and maintaining high availability.
The AI side of the new update is in assocation with a company called Veritone who have created an AI engine optimisation platform so it's not designed for a particular task, it's one that can orchestrate the others.
All those different AI cognitive algorithms like face detection, object recognition, scenes, sentient detection (basically if you're happy or sad) can be applied by the Veritone system on a search basis. So it will managed how those algorithms work amongst themselves. Uses primarily are probably video surveillance and security. Scary stuff!
SAMSUNG 2TB SSD T3 SSD
You really have to research the use of SSD media over a number of months across several continents with a multitude of professional videographers to really understand its impact. Well, it just so happens that Definition is in the middle of such a feat of research. Some findings…
In this series we've looked at the way SSD media has been so popular that even camera owners whose primary recording media isn't SSD have found a way of using them via adapters. There is also a large and growing number of shooters who have circumvented camera manufacturers who don't have SSD bays in their cameras by using SSD-based monitor/recorders.
A well-known documentary maker and video trainer in Australia, Pieter de Vries uses his ATOMOS recorder/monitor for the majority of his shooting. He is also an major SSD convert.
"If you had a choice why wouldn't you go for one of these Samsung portable SSDs, especially when you're spending so much money on equipment like cameras, monitoring and recording." he asks. "It just doesn't make sense to use anything less than SSDs. SSDs are the top of the pile, and in my opinion, there really isn't anything better. Most of my mechanical hard drives have now been allocated to little jobs. The biggest advantage, and this overrides everything, is that transfer speeds and write speeds are fast, and this just saves time on location especially if you're giving footage to producers or through the post-production chain."
Wildlife Cinematographer Abraham Joffe agrees. For him it's great to see products like Samsung's portable SSD T3 2TB which is just what he needs when he's shooting on location. It's also one of the final arguments against the use of spinning disc media.
"Apart from the occasions when I need truly massive backups, SSDs are my main recording medium for day-to-day work."