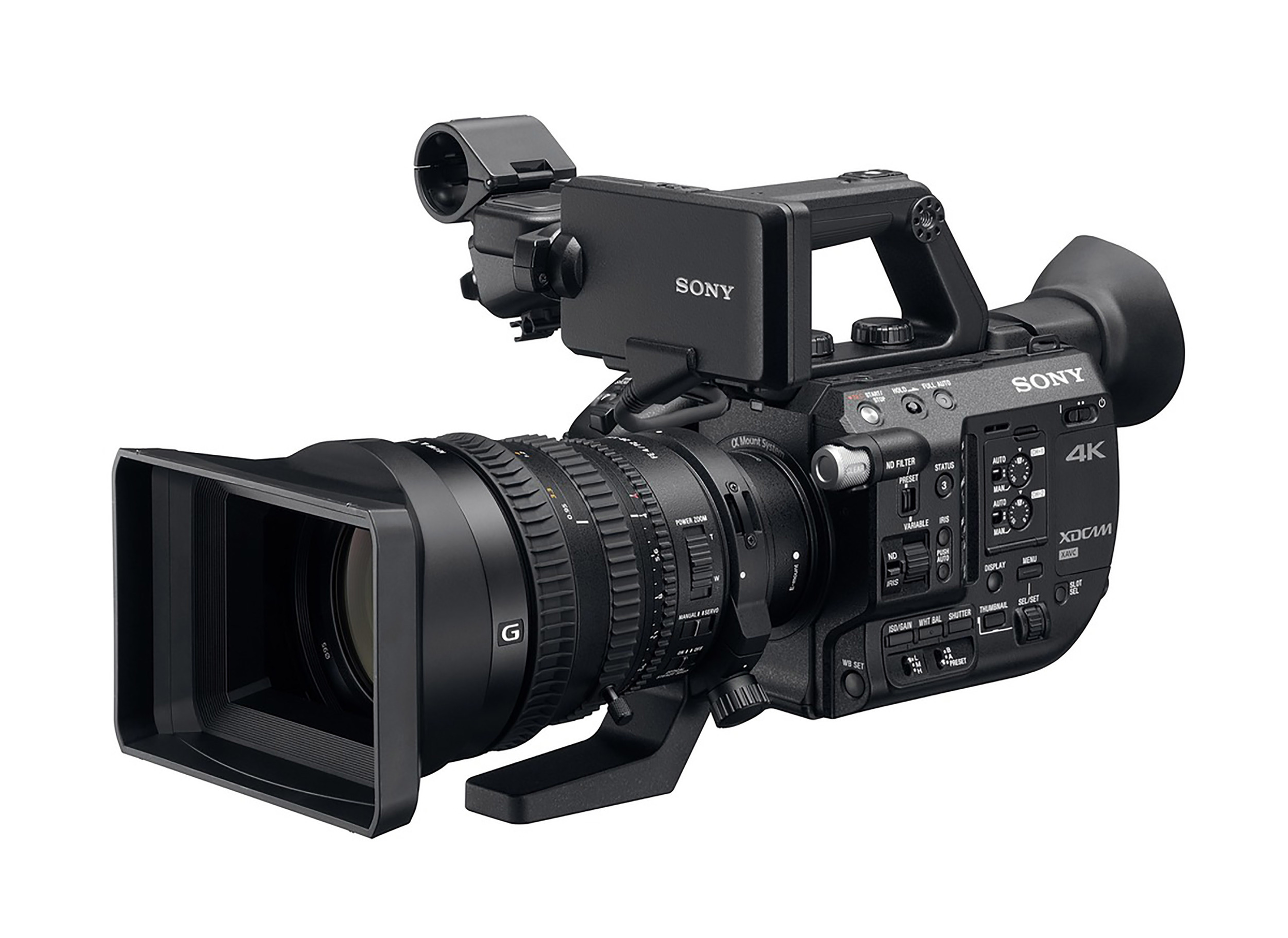 SONY LAUNCH 'BABY' 4K CAM
Posted on Sep 11, 2015 by Alex Fice
Sony introduces the new 4K compact Super35 PXW-FS5 professional camcorder, providing trendy handheld shooting and complete creative control to a wider audience.
Enabling professionals to shoot in any style, at any angle, anywhere.
Sony has today announced the PXW-FS5, the latest addition to its range of professional camcorders. The versatile 'grab and shoot' style PXW-FS5 provides great on-the-go shooting in the most demanding of conditions, with 4k image choices and creative features. Complementing the successful PXW-FS7, this miniature camcorder has been designed for a range of professional applications from event videography to corporate and online video production. But it's size is the key feature.
The PXW-FS5 has a 0.8kg lightweight body with great weight balance for all-day handheld shooting, for almost any location, even airborne mounted on a drone. Like its big brother the FS7 there is the one-touch rotatable grip; all of the key controls are at your fingertips allowing for shooting flexibility and easy switching between low or high angle shooting. In response to users demand for more ergonomic flexibility, the 3.5-inch type LCD panel can be attached to different positions on the handle or the compact camera body, further supporting handheld operation and offering customisable shooting.
Included is Sony's 4K XAVC codec, with the Super35 Exmor CMOS sensor incorporating 11.6 million pixels and 8.3 million effective pixels. The high sensitivity and large size of the sensor delivers background defocus, increased low-light sensitivity and lower image noise coupled with picture quality.
High quality imagery is further ensured by High Frame Rate cache recording at 10bit 4:2:2 Full HD and a frame rate of up to 240fps, in eight second bursts, which makes 1/10 times Super Slow Motion possible without sacrificing bit depth or loss of image quality.
The PXW-FS5 is potentially the world's first Super35mm camcorder to feature built-in electronic variable ND filters, further expanding the depth of field representation by the large-format sensor and enabling flexible exposure control.
Kit wise Sony has provided their compact power zoom E lens PZ 18-105mm F4 G OSS (SELP18105G), provided in the PXW-FS5K kit model, enabling zoom operation with one hand.
 The PXW-FS5's E-mount can take virtually any lenses, such as SLR lenses via an adaptor, as well as Sony's E-mount and A-mount lenses; ensuring the camcorder adapts to multiple environments. Sony's α Mount System and its interfaces include 3G-SDI, HDMI output and SD dual card slots. Also equipped with Wi-Fi and a Wired LAN terminal, the PXW-FS5 features enhanced network functions such as file transfer and streaming transmission.
Furthermore, the future firmware update will provide RAW output.
"Last year we launched the PXW-FS7 at IBC, which changed the way broadcast programmes and documentaries were made. With that in mind and building on the success of the PXW-FS7, we're introducing a lighter more compact camcorder, the PXW-FS5," said Claus Pfeifer, Strategic Marketing Manager at Sony Professional Solutions Europe. "The PXW-FS5 presents unrivalled flexibility coupled with complete creative control, equipping professionals with all the tools needed to exceed any brief. It stands apart in the current market as a comfortable handheld, lightweight camera, which at the same time delivers high quality imagery for content creation spanning; cinematic wedding videography, corporate footage, online and event videography. Professionals have all the practical and creative functionality at their disposal, leaving them without any limits to realise their full potential."
Key features of the PXW-FS5
The lightweight body has excellent weight balance ensuring comfortable handheld shooting as well as an easy fit with a drone or gimbal. The one-touch rotatable grip enables instant switching between low or high angle shooting. Shooting parameters can be changed with one hand even during recording thanks to the multi-functional grip. In the same way the zoom can be operated with a single hand. The detachable handle, one-touch rotatable grip and flexible LCD panel support various shooting styles.
The camcorder is equipped with an 11.6million pixel Super35 Exmor CMOS Sensor, enabling 4K XAVC long GoP high-definition video shooting. It is the world's first Super35mm camcorder with a built-in electronic variable ND filter, supporting linear control from 1/4ND to 1/128ND and further expanding the depth of field representation. 1/10 times Super Slow Motion reproduction is possible thanks to the 10bit 4:2:2 full HD 240fps High Frame Rate, with no sensor cropping. Low light capabilities and background defocus are heightened by the high sensitivity and large sensor size. On top of this, the claimed 14 stops of latitude in exposure deliver strong grayscale rendition without crushing shadows or blowing out light details.
The camcorder is equipped with enhanced interfaces including 3G-SDI, 4K HDMI output, MI shoe, SD Dual card slots, Wi-Fi and wired LAN terminal, supporting various system configurations. The Clear Image Zoom allows users to zoom in at up to 2x, even with a fixed focal length lens.