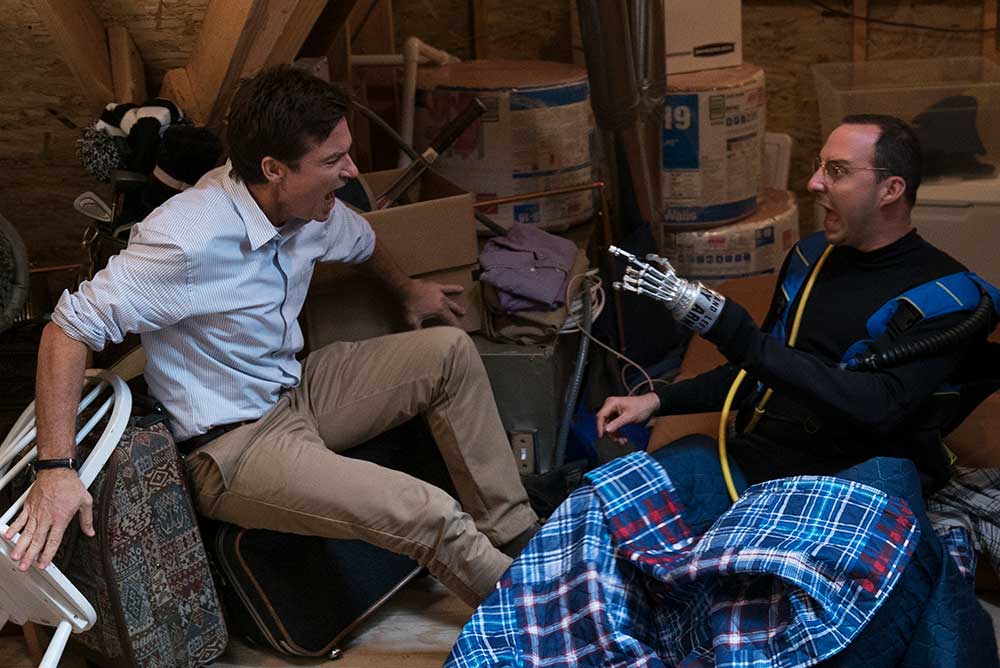 Smooth Operator
Posted on May 9, 2018 by Julian Mitchell
Patrick Stewart with his Fujinon Cabrio lens on set on Arrested Development 5
DOP Patrick Stewart is a master of the handheld shot. He's currently bringing his skills to bear on Season 5 of Arrested Development on Netflix, making full use of his favoured set of Fujinon Cabrio lenses
A successful handheld shot has a documentary-style vibrancy and immediacy that can sometimes be lacking in footage that's fully stabilised, while still retaining enough of a professional feel to make it clear that any movement is intentional. Several highly successful cinematic and TV productions have used this approach and when it works it can be outstanding, becoming an intrinsic and crucial element of the finished whole. There is, however, an art to the process and it takes years of practice to acquire the necessary skills as a camera operator to pull it all off.
One of those that has very much mastered the process is DOP Patrick Stewart, whose list of handheld camera credits stretches back some 35 years. One of his landmark successes was the iconic Mike Figgis movie Timecode, shot in 2000. The final production was constructed from four continuous 93-minute handheld takes that were filmed simultaneously by four camera operators. Patrick was one of those, and the experience of shooting what was essentially a live production over that amount of time had a huge influence on him and confirmed him as an acknowledged expert in his field.
Since then he's filmed many other productions that have centred on handheld footage, such as Flight of the Conchords and seven seasons of the hit US TV series The League. He's currently bringing his skills to bear on Season 5 of Arrested Development, the highly influential TV sitcom featuring the dysfunctional Bluth family with a cult following around the world. Originally aired on Fox for three seasons from November 2003 to February 2006, the show, despite critical acclaim, disappeared from the screens for several years before being revived by Netflix in May 2013.
The style of the programme has always been fly on the wall, as though the actors were unaware they were being filmed. It relies heavily on running gags and a voiceover narration from director Ron Howard that brings the viewer up to date with the storyline as each episode progresses. The revival of the series has proved to be a big success, hence the decision to commission a further season, and Patrick is enjoying being involved in such a high profile project.
A 20-minute scene with the Fujinon Cabrio and Panasonic VariCam LT combo isn't tiring reports DOP Patrick Stewart.
"I was actually approached to be involved in the filming of Season 4," he says, "but the timing wasn't right for me then. For a start I would have had to have walked away from my work at The League to take it on, and I knew that this programme had a number of seasons left in it – four in fact – and so was guaranteed work. Also at that time I think myself and many others didn't really understand Netflix, and so I wasn't aware of how big and influential they would become.
"Fortunately I got another chance when Season 5 was being envisaged, and I was approached because I'd been working with art director Dan Butts on Flight of the Conchords. He called me up full of enthusiasm and told me that they wanted me to be involved.
"So I met up with the show's creator, Mitchell Hurwitz to talk it all through, which was a little awkward because I had to tell him that I'd been watching the early episodes and, although I'd found them really funny, I was struggling to cope with the camera work in the earlier series to the point where I'd had to give up!
"That's the problem when you're a cameraman yourself, because you can't help looking at that aspect of things and it can sometimes prevent you seeing the bigger picture.
Fujinon Cabrio lenses on the Panasonic VariCam LT cameras on the set of Arrested Development
"I went back and persevered a little longer and, after watching around 25 shows, I'd really got more of a feel for it and was impressed by how inventive it all was. It's just so full of references to other things that are going on and every line is a clever line. And the voiceover approach is one of my favourite ways of working: just one line can bring the viewer right up to speed in the action. So I loved the show and wanted to sit down to talk through what I could bring to it. I wanted the look to still be documentary style but maybe just a bit more cinematic."
Three Camera Set-Up
One of the major changes Patrick envisaged was the use of three camera operators, up from the previous two. To the trained eye the use of two cameras was placing restrictions on the number of shots that could be utilised, particularly in instances where three to five people might be talking to one another, when an additional viewpoint would enable a greater range of choice and lead to fewer scenes having to be setting up again and reshot.
Another big plus was Patrick's discovery of a new camera to use, the Panasonic VariCam LT. "Prior to starting the Arrested Development job I'd done a lot of testing," he says, "and wasn't sure whether we'd shoot with the Sony FS7 camera, which is like the F55 but with a smaller body. However, after carrying out some really tough tests I was astonished at what the Panasonic had to offer.
"Basically it has the same dynamic range as the ARRI ALEXA; the ALEXA has about 0.6 stops more at the top end and the VariCam LTs have about 0.6 stops on the low end. So I decided to go with the VariCam but still wasn't convinced about shooting at ISO 5000. We ended up shooting all the exteriors at 800 but all the stage work was shot at 5000 knocked down to 2500.
"Anyway, I looked very carefully at the 5000 as I was very nervous about mid-range noise, which can happen where it's just mid-tones that don't have any texture and the 1s and 0s don't know where to go. But shooting at 5000 didn't work; you can't have an actor walking into a dark living room and pretend it's daytime, it doesn't feel right," explains Patrick.
"But I found that if we took 5000 but knocked it down to 2500, put in a level of ND, it was at about 28 foot-candles, which is pretty low but bright enough to be a house.
"We did lots of testing with the post house, looked at the skin tones and the wall noise and everything – it was fantastic. There was a shot in a bar with not much light and there's no noise and the colours and skin tones are great."
For the majority of the time the VariCam LT was paired with Patrick's personal set of Fujinon Cabrio lenses, comprising the 19-90mm, 14-35mm and 85-300mm. They're amongst his favourite lenses and proved to be perfect for the job. All of them offer the same maximum aperture of T2.9 (with the 85-300mm rising to T4 at the longer focal lengths) and all are perfectly colour matched to ensure no issues when swapping lenses out during a shoot.
"These are perfect lenses for handheld shooting," says Patrick. "They're not too large or heavy and so don't become a burden to carry for long periods. The picture they produce is pin sharp corner to corner and they're very reliable and rugged. They're also as well balanced as they could possibly be, which is not easy when you consider that most of the glass is at the front and could potentially make it top heavy. The VariCam LT body is just big enough to have some weight on the shoulder and enough mass to balance with a Fujinon Cabrio lens, and this is a set-up you could use for 20-minute scenes and still come away at the end not feeling tired.
"One further point is that pretty much any professional camera operator will know them intimately and so they're a known quantity if I'm not operating the camera myself. In a three-camera situation you might have the 19-90mm fitted to two of them, using the zoom to adjust your prime distance, and maybe the 85-300mm employed on the other if you needed a tight shot."
Perfecting the technique
The art of the successful handheld documentary-style shot is not one that everyone can master, and it's very easy to do badly as countless camera operators have proved over the years. For some the answer is to enlist a little extra help and to strap on an Easyrig, but from a personal standpoint Patrick finds that particular kit cumbersome to wear and he prefers to sit a camera on his shoulder and to rely on its balance and his steady hand to achieve a useable end result.
"You need to be able to control such things as focusing, framing and exposure with your fingertips without having to look," he says, "and the arrangement of the Fujinon Cabrio lenses is so good that it makes this task easier than it might otherwise be. Keeping things as smooth as possible is key and you're looking for a steady frame line that isn't bouncing around at all.
"There are two levels of working with a camera handheld, and one involves having an assistant pulling focus for you. I prefer the other way, which is where the camera operator does the whole job themselves, and that gives you a lot more freedom but it can be a challenging way to work."
The essence of great handheld work is that, while the viewer might be conscious of the fact that the camera is mobile, there is no jarring movement, no up and down as the operator walks along and no sudden, sharp side-to-side movements. Instead everything is smooth and considered, with the viewer at the heart of the action, seemingly reacting to what's going on and looking around in a natural way.
The immediacy and pace that such an approach makes possible is the reason why it's such a popular contemporary shooting style, but the fact that accomplished operators, such as Patrick Stewart, make it look simple belies the skill that is needed to make it all work. That and the right choice of gear, and the role of the Fujinon Cabrios in taking their place at the heart of a well-balanced and intuitive set-up can't be underestimated. They're simple and straightforward to work with, beautifully engineered and are the optics of choice for a whole generation of professional camera operators.