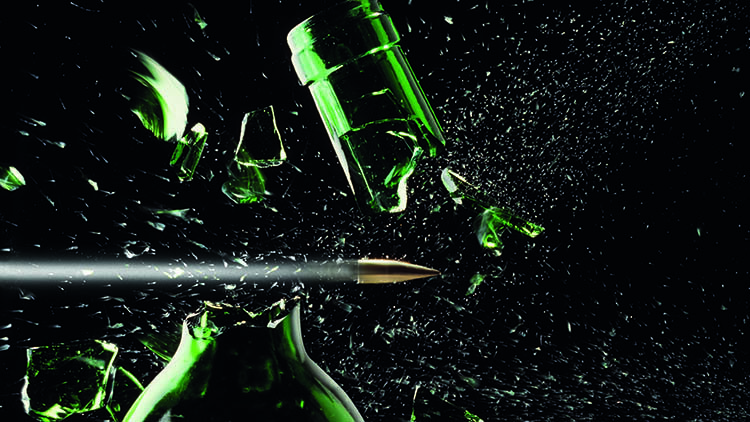 Slow motion loves fast storage
Posted on Jan 10, 2020
The Samsung Portable SSD X5 can easily fit into any production, as John Keedwell, a high-speed camera expert and video production mentor, proves
---
Advertorial content
There's slow motion video and then there's a million frames-per-second car crash analysis super-slow motion. Videographer John Keedwell used to shoot the latter and understands the need for robust and fast storage for both.
While he's not in the car crashing business anymore, he thought it would be interesting to test the Samsung Portable SSD X5 in that way.
You could use it for military analysis videos where you track shell and bullet rotation
"If I'd had a Samsung Portable SSD X5 back then it would have been easier to get the extreme slow motion processed. Previously, we needed special flash drives to record the vast frame numbers, which were expensive and you would only achieve about one second of capture. With the Samsung portable drive, you could've recorded the frames and got the footage to the labs much quicker."
Keedwell also highlights another use for the portable drive: "You could use it for other scientific analysis videos and for the military where you are able to track gun shell and bullet rotation."
He adds: "Normally that kind of analysis is low resolution as they just want to see what happens, but if you want to use it for movies you would need maybe 8K at a large amount of frames per second. But, having that kind of performance from something so small and powerful opens up all kinds of possibilities for its use."
Fittingly, the Samsung Portable SSD X5 is inspired by the shape of a supercar. The 150g drive is also equipped with state-of-the-art Thunderbolt 3 technology and a NVMe interface. With housing and internal protection guard frame made by a durable yet light magnesium, it withstands drops of up to two metres.
Image: The Samsung Portable SSD X5 housed in a typical footage transfer station
Non-scientific slow motion
Slow motion for the rest of us – around 300 frames per second – always looks good, better than 24 or 25p usually, but as resolution grows, the need for fast storage keeps pace with it.
"Unlike the crash testing, you would usually want longer than the one second as you might miss the moment you are shooting for. So, you need a lot of data going down very quickly to your storage. Also, it might need to be transferred quickly to a post-production studio," explains Keedwell. "This is where the Samsung Portable SSD X5 has an advantage as more cameras can now record directly to it. You record directly to the drive and then take the drive that has all the original shots on with you – it just feels like the most modern way to work."
The need for small, fast and robust storage is only increasing, according to Keedwell, which is why it's important to invest in something like the Samsung portable drive to future-proof your storage. "8K is becoming something of a standard, but they are already talking about 16K. With a helping of high frame rate cinematography, you've got huge demands on storage going forward," he says.
With technological synergies between NVMe and Thunderbolt 3 technology, the Samsung Portable SSD X5's exceptional speed offers read/write speeds respectively up to 2,800/2,300MB/s. Keedwell sees this super write speed as a huge advantage for multi-camera operations.
"Just think about anything that needs a multi-camera approach, especially with these higher resolutions and you have a need for fast storage, such as the Samsung Portable SSD X5," he says. "Motion or performance capture for instance, where a number of cameras are dealing with different movements or varieties of 'bullet time' sequences where many cameras are synched to record high-resolution frames. There are also new capture techniques like volumetrics where everything within a space is recorded, camera numbers in those instances are usually more than 100. The Samsung portable drive's robustness and speed make it a great solution."
With thermal management technology including Dynamic Thermal Guard and mechanical solution, the Samsung Portable SSD X5 maintains optimal temperature by operating speed. It's built to absorb working heat through heat sink to prevent overheating, keeping surface temperature below 45℃.
Best practice transfer
Keedwell runs the Epics Academy, which seeks to help creators produce their own videos and then market them online. His experience as a videographer allows him to see how the Samsung Portable SSD X5 can help in the basic process of making videos.
"I can immediately see that the Samsung portable drive could help even on a client approval level. For instance, if you had a client who needed the entire shoot quickly as he or she needed to travel internationally, then this data rate makes it one of the best transfer drives around."
He adds: "You don't have to worry about supplying all the Raw files as you'll be able to get a clone drive finished almost immediately. Normally a client will want a copy and be off to the airport, that's just the way the business is at a small production company level."
Of course, with the Samsung Portable SSD X5 you also get robust security as there is accompanying software that securely protects your data by providing optional password protection through AES 256-bit hardware encryption.
As we've found in our other case studies, once the Samsung Portable SSD X5 is in the hands of professionals, they easily see how it could work within a production and how it could turbocharge the process.
For more information on the Samsung Portable SSD X5, click here.
To visit the Samsung website, click here.