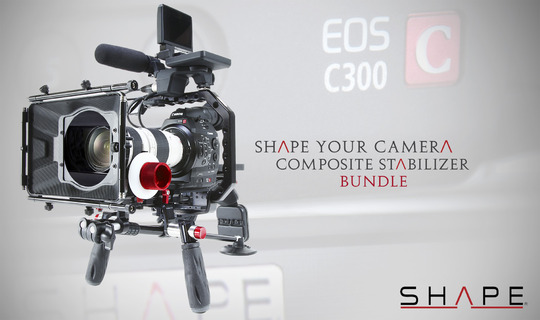 Shape's Composite Stabilizer for Canon's C300 Camcorder
Posted on Dec 22, 2011 by Alex Fice
Shape's Composite Stabilizer support adapts for the new Canon C300 camcorder. CLICK IMAGE FOR EXPANDED VIEWCanadian camera support company SHAPE are entering the support market for Canon's new C300 camcorder with this composite stabiliser package which adapts to the camera.
This hand-held adjustable camera platform features a patented Quick handle, a FOLLOW FOCUS with an adjustable marker plus interchangeable friction or 0.8mm aluminum pitch gear, a back pad, a 4-lb counterweight, an adjustable composite shoulder pad, four 15mm male-female rods (six inches), two 15mm female-female (eight inches), a rod block, an off-set rail block, a lens support, a telescopic support arm with rod block, and a 15mm rod riser system which allows to attach tripod plate underneath the riser and switch from handheld to tripod in just a click.
A PAPARAZZI I HANDLE with two male SPIGOT can be mounted on the right or left side depending on the accessory set-up. Here are some accessories that you can attach to the PAPARAZZI I: LED lights, LCD monitors, microphones, LANC controllers, audio recorders, articulating arms, grip handles, wireless audio receivers, or any other accessories that you might need. Price: 1799.$ CAD.
Availability will be at launch of the C300 which we think is at the end of January next year.