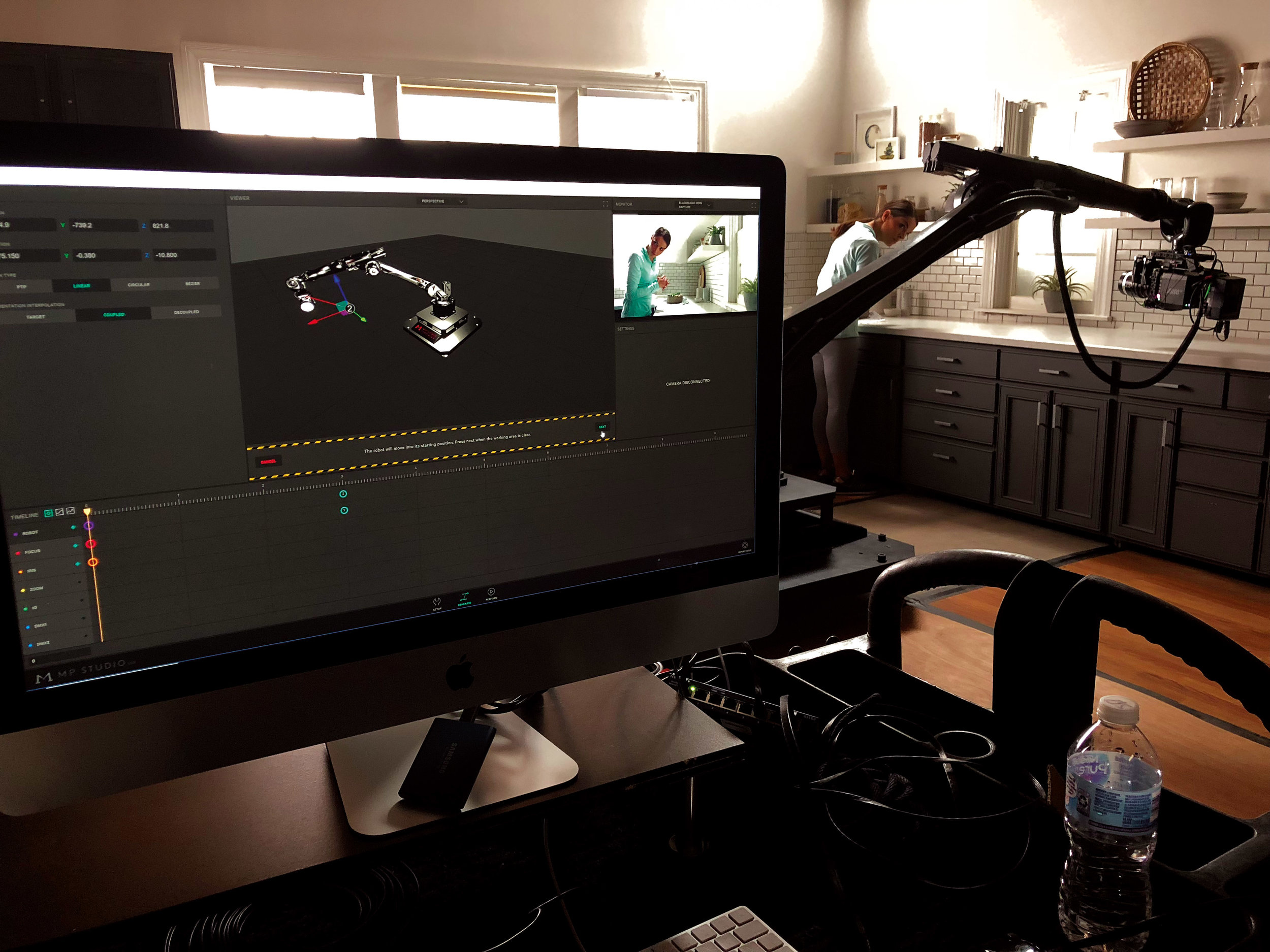 Robot OS
Posted on Jul 27, 2018 by Julian Mitchell
The large robotic arms are employed primarily in commercial shoots.
It says something about a product when the CEO of a cutting edge robotics company relies on it for his company's very survival
Motorized Precision is one of just a few robotics companies working in the cinema production world. Its products are basically large robotic arms that are designed to carry out exact movements pre-programmed in to them. The arms are able to carry all types of high-end cameras, including slow-motion, to film the movement that has been pre-determined for them. These robots have already been used on movies like Marvel's Thor: Ragnarok and many commercials and corporate work. The company is only three years old and was busy from day one. As CEO Sean Brown says, "A lot of people were just waiting for a company like ours to exist."
If you watch any television or movies you would unwittingly already have seen their work. Much of Motorized Precision's work is for commercials; the movement of the cameras is designed to present to the viewer exactly what the advertising agencies want them to see. A camera person could arguably do the same but what the robots promise is the same movement repeated as many times as you want in exactly the same way, or change it and repeat again. It's very high-end motion control.
OS on a drive
When Motorized Precision's robots are transported for location shoots, the Samsung Portable SSD T5 drive is essential for booting up the OS.
But Sean Brown of Motorized Precision had a problem and it had to do with the so called 'Crown Jewels' of his company: the base software that actually runs the robots. "We have a number of robots at different sizes and have to move them around the world for demonstrations and of course delivery. To boot up the robots, we had to hook up a large tower PC and use its drive as a boot drive. This was a clumsy way of doing things but we needed the speed of a PC to upload the software on to the machines. I was on the lookout for a simpler solution when I saw Samsung's Portable SSD T5 drives, which come in 250GB, 500GB, 1TB or 2TB. They were so effective that we now use these portable SSDs as the external boot drive so we can run our software on any computer. For instance we boot into Windows using the Samsung SSD drives and if the computer goes missing or breaks we still have the software with us everywhere we go.
"We can also switch computers when we're in development with different robots and different systems just by ejecting the drive and putting on another computer system. Doing it this way we can very easily move our software from one robot to the next."
So Sean is effectively storing his robot operating system on the Samsung Portable SSD T5 drive. "Previously we were using large Tower PCs so we had to also have external monitors, keyboard and mouse; it's a messy way of doing something quite simple. I wanted to move to smaller computers but a lot of them didn't have an SSD drive inside them. Buying a Samsung Portable SSD just made sense as a boot drive with its tremendous speed, large capacity and small form factor and we didn't have to put an SSD into the computer.
Data speed
"We've had computers go missing when being shipped state to state; if that happens then your entire OS goes missing too. You also won't be able to do the shoot if you don't have a computer with the OS on it. Having a Samsung portable SSD drive means you can carry your boot drive with you on a plane for instance. You can then plug it in to any computer and make sure you can do the job. The Samsung drive was the best SSD drive for the job. It has USB3.1 Gen 2 so it has the speed we need, the price is good and the performance is amazing. There are other drives that have USB3 but just aren't as good. We're always up and running really quickly and never see any hiccups when we're running all of the software off an external drive.
"The computing power is tremendous and is needed as there is so much data going back and forth from the drive to control the robot. There's a lot of processing and signal flow going on."
The company is now running three types of robots and at least ten Samsung portable SSD drives that they send around the country from client to client when they buy a robot.
ADVERTISING FEATURE