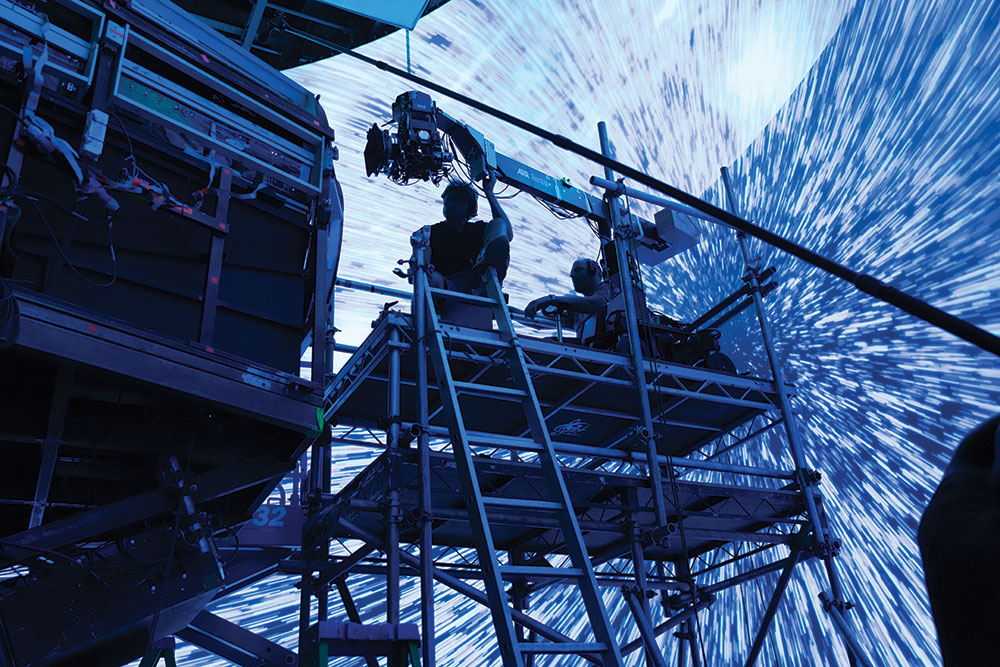 Brown Dirt Cowboy
Posted on Aug 17, 2018 by Julian Mitchell
Being involved in one of the spin-off Star War movies allowed DOP Bradford Young to engage his passion for experimenting
WORDS JULIAN MITCHELL
In the beginning, Bradford Young considered the shooting of Solo: A Star Wars Story as a simple exercise. He understood the tone that had been put forward: a contrasty, cowboy-type yarn about the bad boy of the Star Wars universe, but without the stress of a revolution or the presence of the Force. He already had his reference movies – such as McCabe and Mrs Miller, the 1971 Western starring Warren Beatty and Julie Christie – and images from this and many other similar movies covered his office walls as he put together his vision. "It all made sense to me as I love Westerns – the plan was that I would use film and would flash the negative and do all the things they did in the seventies." Further to this, Bradford decided to meet fellow Star Wars Story DOP Greig Fraser on the set of Rogue One where he was using ARRI's Alexa 65 large-format camera for the first time. "I saw the 65 and thought, 'Wow, this is interesting', and saw it as an option. Eventually we looked at 35mm, 65mm film, at the Alexa 65, and standard Super 35mm digital choices. I didn't like the Alexa 65 at first, it just didn't feel natural, I didn't think it was giving me everything I wanted. It felt right for a portraiture format but not natural as a landscape; however, with ARRI's help we made it work, and then I was on the hunt for the right lenses.
"There's all the 35mm glass that I thought I knew well, but you learn how manufacturers' glass have subtle differences, then you put 65mm in to the mix and it becomes really interesting. From there I became less excited about the format; the actual sensor size became less important to me. It was more important that I was bearing witness to glass that I had literally never seen before, glass that had never been used on movies before. So we were really breaking rules – not shooting Panavision glass was one of those, not shooting anamorphic, so that's another rule broken. Every day was like reinventing the wheel, but the format was at the mercy of the optics."
The one
Bradford cares deeply about the idea of customising the look of a movie and 'sealing the imprint of the films that you make'. "It was part of the reason that I chose the ARRI DNA glass, so I could be part of something and see it in the making. We were trying our hardest to figure out what looks best; it was getting there but, honestly, I wasn't impressed. I started thinking maybe I should just go to Panavision, but one day Neil Fanthom (director of technology) from ARRI said to me, 'I've got this lens, you've got to see this lens'. Also Andrew Prior (head of cameras and digital systems at ARRI Rental) said, 'Come by and check out this lens – we think you're going to like it'. I came in and you could tell there was a vibe about the place, Neil knew that what I really wanted to see in DNA glass was in this one lens. It was a 50mm and we put it on the camera and, literally, I was like: 'This is it'. It was super special. It's hard to articulate how something is different from the other thing, but I knew that this was the lens, and it really set the standard of how far we could push the DNA glass."
By his own admission, Bradford was tired of seeing all this test glass and passed the next step onto his first AC, Jake Marcuson. Bradford talks about what Jake brought to the lens choice. "I didn't want to question myself any more about the glass, I had to stick with something. Jake came in and said, 'Let's take it further' and took it to the next level – that's when we really started seeing the DNA glass sing. That's when those lenses became very special in their own right, it really felt that we were going to use the different glass for very particular reasons. We started to develop rules for when we were going to use coated and uncoated lenses and who we were going to shoot with which lens; Chewie was going to be shot with the 45mm, for instance. With the glass, I felt that I was taking ownership of the process, and this was when Alexa 65 became a real option for us."
Raw glass
When Bradford first used the 50mm lens that changed his mind on his format direction, it was in a modular form without a scale or ring, just an XPL mount, and could barely be focused. Andrew from ARRI commented, "Neil and I were nervous, as we didn't know if we were going down the right path. That became the genesis for the whole set of lenses; we used that lens as a template and productized two prototypes of the 50mm for Bradford. Then the other lenses started to fall into place.
"We also started to heavily detune the other lenses based on the look of the 50mm; we commissioned the uncoated 45mm, and we fast tracked other lenses that had the same feeling to them."
Neil Fanthom talks about a new technology from ARRI that marries old tech with new, "We wanted to create more 'filthy dirty lenses' for Bradford to go on to the movie. There was some technology that was being worked on separately from these lenses, which created hybrid lenses with a bit of new and old technology. The old from the fifties and sixties, and the new from 2016. Bradford knew about that – not many people did – and he said that as soon as they were ready he would get them on the movie. So, as soon as new lenses popped up, like the 35mm or 60mm T2, they would go straight onto the show. Some of the lenses that were closing the show just weren't around at the beginning."
Managing the light
The relationship with the DOP and gaffer is very important, especially
with the added pressure of a Star Wars film. But for gaffer Perry Evans it wasn't his first time on a Star Wars set: he had already worked on Star Wars: The Force Awakens and Star Wars: Rogue One. "I really enjoyed working with Bradford, a lovely man and very different to other DOPs that I had worked with inasmuch as the stops he was working at and the low light levels. I knew that with the ASA Bradford wanted to work at, which was 1280, we could then use some of the VFX to help us with the lighting.
"For instance, for some of the battle scenes we had a whole bank of ARRI SkyPanels on top and we didn't light the backing at all, we just let it go. We actually ended up turning off the outside edges of the SkyPanels that were closest to the backing because the seam in the silk was visible – by turning it off we got a gradual fall-off.
"We'd also programme into the SkyPanels some orange and red flashes for explosions that we could hit; we'd hit a cluster of ten or 20 panels and hit the button and make them have an orange glow as if there was an explosion far away, so it just glimmered in the smoke.
"For the rest of the sets as well, Bradford would have an idea in his head and we would sit down and talk about it, and we quickly found that we were singing from the same song sheet, we were after the same things. He might turn on a few lights and then I might say, 'Why don't we turn some off'. He would realise that was working and then would turn some more off. We did that a few times. You do get some cameramen, when things aren't going right, who turn some lights on – with Bradford, if it's not going right he's just turning some more lights off. At first it's unnerving, but then you realise that we're shooting at 1280 ASA, where maybe the film previously we were working on was with a DOP shooting at 400. We had to get used to the light levels, which was a very quick learning curve."
Projecting the story
Bringing Ron Howard's eye-popping visual spectacle to life was aided by expert input from company Lux Machina
Definition: Can you describe your role in the projection side of Solo? Are we talking about rear projection only or did you also use some LED screens?
Philip Galler, Lux Machina: We used both front projection (Dryden Vos yacht), rear projection (Kessel Run), and LED screens (Speeder and interactive lighting work).
Def: When you bend the rear projection screens
to cover the Falcon, for instance, how do you control the light and give the DOP the resolution he needs?
PG: The screen is illuminated in different blended zones: each projector covers a zone, and we correct for the differences of perspective in each projector using toolsets available to us in
a hardware and software solution called Disguise, a company based in the UK. We calibrate each projector in 3D space using an accurate model of the screen and the physical position of each projector.
Def: What kind of projectors are you using now for this type of projection?
PG: We are using 30,000 lumen HD and 4k laser projectors from Panasonic.
Def: Can these screens also be used for some green screen work when you know that VFX
is needed?
PG: Absolutely! Projection screens make a great combo of interactive lighting and green screen tool. We are often called upon to draw green screen elements and tracking markers onto the screens we are working with.
Def: Is it easier to use rear projection or are you moving towards the higher resolution LED screens, which may be less adaptable?
PG: I think each project has its own use for projection and LED. Projection is great, but it has its limitations, such as having lower brightness and contrast than LED. However, unlike LED, we can bend projection screens, make creative surfaces and avoid moire when we utilise projection techniques.
Def: What are we seeing with the projection photos in the film?
PG: For the projection photos with the Millennium Falcon, you are seeing the utilisation of a media server to play back high resolution content to bring the Kessel Run to life, and to enable the actors to sit in a world that feels and behaves just like the real world might. The level of immersion helps with storytelling, and the quality of the imagery makes post-production work simpler and faster. The LED sets you are seeing are being used for interactive lighting; this provides realistic lighting in a flexible and dynamic way that can be manipulated in real time.