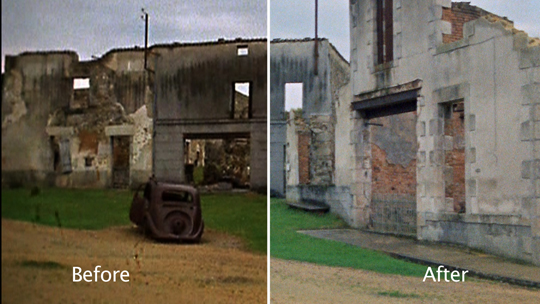 Restoration of a TV Icon
Posted on Jul 19, 2010 by Alex Fice
After 18 months testing the restoration of The World At War has begunThe World At War was an iconic Thames Television series of 26 episodes first seen in the early 1970s (it was commissioned in 1969 and took four years to make). Those who saw it, remembered it. You remembered the breadth of footage from newsreels, propaganda reels, footage from on-board fighter planes, hand held in battle and many other sources. You remembered Sir Lawrence Olivier's perfectly judged narration and of course Carl Davis' haunting and descriptive score. But did you remember the bad quality of the footage or the muffled nature of the soundtrack? Probably not but put a direct transfer of that series on to a Bluray disc today and play it on your 65inch flat panel and you'd be under no doubt that restoration was urgently needed.
The current The World At War DVD series is still a big seller for FreemantleMedia, now owners of the Thames TV archive. It still stands as a lesson from the past and a reminder for future generations. It was with this responsibility of respect that project leader Anthony Thomas took on the project of restoring the entire series for Bluray with a release later this year: "We have been testing with the authoring and restoration and transfer houses Eyeframe and TKOne for about 18 months, going through the various versions that we had. We settled on an Interpos that was derived from 1999."
Alf Penn from TKOne who used to work at Thames Television commented on the film skills that his company brought to the project, especially the selection and transfer: "Because of my background at Thames I did have a feel for the condition of the material. Also I knew about what elements could be available. The prints were in very poor condition generally, it's not ideal to use the A and B negs because although they're in good condition it would made the job cost three times as much and take three times as long to finish. Eventually I found a set of interposes which were in pretty good condition."
It was then up to colourist Peter Lynch at TKOne (one of the graders of Band Of Brothers) to achieve a transfer and grade that would prepare the footage for some heavy weight restoration processes: "We're transferring the film to HDCAM SR tape which then goes off to Eyeframe. I work through the reels and try and get the best possible grade I can. The quality of the material is all over the place. You have some in extremely poor condition that have been duplicated many times through the film route. I'm using a Spirit Telecine and a fully kitted out Pogle grading system that allows me to squeeze out the best from what I've got. I'm not cleaning it up but making it less muddy, I've been able to get a little bit more clarity out of everything.
L-R Alf Penn and Peter Lynch from TK One and Simon Marbrook, head of restoration at Eyeframe"It's not like a one light or best light transfer which is a bit flat and you create the look at the end. Most of the work has been done at the Telecine stage with regards to 'locking down' the look. We just had to agree how everything would fit together, how the black and white would feel that kind of thing.
"These interpositives have a little more 'welly' in them than the prints. These IPs are a little bit crisper with a little bit more detail."
Peter was preparing the footage for Eyeframe to get to work on the frame by frame restoration process. "I'm just trying to make it look as good as it possibly can and am freed from the 'getting rid of the dust and sparkle' kind of work. I've also been given as much time as I need to get each episode right but that works out at about two or three days per episode depending on content." The results of Peter's work gave the team even more of a clue to how much restoration was needed. This was important because the series needed to keep its historic character to place it in time.
New Footage
The footage selection also dug up enough new footage for ten new episodes on top of the original 26. There is also a behind the scenes episode to demonstrate how the restoration was done.
Further to the normal black and white material, there was some colour to deal with, Peter Lynch; "The colour was seriously out of whack so more time than normal had to be spent on it. Much of it had faded, some of it turned bright orange or bright red. So I had to put it all back and try and get back the normal tones. A combination of my grade and Eyeframe's restoration processes has bought it back to life."
The master tapes were then sent to the main restoration studio and DVD authoring house Eyeframe. They had recently arranged with Snell & Wilcox to borrow one of the first Archangel HD boxes, a real time restoration product dealing with dirt, dust, grain, noise, scratches, instability and flicker removal – perfect then for The World At War.
Grader Peter Lynch; "The colour was seriously out of whack so more time than normal had to be spent on it."James Greenwall from Eyeframe explained their role: "We are a beta site for the new Archangel HD, one of only two companies doing that. We went through 18 months of testing prior to starting, got the Archangel last November and started the project in January this year.
"This is a huge project of 26 episodes and bonus material making another 10. You're talking every conceivable type of footage and therefore every type of artefact and so problem. We're using the Archangel and MTI tools as there is also an immense amount of de-spotting to be done. We found episodes that were better than we were expecting and ones that were worse. It's a project that you can go on and on with, there's no real finishing point."
With that in mind as well as the timeframe and of course budget, Eyeframe designed a route that would primarily improve the viewing experience – this would be their priority. It would also include a full audio restore as well and within that a 5.1 mix and a clean up of Olivier's narration. While these elements were to be remixed and rejuvenated some audio like radio broadcasts were to be left alone to ensure the history stamp. "We haven't taken away crackle because it's a radio or we haven't stabilised the camera because it's a handheld camera in battle. We've tried to be as careful to the footage as possible and concentrate on areas where it would take away from the viewing experience."
A typical day for the restorers meant loads of tramline removal, lots of stabilisation, lots of mending of damaged film as well as hairs and dirt and huge amounts of de-spotting. "This is a like Photoshop for film as you're literally going through frame by frame painting things out."
James claims that on average Eyeframe have been doing about 140,000 fixes per episode with some 20 minute segments having 80,000 alone.
The result is a stunning new look where you can see details you have never seen before – people's faces, their clothing, little details that take you to that moment. But the danger was always to go too far as one historic scene explained by Anthony Thomas showed: "We had the scene of Hitler in the Eagle's Nest, part of Eva Braun's private film collection. There was a massive tramline over his face which we decided not to remove but to lessen. To remove it would have left a 'too' digital effect that would not look right."
The World At War Bluray box set is out this September. An SD DVD set will also be available.