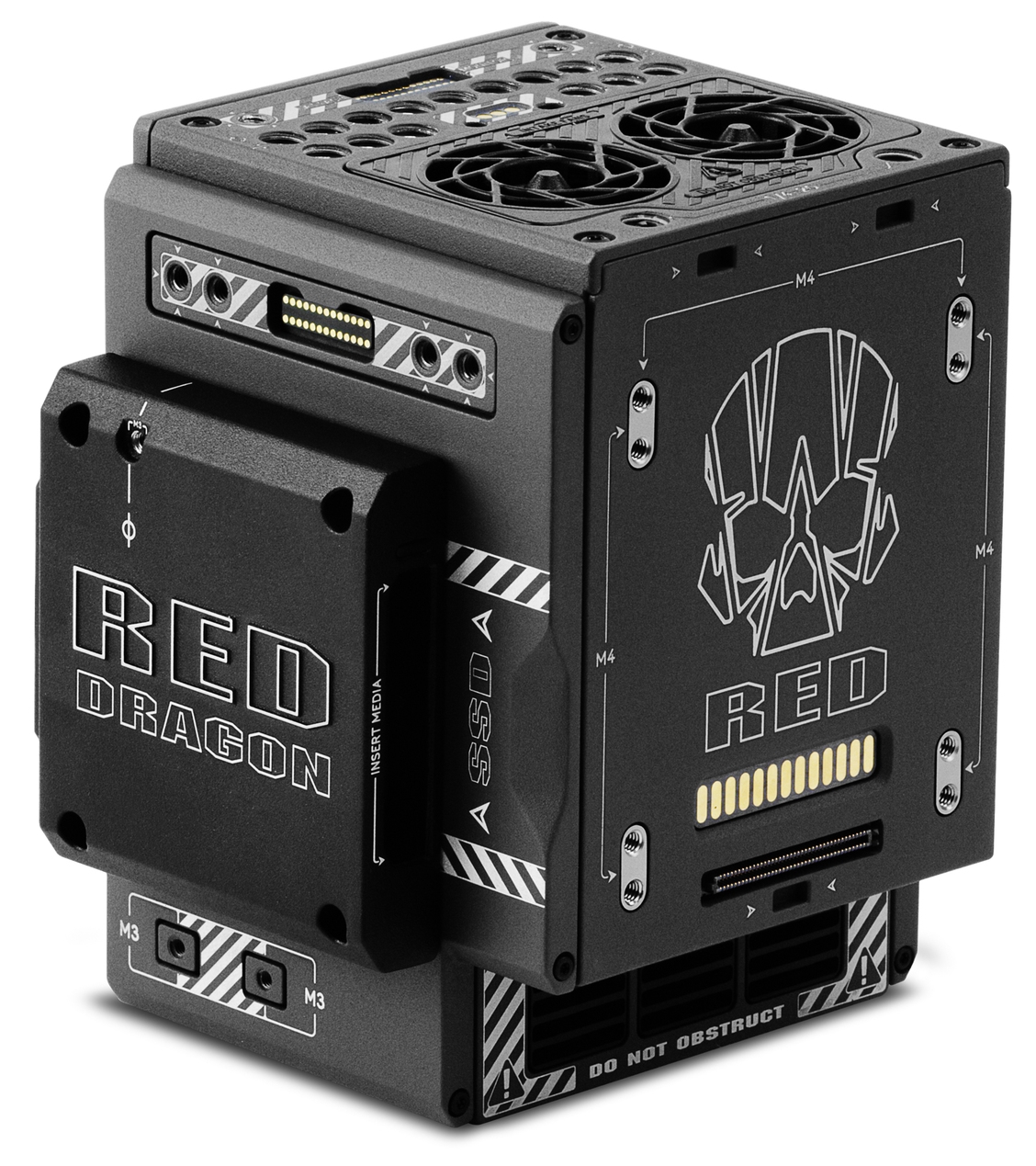 RED Launch Their Scarlet 'W' Camera – Could It Stand For Weapon?
Posted on Dec 11, 2015 by Julian Mitchell
The new Scarlet W camera is here to get Scarlet users upgraded to the Weapon Brain.
RED has launched another new camera with the Scarlet-W which surely should be the Scarlet-W Dragon to be consistent with their naming protocol but we're guessing the 'W' stands for Weapon – it also has a big 'Weapon' 'skull' on the side of the camera. This seems to be an upgrade to previous Scarlet Dragon cameras as owners of those cameras are enticed by a $2500 discount if they decide to buy.
The 'W' will be bring Scarlet owners bang up to date with what the Weapon offers, integrated mounting points, interchangeable lens mounts, simultaneous REDCODE® RAW and Apple ProRes recording formats, intelligent OLPF system, and in-camera 3D LUT outputs — with a RED DRAGON sensor.
You can buy -put a deposit down – between a choice of two brains (no Steve Martin jokes) monochrome or colour or a 'W' with a BASE I/O V-Lock package as above.
Recording frame rates top out at 5K at 50 frames per second (fps) at 5120 x 2700 (full frame) and go down to 4K at 150 fps, or 2K at 300 fps when shooting REDCODE RAW. Check the spec sheet below for other fps/resolution combinations.
SCARLET-W is estimated to begin shipping in February 2016. In their traditional way you can place a deposit through the RED website or with a RED authorised Dealer. Customers have the choice to buy the camera BRAIN only — with either a colour or black and white monochrome sensor — or a more kitted out SCARLET-W Base I/O V-Lock Package.
In a hurried additional press release RED release some prices for the new camera.
• SCARLET-W BRAIN – $9,950 – estimated to ship February 2016.
• SCARLET-W BASE I/O V-LOCK PACKAGE – $14,500 – estimated to ship March 2016.
– Includes a SCARLET-W BRAIN, AI Canon Mount, Base I/O V-Lock Battery Mount, RED MINI-MAG® 120GB, DSMC2 RED Touch 4.7" LCD, DSMC AC Power Adaptor, and DSMC2 Universal Handle.
Or as mentioned current SCARLET DRAGON owners are eligible to receive a $2,500 discount on the SCARLET-W Base I/O V-Lock Package price (Only available through RED.COM).