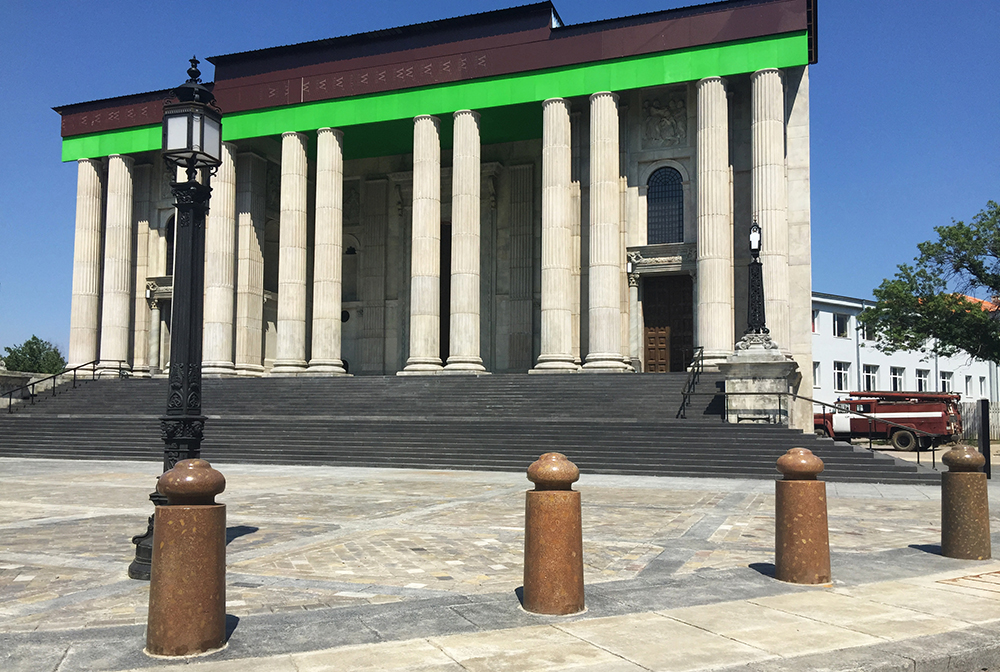 Nu Boyana Film Studios, The East European Hollywood
Posted on Jul 17, 2015 by Adam Garstone
The Bulgarian National Archaeological Museum is housed in a beautiful, 15th century former mosque in the centre of Sofia. Currently on display are Roman artefacts (from the Louvre) that belonged to a rich woman named Maxima, who died near Pompeii during the 79CE eruption of Vesuvius. The preceding earthquakes had prompted her to hide her valuables in the wine press of the villa della Pisanella, saving them from the destruction wreaked by the eruption and preserving their exquisite workmanship.
And here's the tenuous link: Not ten minutes drive from the museum you can walk the summa crusta of a Roman road, through a triumphal arch, and gaze at more exquisite workmanship – the columns, statues and steps of a Roman town square; the drama of a blood-spattered amphitheatre; the fountains and pools of a spacious domus.
All completely fake.
Rome in Bulgaria, at Nu Boyana studios. (below and above).
They are on the backlot of Nu Boyana film studios, which has a policy (at least until they run out of space) of not demolishing any backlot sets. As a result, you'll find New York streets next to London's St. Paul's (built for the upcoming feature London Has Fallen), and just across the mediaeval cemetery from Ancient Rome are a few quaint clapboard houses that wouldn't look out of place in some New England town – one of those with a name ending in 'tucket'.
London's St Paul's built for the new movie.
Boyana Studios opened in 1963 and, at its height, made around 25 feature films, and about 40 TV shows per year, making it the biggest film studio in Eastern Europe.
In 2001, freed from its Cold War isolation, Boyana studios attracted its first production from Nu Image/Millennium Films (The Mechanic, The Expendables franchise), who liked it so much they bought the company in 2005, renaming it Nu Boyana (see what they did there?).
Since then, the CEO Yariv Lerner has overseen an investment programme of around €50 million, including the building of 10 new sound stages (as well as updating the original, 1960s ones), and adding state-of-the-art picture and sound post-production facilities.
Yariv Lerner (left) CEO of Nu Boyana and Ivo Natzev in their main mixing room with the Avid Pro Tools S6 surface.
Nu Boyana still services most of Millennium Films productions, many of which have a high VFX content, so the studio complex is also home to WorldWideFX, which employs around 225 VFX artists providing an end-to-end service in 2D and 3D effects.
This concept of end-to-end service is one that CEO Yariv Lerner is keen to stress. Nu Boyana is able to provide everything required for a production, from equipment to crew to sound stages to locations, though editing, VFX and grading, sound design and final mix. A producer can hand off a script to one of the in-house Unit Production Managers, who will return a full budget and will source everything possible, for instance the company has cameras and lens packages from most of the major manufactures. This allows them to be more flexible in their pricing strategy – unlike other studios, they can reduce the cost of a lens kit, for instance, because you are booking the sound stages as well.
An important part of the end-to-end strategy is post-production. Nu Boyana has 11 Avid Media Composer suites (at the time of writing, five were in Bulgaria and six were in London completing the edit of London Has Fallen), all hooked up to an ISIS 5000 (soon to be upgraded). They also intend to embrace Avid Everywhere to ease the issues raised by splitting edits between Bulgaria and London/LA. All the editing systems are hosted on new Mac Pro hardware.
Two full DaVinci Resolve grading systems are available (also Mac Pro based) – the first in a plush but fairly standard grading suite – currently equipped with a JVC projector but a Christie is coming soon. The second is installed in Nu Boyana's large main mixing theatre.
Don't need ancient Rome or central London? How about New York, Bulgarian style.
This space – roughly the size of a 200 seat cinema – is equipped with a Christie 4k projector, Dolby Atmos sound system and an Avid Pro Tools | S6, 48 fader control surface (soon to be enlarged), as well as the Resolve system. This allows for final grading tweaks to be carried out on the big screen – often, apparently, whilst the mix is being done. They must have unusually patient mixing personnel!
In offering its services to productions beyond the Nu Image/Millennium Films slate, Nu Boyana is capitalising on cheap real estate and comparatively low cost crew in Bulgaria, whist maintaining close links with the production and post-production capitals of Western Europe and the USA. Aside from recovering Bulgaria's 20% VAT, there are no government incentives to film in Bulgaria, yet Nu Boyana claim to be able to beat the budget of studios where such incentives do exist.
As importantly, Bulgaria trained a generation of film crew in the 1960s, a second generation took over after the fall of the Iron Curtain, and Nu Boyana are actively training a third generation, with a script-to-screen film school. The studio offers a combination of modern, low cost facilities and well trained crew, and a proven track record of hosting big-budget, Hollywood action films.
Actress Kate Beckinsale, crew and extras at Nu Boyana .