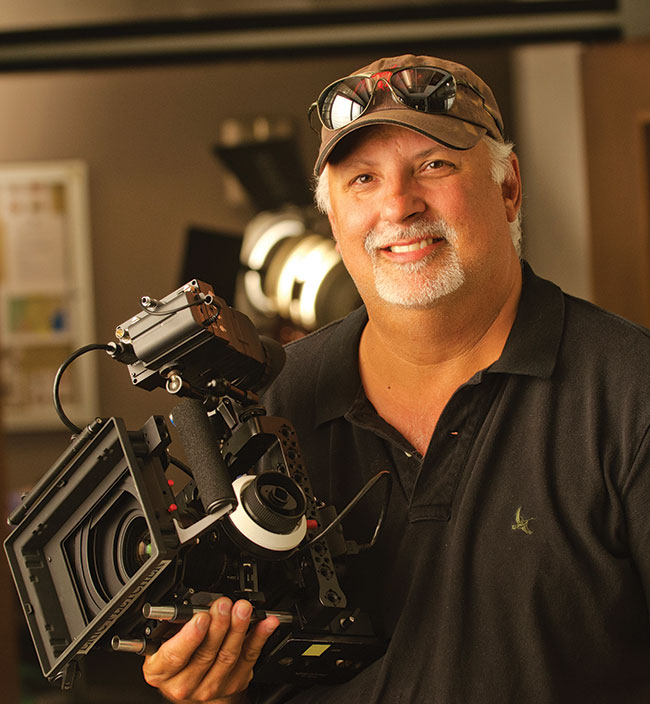 Nikon DLSRs In Hollywood
Posted on Nov 22, 2012 by Alex Fice
Nikon's D800 on set with Dexter himself – actor Michael C. Hall.
Nikon's D800 DSLR amazed episodic producers with its performance even without external recorders to avoid a low bit codec. A little tweaking made it a good match to cut against their main ALEXA camera.
Since 2009 Canon has earned all the plaudits for their DSLRs in the video world while other manufacturers looked on with their lesser video specs. Nikon were never mentioned when Hollywood took to using stills cameras as crash cams or B cameras and Canon's success has seen them become serious contenders in the video world culminating with their superb C500 cinema camera. But those who have observed giant Japanese companies knew that Nikon would come up with something but at their own speed. Well its looks like their recent product launches the D800 and D4 have produced a performance that reaches Canon's as two well known US episodics, Dexter and Wilfred, have started to use the cameras in earnest and not just as crash cams.
Wilfred is currently the only television series on any major network to shoot exclusively on HDSLRs. The series' director and executive producer, Randall Einhorn, recognized the D800's potential and spearheaded the use of the HDSLR as its dynamic range and low-light performance set it apart from those previously employed by the production team. Additionally, director of photography (DP) Jeffrey Jur, ASC, is using the Nikon D800 extensively for Dexter, deploying it alongside their Arri ALEXA. For the current season, the D800 has served as the C and D bodies on main unit and main camera on second unit.
"As soon as we saw the specs behind the D800 we immediately wanted to get our hands on one," said Tim Arasheben, camera operator on FX's Wilfred. "Instead of using the HDMI out to record to an off-board recorder, we leveraged the HDMI out to feed clean video images to everyone on set," added Arasheben. Wilfred's production team also noted other advantages of the D800 workflow, including the ability for the camera to shoot in 1.5x and 5:4 crop modes for a telephoto boost and enhanced depth and also the uncompressed HDMI output for monitoring or porting to an external recorder. Additionally, the D800's wide dynamic range for video and still capture combined with a wide ISO range.
He noted that the Nikon arrived soon after the show's new DP Jeffrey Jur changed from the Sony F23 to the Arri Alexa as the show's main camera. "I was pleased to see the change as I was getting tired of some of the limitations of the 2/3rd inch sensor.
"In doing this change we needed an additional on-set camera and also to shoot on our double-up days and second unit stuff. We do a lot of stuff where we have our characters like Dexter or Deb or some of our other characters driving in 'free drive' where the actors are actually driving. We needed to get a camera inside the vehicle with us where we can do those shots and keep the windows up for sound considerations. If I've got a camera on my shoulder like an Alexa you have to have the passenger window down as its sticks out of the car.
"Just when we made this DoP change Nikon announced the D800 and I've been a Nikon shooter for as long as I can remember. So we got two of the cameras in while we were shooting a pilot in April and we were absolutely flawed by the imagery. Here was a camera that handled highlights really well but would also dig in to the blacks. It looked great.
"With a little tweaking of the imagery we found that we could make a pretty good analog for an Alexa. The Canon was great but we were finding that it had a more dreamier look, which isn't the Dexter look. Dexter is not a dreamy looking show, it has a bit of an edge to it, the Nikon matched up to us really well."
Dexter's DP Jeffery Jur, ASC.
Eric had also been working with Arri on their range of Pro DSLR rigs. "They built me a cage for the D800 with follow focus, mattebox and turned it in to a normal production camera that we could put our normal filters on that we have on the main package and could function the way that we are used to."
This happy accident of time of new products has paid dividends for Eric on set, "There is a scene in the first episode of this season's Dexter where Deb is buying gas and it was shot with the D800 and it looks phenomenal! Unless you walk up to the monitor and know what you are looking for you are not going to see a difference."
Once Eric and his team had done the tweaking on the camera, to ease the post route, they found that they had about 12 and a half stops of dynamic range with plenty of resolution. "What's more important for us was the way it rolls off the highlights and the way it handles blacks."
The settings were decided by pulling the contrast all the way down, taking the sharpening off and knocking two clicks of saturation out of the camera. For them it started looking similar to ArriRAW. Kevin Britton in Eric's team played with the settings over a couple of days to achieve something that post wouldn't have to work on too much to match up.
2nd AC and Nikon on set Guru James Barela adjusts the D800 shooting Enver Gjokaj on Dexter.
No Recorder
One of the big selling points for Nikon in to the video world was the uncompressed output from the HDMI. This gave a 4:2:2 feed for an external recorder. Eric found that they didn't need this feature, "We recorded directly to the SD card in H.264 and have been very happy with the results. We actually did some side by side tests of the Alexa, the D800 compressed and the D800 uncompressed going out to a Sound Devices Pix 240 recorder. We also used a Canon C300. We took the results to Technicolor where we do our colour correction and put everything up. The difference between the Pix 240 file which was 10 times the size of the H.264 file was there but not big enough to deal with the hassle. The other problem is that because the HDMI connector isn't a locking one if the cable is jiggled in the slightest it would lose integrity and the recording is shot.
"We did see some artifacts in the absolute bottom of the blacks but once it goes through the post those artifacts disappear."
Lenses
"Our industry knows Nikkor and there is such an appeal with the brand's older glass," added Fletcher. "The quality and look is awesome, and for a long time, many have developed custom mounts to be able to use these lenses on non F-mount bodies. When the D800 was announced, I couldn't have been more thrilled or eager to get it on set as I would finally be able to pair all of my old glass with a DSLR boasting such high-level video performance. As a professional camera operator who happens to be a Nikon still shooter, the D800 is the camera I've been waiting a long time for."
"We have always been a Nikon lens show, even when we had cameras with other mounts," added Arasheben. "The first time the director and I met about the show, I came with a wide range of Nikkor glass, including all the classic AI-S lenses. We loved the character of the lenses, their craftsmanship and focus performance. Our assistants can pull focus so accurately with the NIKKOR AI-S glass."
Eric uses the autofocus Nikkor lenses with the Arri follow focus, especially the 24-70mm. "We're getting about 270˚ of rotation on an external focus knob with the Arri system. It has end stops on it so you won't lose your calibrations. We did bring in a set of de-clicked lenses and I'm trying those out at the moment.
"The DSLR is a lot more difficult to use on a day to day basis than say an Alexa. Mainly because if you don't have modified lenses they're difficult to pull focus on. But now we have the Pro DSLR rig from Arri we'll probably see more Nikons on set, it's now something the assistants are used to. You'll probably seen more of them in commercials where you can bend the look a little more.