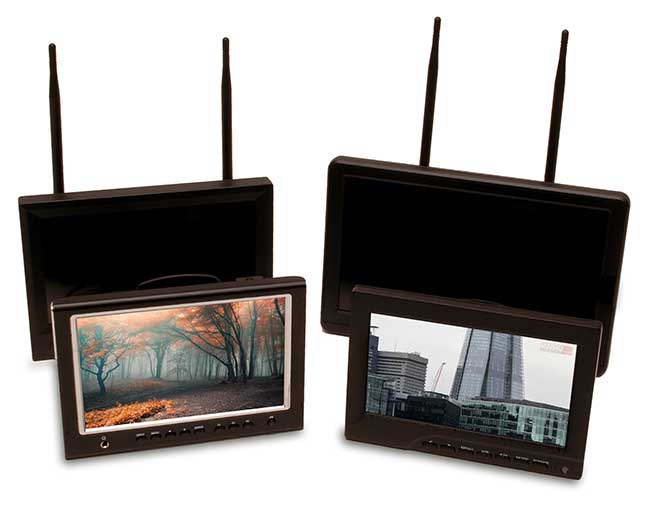 New Wireless Monitors From Ianiro International
Posted on Dec 4, 2014 by Alex Fice
New wireless monitors from UK distributor Ianiro for 2015 come in 7, 8 and 10in sizes.
Launching at BVE 2015 in London, Ianiro International is introducing a new range of wireless monitors. The new models feature 7", 8" and 10.1" screens, are optimised for use outdoors in full sunlight and can receive and decode 5.8GHz wireless signals.
Wireless FPV (first-person viewing) monitors have recently become extremely popular for unmanned aerial vehicle (UAV) photography. They are also in regular use with traditional video productions, giving the director an untethered screen to monitor camera output in real-time. With its new units, Ianiro is introducing a new price point, with prices starting at £169 + VAT.
Featuring an HDMI input as well as a receiver, its 7" LED supports a variety of battery plates including V-lock, Anton Bauer and Sony mounts. Also has a range of on screen displays for histograms and peaking, it is useful as a focus and confidence monitor, in addition to its role in UAV set ups. The 10" wireless Field Monitor has a built-in wireless receiver, HDMI and composite inputs,1024 x 600 resolution and 16:9 aspect ratio. Completing the range is the very low cost 8" Ground Station. It is very bright at 450cd/m2 and its contrast ratio of 500:1 makes it good in strong sunlight. It is PAL / NTSC switchable and has a power consumption of less than 8 watts making it helpful for extended shoots.
"The ability to use these monitors for location shoots or remote UAV flights makes them exceptionally versatile. Traditional shooters can also simply mount the units to their DSLR or system camera for very low cost monitoring, or detach them for use cable-free." Says Nick Allen-Miles, MD of Ianiro International.
Users that do not require wireless receivers have two further options. Ianiro is now also distributing two 7" monitors – a 1280 x 800 high resolution unit with an HDMI input and loop through as well as a lower resolution model with an HDMI input. All are available from resellers across Europe.