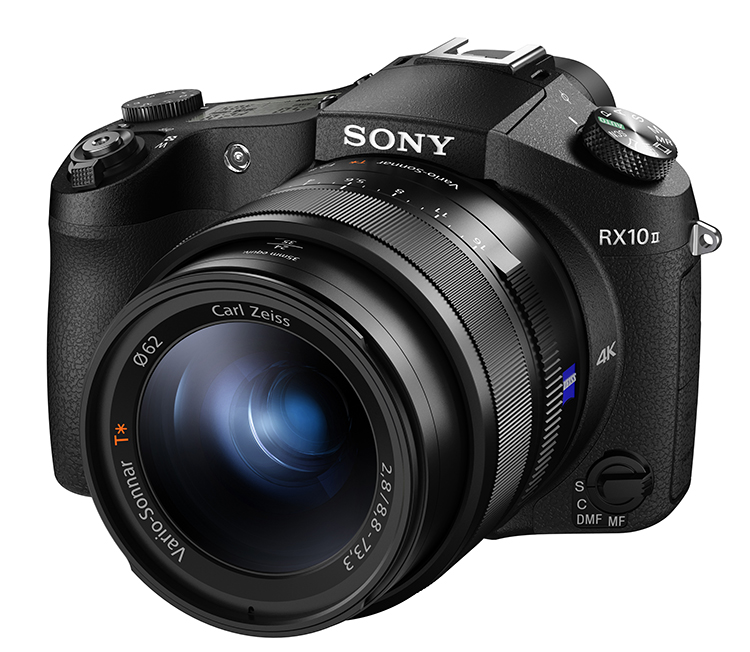 New Sony RX10 MkII camera offers 1000fps slow motion and 4k
Posted on Jun 11, 2015 by Julian Mitchell
The Sony RX10 II with 4k video and up to 1000fps of slow motion.
Hot on the heels of the news of their flagship camera, the A7RII comes the news of another couple of 4K cameras for the lower end 4k market. They are both designated under the Cyber-shot brand that Sony have had for years, the smaller RX100 IV and the bigger RX10 II pictured above.
The two new models both feature a new type of sensor (although it was announced in 2012) called 1.0 type stacked Exmor RS CMOS. In conventional CMOS image sensors, the pixels (sensors) and circuits (logic) are formed on the same silicon substrate. Like oil and water, this coexistence of two conflicting elements makes it difficult to optimise their characteristics and also imposes other constraints. Stacking them as separate chips improves image quality, signal processing, enables faster speeds and lowers power consumption.
The sensor design had the mobile phone market in mind first and foremost as the sensor structure is smaller than usual but the increased functionality has given these cameras some great features.
Which include a 40X super slow motion video capture at up to 1000fps which is Phantom territory, an ultra-fast Anti-Distortion Shutter with a maximum speed of 1/32000 second and 4k movie shooting.
This super slowmo is a standout feature. You can choose between 1000fps, 500fps and 250fps frame rates (see resolutions against frame rates below) and 50p and 25p playback formats. Also like pro high speed cameras Sony give you the option to use the movie record button as a 'start trigger' to begin recording once the button is pressed or 'end trigger' to record footage up until the button is pressed. The 'end trigger' mode lets shooting begin two to four seconds before the movie button is pressed, enabling shooters to capture the moment with much more consistency and accuracy. Two seconds of movie footage shot at 1000fps and 25p would take about 80 seconds to play back.
Official resolutions are:
240fps/250fps (1,824 x 1,026),
480fps/500fps (1,676 x 566),
960fps/1000fps (1,136 x 384)
The new RX100 IV and RX10 II models are the first Cyber-shot cameras to offer the 4K or QFHD at 3840×2160. Like the A7RII they use full pixel readout without pixel binning to lessen moire and 'jaggies'. Also like the A7RII they use the XAVC S codec, which records video at a high data rate of 100 Mbps during 4K recording and 50 Mbps during full HD shooting.
To help designate between the two models the RX10 II can shoot 4K video up to 29 minutes in Europe (which is something to with European tax laws and not wanting to describe the RX10 II as a camcorder, more tax is incurred if it is). The more consumer friendly RX100 IV can shoot 4K clips at up to about five minutes in length, but that still a lot of slomo. They both also offer Picture Profile and S-Log2/S-Gamut but not the clean HDMI out.
Both cameras also have advanced dual video recording functionality, allowing shooters to capture 16.8 MP still images during 4K video recording in any of 11 different composition patterns simply by pressing the shutter button.
The Sony RX100 IV – meaning the fourth version of this model.
The new RX100 IV is for the pocket and has an in-built ZEISS® Vario-Sonnar T* 24-70mm (35mm equivalent) F1.8-F2.8 lens, while the new RX10 II maintains the same body design as the original RX10 and has a ZEISS Vario-Sonnar T* 24-200mm (35mm equivalent) F2.8 lens.
Each of the cameras is equipped with a new high-contrast XGA OLED Tru-Finder with around 2.35 million dots of resolution. The new cameras are also Wi-Fi® and NFC compatible and can access Sony's growing range of PlayMemories Camera Applications. Learn more at www.sony.net/pmca.
The RX100 IV and RX10 II will start shipping in Europe in summer 2015. The RX100 IV will be priced at approximately €1,150 and the RX10 II will be priced approximately €1,600.