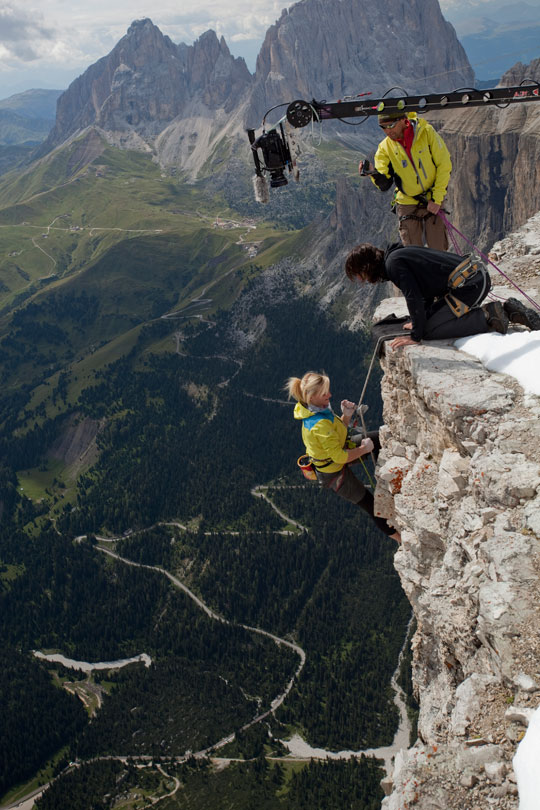 New Heights: Sony's PMW-F3 Shoots New Berghaus TVC
Posted on Nov 8, 2011 by Alex Fice
Director Alastair Lee checks the shot with his F3 rigged above himAlastair Lee is an award winning adventurer film maker, known for climbing movies especially and also known for making them interesting to non climbers. This can be at times quite a challenge as ascents can sometimes take hours and the dramas are usually fingertip minuscule with a large vista backdrop (Alastair gets close to capture the drama, usually putting himself in danger to get close to the climbers on the cliff face). But Alastair is good at it and regularly wins awards for his art. These achievements were recently rewarded in a different way with a commission by outdoor clothes manufacturer Berghaus to make their new TV commercial initially for the UK market.
It's a reflection on Alastair's honesty that when was planning for the commercial he felt a little out of his depth and didn't truly know what he was doing, his own words. Most of his recent movies have been shot with a Sony EX1 with a depth of field adapter on the and his Nikon prime lenses. A commercial perhaps needed to bring more epic cinematography.
The itinerary also didn't help things. Alastair was going to be out in the Italian Dolomites for 13 days and the athletes only seven. There were two of them who had to leave after just three. "The reason they sent me out three days early was to 'recce' and find the locations which was an insane timeframe!
"We needed 13 locations and just to illustrate the logistical difficulties sometimes it would take four hours to drive to just one, these locations also needed to be out of this world for the ad. There was also an opening scene to introduce the story and a closing scene to wrap it all up. A usually stretch of time for such an itinerary would be five or six weeks.
"Their brief was to make it multi-activity but apart from that it was down to me. Also that worried me to combine all these activities with the time we had and with a narrative idea. We're talking five different activities and they're not tennis, cricket, football type games. They wanted base jumping, rock climbing, mountaineering, mountain biking, trail running. These are all super difficult things to film, but five in a week was just bonkers! Apart from that it was much harder to come up with an idea where you could tie all these things together."
Alastair as director and shooter was joined by an assistant and rigger, Dave Reeves. He had the experience that was needed with the big kit like his jib and to set up cameras where needed, usually in crazy places. As this was his first ever TV commercial Alastair put himself under huge pressure to come up to a standard that he saw every day on television. "It had to be spectacular, every frame had to be amazing as well as being a neat, clever, fun idea that would win everyone over and get the message across.
"Previously I've made reality, documentary type films and I did wonder if this was the right direction for me. But once it began I've got to say I loved it! The thing I really enjoyed was that it was all about the shot. Usually the people I work with are all about climbing the mountain or finishing the challenge so there's not much room for re-takes! To have so much artistic control and creativity with a bigger team than I'm used to was great. But there was pressure applied."
Epic Cinematography
Alastair is a reader of this magazine and had seen our coverage on the Sony PMW-F3 and one thing struck him about our coverage of the camera and that was our feeling that we didn't really know who the camera was for. "I was reading the articles and seeing this and saying, Me. Me. I'm the market for it!
"I was a bit nervous about using my EX1, because it was TV but I had a budget. I'd hired a jib and had two hours helicopter time with a Tyler mount, it was definitely a step up. You get a great picture with the EX1 with the depth of field adapter, you get a great filmic look but I was nervous about how it was going to look once it was sat beside all these other great ads. We also used a slider for the mountain bike shots which was great fun. We were doing things like the bike would be going down a ramp and he would jump over the slider. If he'd got it wrong he would have taken the camera out!
"I was also looking to buy a F3 so it all made sense to get one for the shoot. I did take my EX1 as back up but never used it. We used a set of Compact Primes with the F3 which I did have trouble with mostly to do with their size and changing lenses when perhaps in difficult situations like hanging off cliffs, they're so easy to drop as they're so big with their gearing on. As for the camera, coming from the EX1 it was a breeze to use, essentially it works exactly the same but a few things are slightly better.
"Also going back to the HD Magazine appraisal of the F3, if you look at an EX1 with the adapter on it, it's quite a lumpy, heaving thing. The F3 does the same thing but without the extra weight and I found it easier to use." Of course one of the articles we have written about described the F3 needing a recorder which added to its footprint where Alastair recorded to the on-board cards. "The demands of the broadcast commercial technically were 50 Mb/s and I wondered what they were going to say when I submitted it as a 35 Mb/s job, they said it was fine as long as I was happy with it. At the end of the day you can't substitute for good light, good composition, sharp focus, all the basic things."
5D No Thanks!
Alastair had no problems getting used to the F3 because many of the settings from the EX1 were there on the F3. He was also able to use the profiles he had set up on the EX1 for the F3. "They worked but I did check them out on the computer and had to dial down the green a bit but otherwise it was fine."
As many film makers are turning to DSLRs to achieve their depth of field Alastair has a different opinion about them. "The 5D has made a right mess of everything, suddenly you've got supposed film makers all over the place using it. Just ergonomically the 5D is a nightmare, I tried filming on it once and I just wanted to throw it away. You can get nice pictures but there are just so many things wrong with it. I mean it stops recording because it gets too hot! Case closed! Where would I be, on the side of a mountain, if that happened?"
Alastair used the helicopter for the alpine ridge climbing and the base jumping. He shot wide with a 50mm lens for both and wasn't tempted to attach products like GoPros to the base jumper as again he was worried that it wouldn't match up to a TV commercial look. "I didn't want to cut from the lovely F3. I was aware that most of the audience for the commercial would never have seen stuff like this so I wanted to be careful not to alienate people as well."
One Man Band
Alastair shot the commercial and also edited and graded it with encouragement from Berghaus which is the result of his experience with his own films and also because of the technology. Alastair is a Final Cut user but won't use the new X because of all the horrendous things he has heard about it.