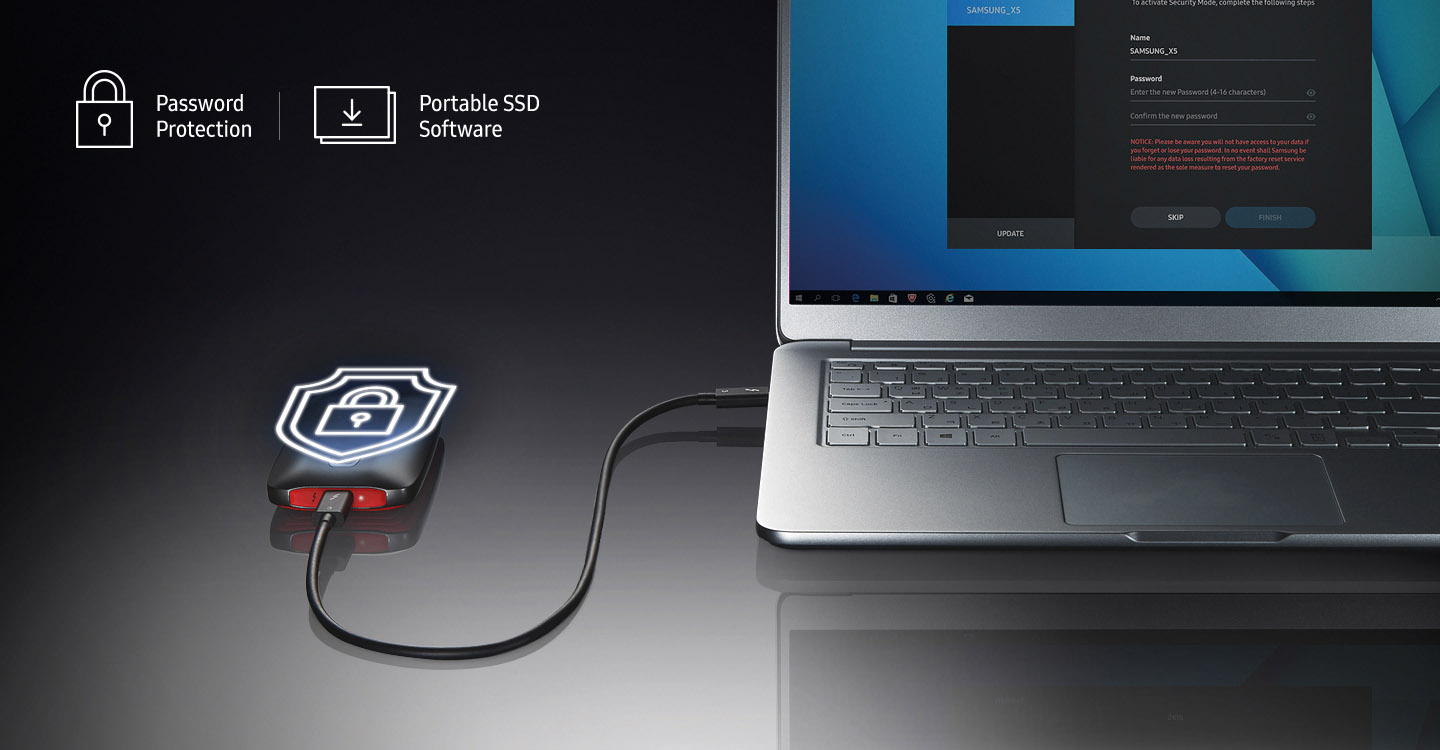 New Breed and Era of Drive Technology
Posted on Jan 4, 2019 by Julian Mitchell
The perfect environment to test the new Samsung Portable SSD X5 drive technology was somewhere where speed is paramount
When we previously asked Cinelab London, one of the few remaining film labs in the UK, to test out Samsung's Portable SSD T5 drives we didn't expect the company to rethink its business model of drive distribution to its many film clients. In effect, Samsung's Portable SSD T5 increased the throughput of film content. But when Cinelab heard about Samsung's new Portable SSD X5, it wanted to test it for a different part of the business.
However, we must first understand how Cinelab works. Adrian Bull, managing director of Cinelab London, explains: "Our clients send us their rushes and send us a drive so we can send the scanned files back to them. Modern scanners produce files that are around 75MB per frame. For a day's rushes, you could be looking at around 2TB per day, especially when you're dealing with uncompressed DPX files."
Although Cinelab use all the modern interfaces, it is the drives that sit behind them that are its Achilles' heel. "You can spend hours copying stuff off and then the client spends similar amounts of time transferring the files their end. We can actually generate the data far quicker than we can deliver it."
Maturing technology
Available in 500GB, 1TB and 2TB capacities, Samsung's Portable SSD X5 drive uses cutting-edge Thunderbolt 3 technology and is designed for Macs and PCs with Thunderbolt 3 ports. The portable drive uses this ultra-modern interface and manages a read speed of 2,800 MB/s and write speed of 2,300 MB/s. These speeds are five times faster than the current USB 3.1 and more than 25 times faster than an external HDD.
Apart from the transfer speeds, Samsung's Portable SSD X5 inherits key features from the Samsung Portable SSD T5 drive. It has a full-metal body with a glossy finish, while a shock-resistant internal frame and rugged metal housing means the portable drive can withstand accidental drops of up to two metres. In addition to this, new cutting-edge features include a non-slip bottom mat and the Dynamic Thermal Guard technology, which safeguards Samsung's Portable SSD X5 from overheating, by maintaining optimal operating temperatures, while a mechanical heat sink minimises overall heat inside the drive.
Transcoding
Samsung's Portable SSD X5 drive has also enabled Cinelab to look at its transcoding processes.
When Cinelab began its film business back in 2013, it was important to offer the widest choice of film for its international business. This is why it offers the biggest scanning frame of 65mm, all the way
down to 8mm.
Adrian at Cinelab was also keen to offer the widest choice of film scanners that would then present the highest spec digital film to be used by post-production companies. To enable this, film is scanned in to uncompressed formats, which will always result in huge file sizes. For post-production to be able to start working with these files, they need to be turned into formats that can be easily manipulated by post systems.
This is where Samsung's Portable SSD X5 drive comes into the picture. Adrian put it to work immediately, transcoding from the uncompressed format to a more compressed one. This would take some serious number crunching.
"We added the Samsung portable drive into our process and it certainly performs," explains Adrian. "When testing, we had 4K 10-bit DPXs transcoding to ProRes HQ 444 at 35fps. This suggests a read speed of over 2 GB/s with the computer transcoding and writing to the same drive simultaneously. At 2K for the same test, DPX to ProRes HQ 444, we were achieving over 90fps.
"From our film processing and scanning operations, we generate between 5-10TB per day of new content, so transcode and delivery performance is critical. We are using a high-performance SAN across our operation with typically 40GB and 10GB client connections.
"The performance of Samsung's Portable SSD X5 suggests there would be a big improvement in workflow if we were copying files across to this as we were scanning and then transcoding on the same drive for delivery."
Adrian continues: "A regular challenge is clients sending in a drive for their files, assuming the interface specifies the performance! We can see a 10% performance difference with USB 3. Where cheaper 'backup' drives might only get 20 MB/s, high-performance RAID or SSDs using USB 3 can write at well over 200 MB/s. When we are moving terabytes for a project, this can be painfully slow."
Adrian is also conducting grading tests using the Samsung portable drive, at 4K, once again, where the speed (or lack of) can affect the interactivity and he believes it will perform positively.
It's no surprise he is looking at investing in Samsung's Portable SSD X5 drive technology to act as the transcode hub for the highest quality file transfer service.
(Advertisement feature)