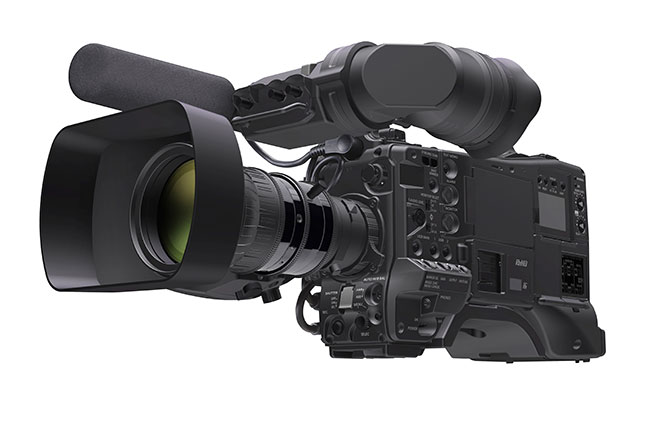 NAB 2013: Panasonic AJ-PX5000G AVC-Ultra Camcorder
Posted on Apr 5, 2013 by Alex Fice
Panasonic's 2/3 type, 3 chip AJ-PX5000G AVC-ultra P2 HD camcorder with Micro P2 card slots and AVC-long g 1080/50p recording.
Panasonic has announced the AJ-PX5000G, its first P2 HD camcorder with native AVC-ULTRA recording and built-in microP2 card slots. The PX5000G features 720p and 1080p/i recording, as well as 1080/50p recording, a first for P2 HD cameras.
Target market for the camera is network news, documentary, high-end corporate and sports production, as well as the rental market.
The PX5000G's three 2.2M pixel MOS sensors deliver a horizontal resolution of 1000 TV lines and sensitivity of F13 over 50i.The camcorder's 2/3-type shoulder-mount design accommodates a variety of interchangeable lenses. The PX5000 can record in AVC-LongG and AVC-Intra100/50 as standard. Recording in DVCPRO HD, DVCPRO50, DVCPRO and DV are optional codecs, and the unit is 50 Hz and 59.94 Hz switchable for worldwide use.
Panasonic's AVC-ULTRA offers master-quality and/or low-bit-rate 10-bit, 4:2:2 recording in Full HD to meet a uses from mastering to transmission. AVC-LongG, designed for applications where file size is critical, offers 10-bit, 4:2:2 sampled recording in a much smaller file size, saving storage cost and transfer times over MPEG-2 while looking to maintain equal or better video quality.
1080p recording at 50 frames per second is added to existing AVC-Intra compression modes. For ultra high-end mastering, Class200 will produce visually lossless compression, ideal for migrating current HD tape masters to a file-based format without degradation, and with a far smaller file size than many platform-specific mezzanine formats.
Like the current AG-HPX600, the PX5000G is "future-proofed" with options like wireless metadata input, high-resolution proxy recording and variable frame rates, The PX5000G features wireless and wired connection ability with Wi-Fi, USB and Gigabit Ethernet, including wireless control of key camera functions from a smart phone. In addition, an option will support LiveU's LU40i video-over-cellular device as with their 600 model.
Weighing less than 3.8kg the PX5000G is the first P2 HD camcorder with built-in slots for the company's new microP2 cards, which have an SD card from factor. The PX5000G has two microP2 slots and two standard P2 card slots.
The AJ-PX5000G will be available this Autumn at a suggested RRP of €25,000 excluding VAT.