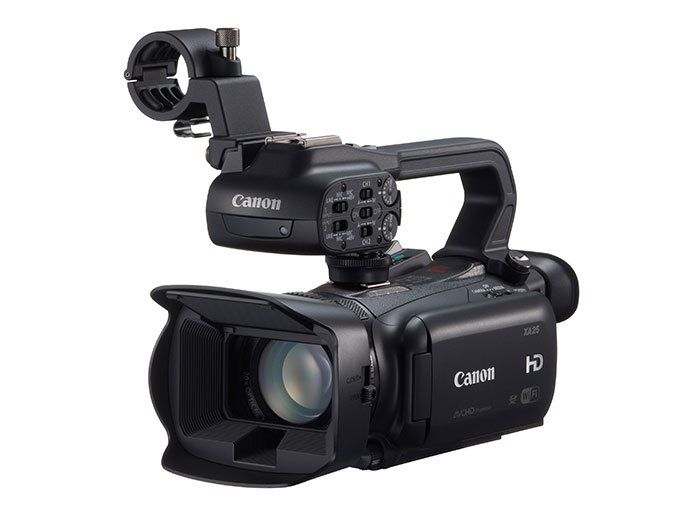 NAB 2013: Canon XA25 And XA20 Videographer's Camcorders
Posted on Apr 4, 2013 by Alex Fice
Looking just like the existing XA10 camcorder which is really a 'palm corder', Canon has released details on its big brothers, the XA20 & XA25. These models are still small and very light at around 2.6 pounds (1.18Kg). Both camcorders feature multiple shooting-assist functions and a newly developed wide-angle 20x HD zoom lens with an ENG-style "rocker" zoom control and built-in real-time optical image stabilisation.There is also a new sensor a high-sensitivity 2.91-megapixel 1/2.84-inch HD CMOS image sensor managed by the new Canon DIGIC DV 4 image processor.
Here's an interesting feature, simultaneous recording of multiple bit rates sol 1080p HD formats – including 60p and native cinematic at 24p – on on one SD card. Simultaneously recording 1080p HD video at 60p in either AVCHD Progressive (28Mbps) or MP4 (35Mbps) on the other. Or record at a lower bit rate and transmit MP4 (3Mbps) format video on IP networks wirelessly.
The wide-angle 20x HD zoom lens is an equivalent 35mm of a zoom range of 26.8mm – 576mm. The MOD (minimum object distance) of this lens is only 60cm. Canon's real-time optical image stabilisation and vibration correction in five axes of 3D movement should help reduce picture shake.
Each camcorder's wide-angle 20x HD zoom lens can also be adjusted using a multipurpose ring on the lens that can switch between zoom or focus control.
More first for these cute products at this price anyway include an Organic LED (OLED) electrostatic touch 3.5-inch, 1.23 million-dot touch panel. The camcorders also feature a 1.56 million-dot adjustable-angle compact viewfinder.
Justifying the price differential is an HD/SD-SDI connector (BNC) to feed video directly to a microwave van, satellite uplink, or other TV transmission system for XA25. The positioning of the connector allows for handheld shooting while the SDI cable is attached.
Also included for both models are XLR terminals with phantom power, a microphone holder, independent audio level controls, multipurpose accessory shoe, and an infrared emitter, all combined in a detachable handle.
On-Board Intelligence and Wireless Features
With the success of companies like Live-U with their simple interfaces for direct IP camera output, Canon are right on the money with these wireless features which are on both models. FTP file transfer of MP4 (3Mbps) format video to cover breaking news is enabled by dual-band wireless support (5GHz and 2.4GHz), which also allows for data sharing. A wireless remote feature also enables users to control the XA25 and XA20 camcorders via a web browser of the user's PC or mobile device.
The XA25 and XA20 are scheduled to be available at the end of June 2013 for estimated retail prices of $3,199.00 and $2,699.00, respectively.
The XA25 is available in the UK and Ireland from June with an SRP price of £2099/€2799
The XA20 is available in the UK and Ireland from June with an SRP price of £1699/€2199
Firmware Updates For EOS C Family
Canon has also announced the development of firmware updates for three of its Cinema EOS System cameras, as well as a selection of new functions for its Cinema RAW Development (CRD) software.
Following the release of the upgrades, the EOS C500,EOS C300 and EOS C100 will now offer support for a new Magnify function that will allow users to check focus in different parts of an image, on the camera LCD, as well as the centre. This offers enhanced control and flexibility during shooting.
The EOS C300 will also be upgraded to support an additional range of features designed to assist independent videographers. Push Auto Iris and One Shot AF will provide further help on small-crew shoots, offering a way to check and adjust exposure and focus prior to recording. The EOS C300 will also gain additional support with 1440×1080 HD video recording at 35Mbps – a broadcast-friendly recording mode employed by many news and broadcast organisations.
To offer greater flexibility for single shooters, a further upgrade for the EOS C100 will add support for Continuous AF when used with Canon's EF-S 18-135mm f/3.5-5.6 IS STM lens.
Cinema RAW Development software – enhanced with new functionality
As well as updates to Cinema EOS cameras, Canon will also add new features to the Cinema RAW Development software.  This software is supplied with the EOS C500 and is designed to support development, playback, and export of 4K Canon Cinema RAW clips.
The update will add support for the 'Academy Color Encoding Specification' (ACES), providing an Input Device Transform function to allow output of developed Canon Cinema RAW files in an ACES-compliant OpenEXR file format.  ACES has been proposed by the Academy of Motion Picture Arts and Sciences as a SMPTE colour space standard, intended to define the colour response for input and output devices to achieve an end-to-end pipeline of colour management from filming to editing, grading, distribution and screening.
A new function will also allow users to specify in/out points before developing or copying their RAW footage, streamlining workflow both on-set and during post-production.  Finally, it will be possible to generate a development log, which will list details of files that have been copied or developed using the CRD software for future reference.
The firmware updates for the EOS C500, EOS C300, EOS C100 and CRD software will be available later in 2013.