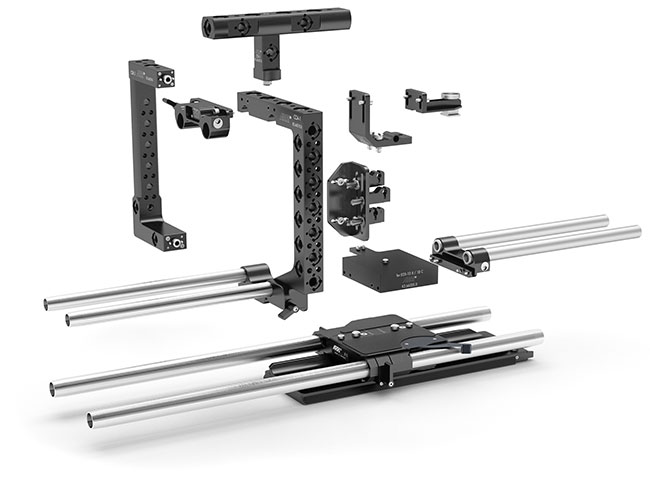 NAB 2013: Latest Arri's Pro Camera Accessories
Posted on Apr 16, 2013 by Alex Fice
Arri's New Pro Camera Accessories shown at NAB 2013 include a base plate for Canon's 1DC & 1DX.
ARRI showed a base plate solution for the Canon 1DC and 1DX DSLR cameras, which have deep bases and cannot be made compatible with the classic Mini Base Plate MBP-3. The plate for 1DC and 1DX is compatible with the ARRI Cage System II and makes use of features on the base of the Canon cameras to prevent body rotation.
ARRI also released a camera cage system for cameras with a base lower than the 15 mm LWS rod standard (not compatible with the MBP-3-based ARRI Cage System I).
Compatible with the plate for RED Epic/Scarlet and the base plate for Canon EOS 1DX and 1DC, the Cage Console Arm CCA-1 offers a full cage arm without compromising access to the battery pack on DSLR cameras. Accessories and handles can be attached to the cage console arm via 3/8" ARRI interface. A 15 mm LWS console can be attached to the top of the CCA-1 and allows accessories to be fitted to top-mounted rods in the same way as bottom-mounted rods, since the top console is in an optically centered position.
The Cage Support Right CSR-2 can be attached to the CCA-1 to provide grip and additional mounting options for accessories. The CSR-2 is not compatible with the handgrip from RED Scarlet and Epic cameras.
The Cage Cable Safe System CCS-1 offers protection to internal electronics against accidental stress when using HDMI, USB or audio cables.
The Camera Top Handle CTH-1 provides grip and various 3/8" and 1/4" interfaces for mounting accessories. The handle will attach via a 3/8" ARRI interface.
Providing support for the Blackmagic Cinema Camera, Ikonoskop A-cam and RED Epic and Scarlet, the Cage Top Support CHS-2 links the top of the cage system to the upper base of the camera, preventing flex in the camera rig.
Arri's Cage System II for 1DC/1DX.
Following in the footsteps of the successful LMB-25, the Lightweight Matte Box LMB-6 is available for larger-sized filters, up to 6.6" x 6.6". Like the LMB-25, the -6 is modular. It's two or three-filter stage guides have well-spaced, independent filter frame locks and are machined from high-grade aluminum, while the top flag is created from a sheet of carbon to offer rigidity without excess weight.