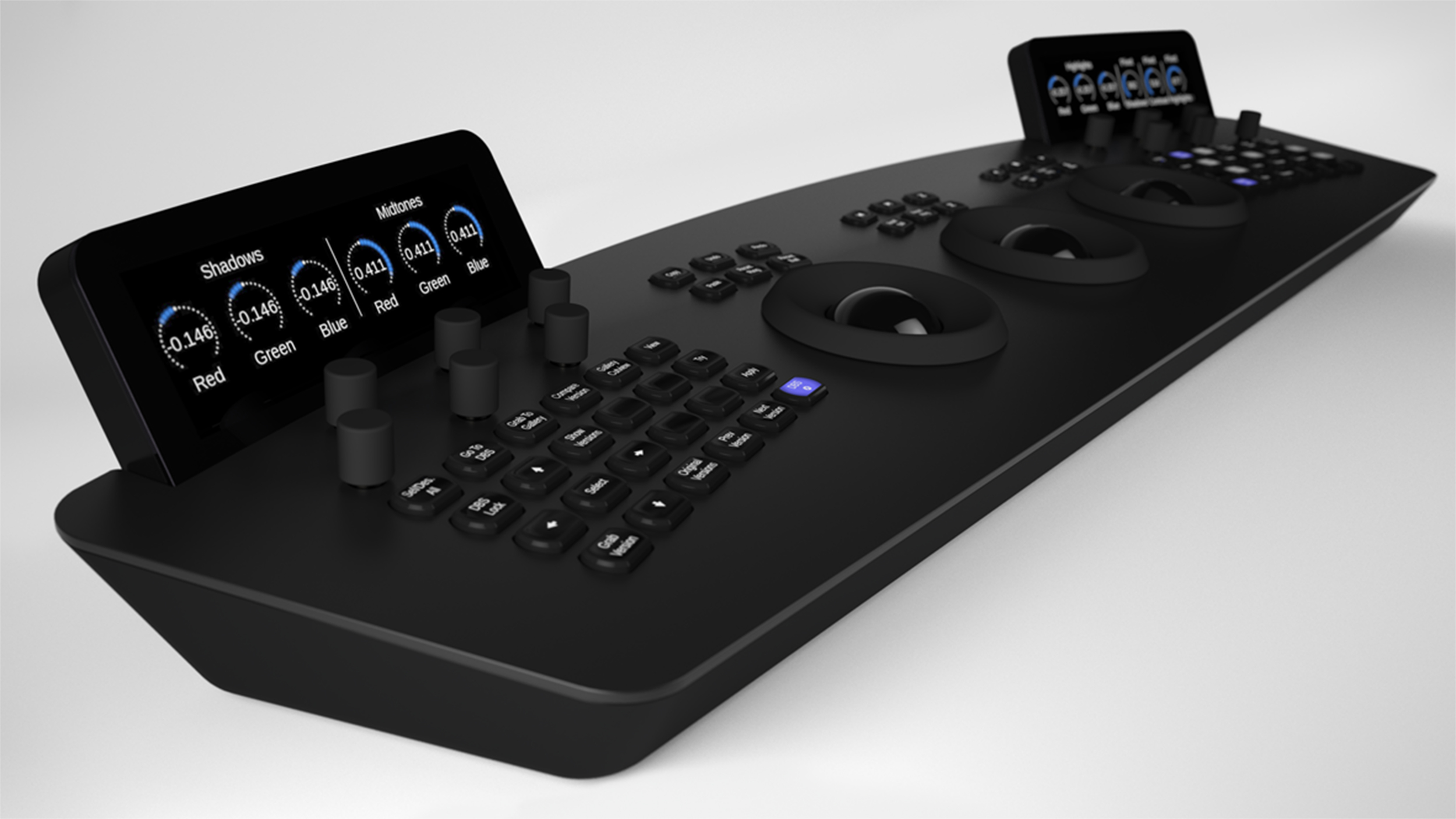 NAB 2013: FilmLight Launch New Baselight And A Slate
Posted on Apr 10, 2013 by Alex Fice
The new compact Slate surface from FilmLight.
FilmLight is further enhancing its integrated colour pipeline with new products introduced at NAB 2013. The range ensures that colour workflows can start on-set and run right through to final post and delivery.
Leading the products launched is a new Baselight ONE grading system. This is a diskless, 4U tower system with the full Baselight creative toolset, and a 2TB solid-state internal cache.
Slate is the new compact grading control panel designed with both Baselight and Baselight Editions in mind. It draws on the success of the Blackboard 2 panel, and retains all the ergonomic convenience but in a smaller form factor and at a lower price point.
FLUX Store is a new approach to storing and managing the huge amounts of content generated by today's digital workflows. Capable of streaming 2K and 4K content into Baselight systems over dual-link 10 gigabit ethernet, it includes user-expandable storage up to 80TB with integral data management. Teamed with the new Baselight ONE, it makes a streaming media hub to which you can add a second station when you need to.
Baselight Editions put the creative power of the Baselight grading toolset, as well as support for the new Slate control panel, inside Avid, Final Cut Pro 7 and NUKE systems. There are also demo previews of the eagerly awaited Baselight for Avid Windows. Baselight Editions use the same OpenEXR-based BLG (Baselight Grade) files as all systems in the FilmLight range, so grading decisions can be passed between on-set, near-set and the grading suite simply and transparently.
The FLIP on-set colour visualisation system has been refined: it's now a smaller, sleeker device, which can be battery powered for location shoots. FLIP takes away the guesswork of digital cinematography, applying colour correction on-set so you know exactly what you have shot. And that colour correction is a BLG file so the director's first thoughts become the foundation for the final grade.