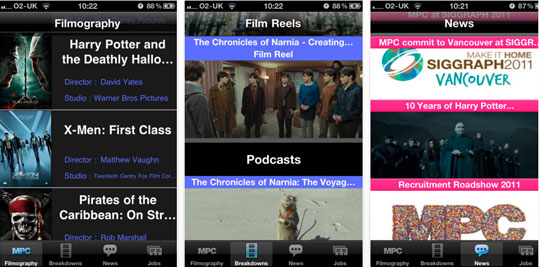 MPC Film launch iPhone app
Posted on Aug 16, 2011 by Alex Fice
The MPC iPhone App will be followed soon by an iPad versionNow available to download, the new MPC Film iPhone app gives you instant access to all of MPC Film's essentials including filmography, VFX technical breakdown reels, MPC news and jobs.
You can browse through the filmography and find out what movies MPC have worked on. The app includes past, present and future projects with details of the director, stars, studio and VFX Supervisor, as well as movie stills.
You can also experience the work of MPC through the app's Breakdowns category, where users can watch the evolution of visual effects in breathtaking breakdowns then hear how they were created through our podcast series.
There's also the news section, keeping you up to date with MPC developments from all sides of the globe.
Job opportunities and openings are searchable through an interactive map. Simply select a location, scroll through the jobs and send an email with the details to yourself or friend.
An iPad version will be available soon.