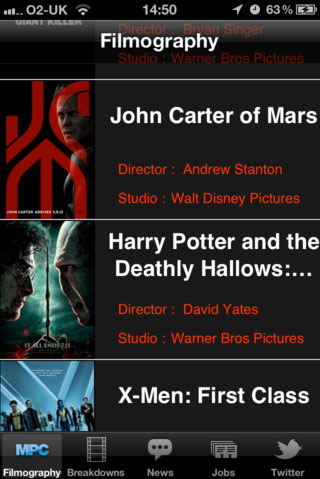 MPC Film iPhone app update adds new features and iOS5 support
Posted on Oct 28, 2011 by Alex Fice
The latest MPC Film iPhone app update is now available to download. The new version features include:
Job push notifications
Twitter integration for VFX breakdowns, news, jobs and our @MPC_VFX timeline
New filmography entries
Plus MPC Film's latest showreel
You get access to all of MPC Film's essentials including Jobs, Filmography, VFX technical breakdown reels, podcasts and their news.
Something that would be of interest to pros as well as film fans are how the MPC team created the VFX behind movies including X-Men: First Class, Harry Potter and the Deathly Hallows, Sucker Punch and Pirates of the Caribbean on Stranger Tides!
http://itunes.apple.com/gb/app/mpc-film/id450263824?mt=8