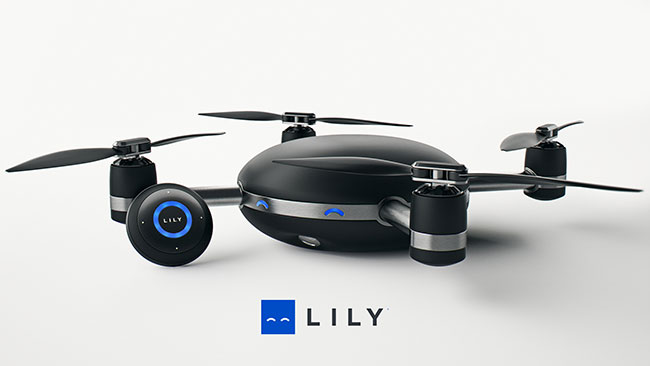 Lily your faithful 'follow drone' with the smiling face
Posted on May 14, 2015 by Alex Fice
From a West Coast start-up comes Lily, a follow drone with in-built camera and only APP controls.
Hot on the heels of the NAB debuts of drone favourites DJI Phantom 3 and Solo from 3D Robotics comes Lily a follow video quadrocopter that will literally be on your heels wherever you go.
Lily started in September 2013 in the basement of a UC Berkeley robotics lab, where Henry Bradlow and Antoine Balaresque built the first prototype using a Raspberry Pi and an Arduino. In Spring of 2014, leading investors Shana Fisher and SV Angel supported the Lily vision and put up the cash.
Now a year later and a day after the launch Lily has already made $1 million in sales. So what's the attraction?
It's the simplicity that Lily offers, you have no remote because once you've turned her on and see those lazy blue eyes light up all you have to do is throw her skywards like an old paper dart and she will kick into life and start following you. Well start following the tracking device you have on your wrist. The Lily Camera's core technology is driven by proprietary computer vision algorithms. Lily constantly communicates with the owner's tracking device which relays position, distance, and speed back to the built-in camera. Lily recognizes the owner and improves tracking accuracy over time. The tracking device also records the audio which automatically synchs to your video at some point.
Lily's tracking device keeps her following and pointing at you.
Until June 15th Lily is half price at $499 but even at that price your first throw skywards is bound to be a nervous experience with a certain amount of trust. Lily has no obstruction avoidance abilities and can be at most 100 foot from you, you'll want to keep her close for your first few flights!
Technically Lily has an HD camera offering 1080p 60 fps / 720p 120 fps and a field of view of 94º. Format is H.264 codec, .mp4 file format. Stills are at 12 MP. However Lily diverts from what has become the norm of having a mechanical gimbal underneath the drone. Lily uses digital gimballing explained in their FAQs as 'Lily crops the region of the image that contains you'. So does the camera's image stabilisation work with this digital gimballing to steady the shot or are we seeing some kind of real time processing like SteadXP, although that is a post treatment at the moment (see below). We've asked their CTO to explain.
New 4K reframing function by SteadXP from SteadXP on Vimeo.
Lily is seen as an evolutionary step for video capture. Can a million dollars of sales in one day be wrong?
Most of the control is through the iOS and Android APP including zooming and after take off behaviour.
other quick facts:
•Throw it in air to start shooting
•Flies itself, no controller required
•Waterproof
•Sleek design, fits in backpack, 2.8 lbs
•Photos: 12 MP, Video: 1080p/60fps & 720p/120fps
•Sony IMX117 1/2.3'' image sensor
•Programmable flight paths via mobile app
•20 minutes flight time
•Optimal flying: Outdoors 10-30 ft, up to 25 mph
•Audio recording from tracking device
•Complies with FAA guidelines