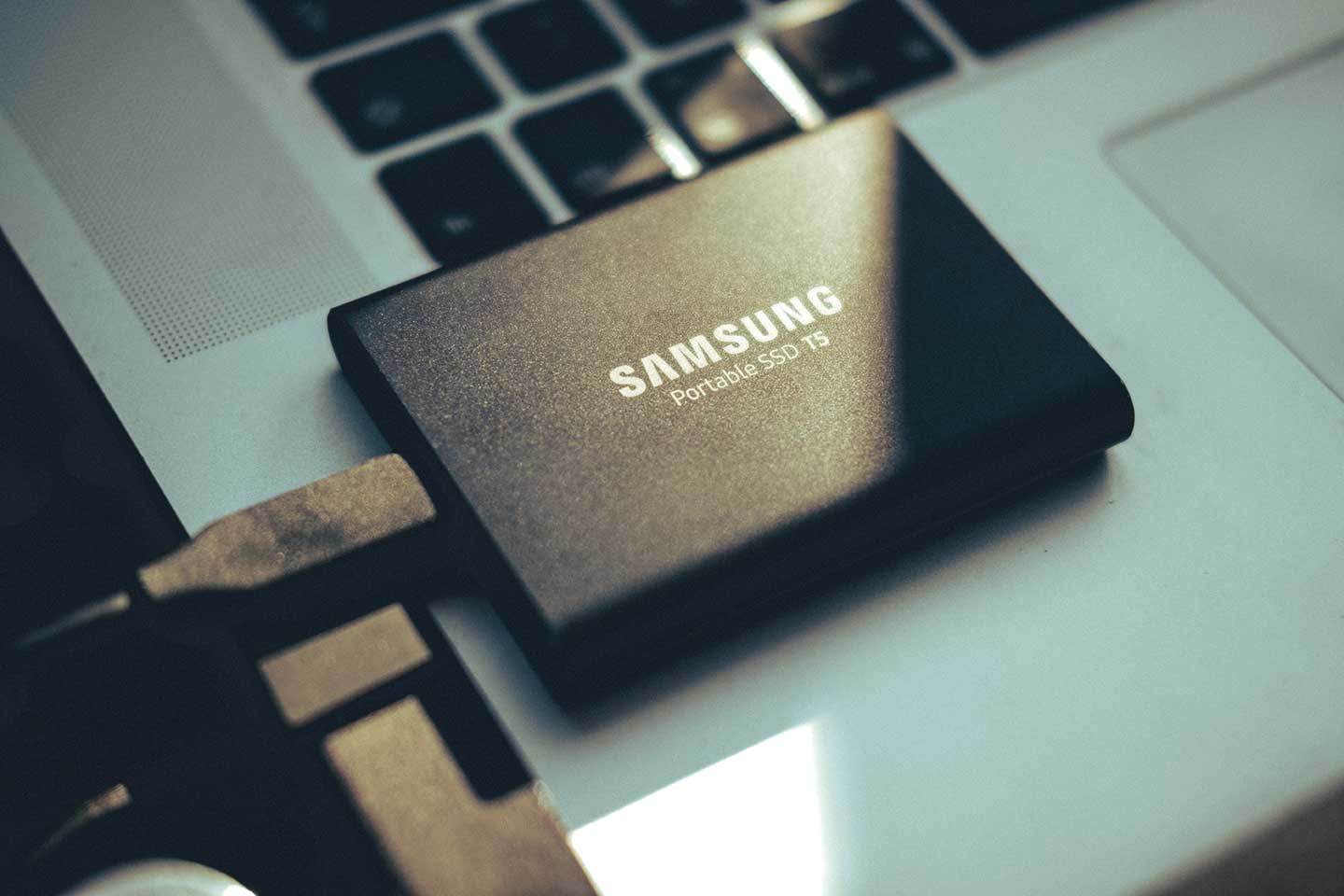 Life in the freezer
Posted on Jun 12, 2018 by Julian Mitchell
Subzero temperatures pose no problem for the Samsung Portable SSD T5; not so with the laptop.
High end DIT Joe Jamieson is the perfect person to test Samsung's Portable SSD T5 with his busy workflow in extreme conditions. He tells us how he got on
A digital imaging technician's responsibilities entail being aware of what's happening on‑set, how fast and how much is being shot and knowing when is a good time to step in and reload the cameras. Managing the data flow to avoid bottlenecks and being aware of the different situations that certain workflows can bring is all part of the job and that only broadens with the experience of working with these ever-evolving set-ups. Being aware and managing that data however is only half the battle when quite often the Achilles heel in the whole process lies in the speed of the drives you're using.
Spinning disk drives are still as much a part of our workflow as they were when digital film made for the big time. Fundamentally hard drive technology is the same and that most often causes the bottleneck, all whilst the advancement of higher resolutions and raw formats continues.
Straight out of the box the Samsung Portable SSD T5 1TB is impressive. Its incredibly elegant
and tiny form factor belies the huge workflow-changing punch that lies within. It's a real step forward in technology, offering a rock solid user experience. Bus-powered whilst being extremely fast, the Samsung Portable SSD T5's design balances the perfect form factor with blistering speed and sizeable secure storage. As previous case studies have mentioned, it is an SSD drive that's actually having an impact and changing workflows on-set and beyond.
Speed tests
"I put the Samsung Portable SSD T5 through a couple of real-world tests where it helped me increase the speed and ease of my workflows instantly," begins Joe Jamieson.
"The first was quite a tough test with regard to the size of the data I was working with – shooting high-speed 4:3 ARRIRAW on an ARRI ALEXA XT. The turnaround was tight so we had the editor on-set; he needed not only a copy of the transcodes but a full copy of the ARRIRAW files after each set-up. The Portable SSD T5 was the only reason this was possible without interrupting and ejecting the bigger RAID drives. Its speed allowed both of us to shuttle 2.8K ARRIRAW (each roll averaging around 300GB) with absolute ease and without compromising our already heavy workflow – the SSD T5 giving me speeds that easily exceeded the Thunderbolt RAIDs (transferring 100GB approximately every 4.5min) all within a footprint nearly 30x smaller!
"I use a Mac Pro system on-set which doesn't have the latest USB3.1 spec, yet this doesn't hinder the Portable SSD T5's capabilities," continues Joe. "I was still getting read/write speeds around the 430MB/s mark from the portable drive, which allows plenty of bandwidth to work uninterrupted off the drive. Using the newest USB-C enabled MacBook Pros however unlocks the SSD T5's full potential with an average write speed of 475MB/s and a read speed in excess of 500MB/s! The fact that it works so well with both USB3 specs only strengthens its versatility and usability throughout a production pipeline, from on-set, to edit, to post."
  Heading into the frozen depths with the Samsung Portable SSD T5
Low temperatures
"The second test was on location with a high-profile motoring TV programme in sub -20° temperatures where I used it for both rushes reviewed in the field and as my shuttle drive," explains Joe. "The show uses a multitude of cameras, including drones, and from a director's point of view, it's obviously hard to know when you've got what you need when you can't see what all the cameras are seeing so quite often footage will be reviewed. Everything is shot in 4K UHD so playing back that footage uninterrupted off the master drives can sometimes be pushing the limits of the drive's capabilities.
"Couple that with the bitterly cold temperature and you start seeing playback issues. The Samsung Portable SSD T5 delivers over double the data rate of the rugged RAIDs so playback was instant and seamless. Even in such harsh conditions it allowed me to be on-set and showing the director what he needed to see – in fact the laptop battery succumbed before the drive had a chance to!
"Inadvertently I also found it's helped in areas I hadn't even anticipated. I work a lot with a drone operator who uses an Inspire 2 paired with the Zenmuse X7 lens set-up. He subconsciously (or maybe consciously) has a sense for when I close the last Pelicase at the end of a shoot before asking me for a copy of some of his nicest shots for his reel.
"He is one of the most talented drone operators out there and like the rest of the camera people captures a lot of epic stuff so it's more or less pointless trying to sort through it, it's all TV gold!" says Joe. "Previously this wasn't the quickest of requests with more than a terabyte of drone footage from a week's worth of shooting, but I found the Portable SSD T5 a game changer. It created a full copy in just over 40 minutes, which is an absolutely mighty performance when you're dealing with such large amounts of data – the drone operator was also incredibly impressed at how fast he could copy it off.
"As capacity increases and costs come down," concludes Joe, "I'd like to think the Samsung Portable SSD T5 is an example of more good things to come. It shows how well SSD media can be executed and how seamlessly it can be integrated into a range of workflows, bringing instantaneous improvements across the board."
More information: www.samsung.com/uk/ssd/