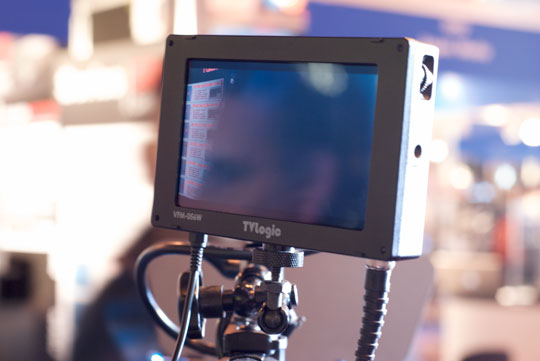 Korean Companies Helps DSLR Market Mature
Posted on Mar 2, 2011 by Alex Fice
TV Logic's new DSLR Viewfinder the VFM-056W/WP seen at the BVE Show.
We're not sure whether HDTV panel giant Samsung has lost a load of engineers recently but Korea could be heading up the professional monitor market at the moment.
It wasn't that long ago that Korean manufacturer TV Logic was the 'secret' monitor company that sneaked in to people's studios and trade show stands, due to nothing more than price against performance. Now they are ticking the boxes for monitor companies and have panels for Video Walls, 3D, OLED and a 56 inch 4K (3840X2160) model.
Obviously not a company to ignore a box to tick, TV Logic have come up with a monitor for the HDSLR market.
The VFM-056W/WP is only 5.6 inches wide so TV Logic call it a viewfinder but it's a good one and will potentially give Marshall some sleepless nights. It's an LCD panel with LED back light and a resolution of 1280 x 800 with a wide viewing angle of 170˚.
Specs tick all the boxes (unsurprisingly) and include a 3G-SDI input at 2.970Gb/s and 1080p HDMI.
Another Korean company with an interesting(?) name of Cineroid could also be accused of a ticking boxes exercise. Their products are aimed at small camcorders but mostly HDSLRs. They have produced a 3.2 inch electronic viewfinder with a loop powered by the HDMI signal from the camera. Resolution is 800 x 480.
HDSLR viewfinder – done that. So here comes a LED light for small camcorders aka HDSLRs. 3000k and 5000k colour temperature models with wireless control for multiple lights.
Cineroid also make other camera monitors for bigger models and accessories like arms and hot shoe extensions.