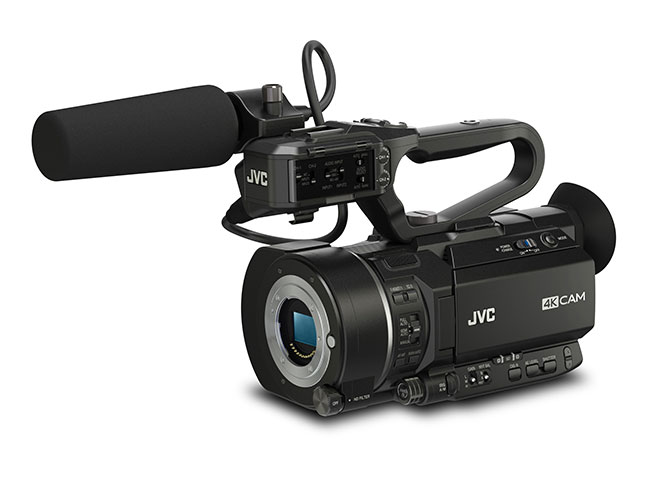 JVC unveil their low-cost 4k camera range
Posted on Nov 13, 2014 by Alex Fice
The new JVC GY-HM170 4k or UHD compact camera.
JVC Professional is a known early releaser of next generation technology. In fact they now show-off their concepts at trade shows with a 'we might build it, if the market wants it' mentality. It was JVC who arguably first enabled HD for everyone with HD on tape using the HDV format. There is obviously a strong democratizing fervour in the company as now they have announced their 4k/UHD line-up with new models not even shown at the IBC Convention which was only two months ago. There are three new handheld camcorders, two of which are brand new and a camera system.
The GY-HM200E is a 4K Ultra HD camcorder with HD streaming and the smaller GY-HM170E delivers 4K Ultra HD images in palm-sized camera with pro features. The GY-LS300CHE handheld 4K camera and GW-SP100E camera system – previewed at the IBC2014 show – each offer 2K/4K recording; the GY-LS300CHE is a Super 35mm 2K/4K camcorder that accepts a variety of interchangeable lenses, while the GW-SP100E is a 2K/4K mini camera system featuring remote head and recorder. The price has been announced at £2920.00. Other camera pricing is below.
The very new JVC GY-HM200GY-HM200E handheld streaming camcorder –  List price £188
The GY-HM200E delivers 4K Ultra HD, 4:2:2 full HD (50Mbps) and SD images with a 1/2.3-inch BSI CMOS chip. It has a built-in 12x zoom lens with optical image stabiliser and 24x dynamic zoom in HD mode. Audio includes dual XLR inputs that are mic/line switchable and features built-in phantom power, an integrated handle with hot shoe and dedicated microphone mount, and SDI and HDMI video outputs.
The GY-HM200E is also JVC's most affordable streaming camcorder and can stream to Ustream or other destinations. A built-in HD streaming engine with Wi-Fi and 3G/4G connectivity allows live HD transmission directly from the GY-HM200E and GY-LS300CHE to hardware decoders, Ustream, Wowza Streaming Engine and Zixi servers. A variety of streaming protocols, including RTMP, allows content to be delivered directly to popular streaming web sites and content delivery networks.
GY-HM170E compact camcorder –List price £1430
While very compact, the GY-HM170E still records 4K Ultra HD as H.264 files and can record HD and SD footage in a variety of resolutions and frame rates. Other features include an integrated 12x optical zoom lens with two ND filters, built-in stereo microphone and 3.5mm audio input, and live 4K UHD output through a built-in HDMI connector.
The JVC camera that might worry Sony's new 4k FS7 camera.GY-LS300CHE Super 35mm camcorder –  List price £2920.
The GY-LS300CHE records to non-proprietary SDHC and SDXC media cards in a variety of image formats including 4K Ultra HD, full HD with 4:2:2 sampling, SD and web-friendly proxy formats. It features JVC's 4K Super 35mm CMOS sensor combined with industry standard Micro Four Thirds (MFT) lens mount.
"The combination of a Super 35 sensor and MFT mount is a brilliant solution to accommodate the largest variety of lenses and adapters without compromising image quality and lens characteristics," said Gustav Emrich, European product manager. "It gives filmmakers the flexibility to use high-end cinema lenses or affordable glass to capture 4K/HD footage."
GW-SP100E camera recording system
The JVC GW-SP100E is a 4K/2K remote camera head and recording unit; the system includes the camera head, a recording/playback device with built-in monitor and a RCU controller. This tiny camera produces 4K video with 3840×2160 resolution (UHD), at up to 50/60p recorded locally to SDXC UHS-I U3 memory cards. It has an interchangeable MFT lens mount system, chosen due to its very shallow flange depth, which offers the greatest flexibility to end users who have already invested in lenses.