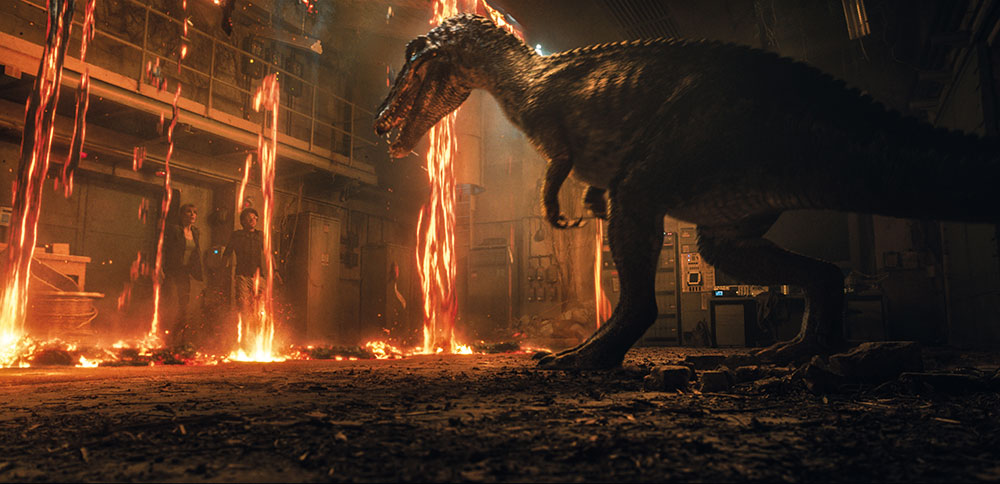 Jurassic Post
Posted on Oct 5, 2018 by Julian Mitchell
The team at Goldcrest tell us about their latest work on Jurassic World: Fallen Kingdom, and what the future holds for their leading studio
---
When we find ourselves at a noisy Soho eatery with Goldcrest Post senior colourist, Adam Glasman, it's hard not to feel incredibly lucky to have carved out 30 minutes of his time outside the suite. After all, it's been quite a remarkable few months not just for Adam's already impressive CV, but for Goldcrest Post as a whole.
In March, Three Billboards Outside Ebbing Missouri, which Adam created the final grade for, won two Oscars and was nominated for five more. In May, the launch of a brand new Goldcrest TV drama wing – featuring state-of-the-art 4K and HDR Resolve grading suites – marked a departure from the facility's film-centric legacy towards a new future filled with
more breadth.
And not just for taking advantage of television's increasing budgets either, as Goldcrest's aspirations look to be far higher: to become a true one stop shop for everything from production and financing to post, no matter the project.
The team's latest show at the time of writing, Jurassic World: Fallen Kingdom, couldn't be better proof. Adam was the supervising digital colourist throughout the making of the film, but Goldcrest's involvement spanned across everything from DI
to sound mixing, and even providing all cutting rooms and production office space.
Over two cups of well-deserved coffee, we find out more about how the latest instalment in the greatest dinosaur franchise of all time was created, and what this means for the future of one of London's most exciting moving picture studios.
Dinosaur movement was achieved with a combination of CGI and stop motion.
A Natural Ambience
Having previously worked closely together on several films including A Monster Calls, The Impossible and The Orphanage, Spanish director J.A. Bayona and his DOP of choice, Oscar Faura were already very close before beginning work on Jurassic World.
"They'd never collaborated with Goldcrest before, though," begins Adam. "Initially, what attracted them to us was the ability to have full picture post under one roof, including sound. Oscar Faura ended up coming over to the UK a few months before DI began, and we spent a week together at Goldcrest. He had some really strong ideas about colour from the outset. The Jurassic films are some of the highest grossing and most culturally celebrated landmark films of all time, so we had a lot to live up to!"
To depict the story, which showcases Owen Grady (actor Chris Pratt)'s campaign to rescue the remaining dinosaurs from extinction when the island's dormant volcano begins roaring to life, Oscar Faura, Adam and the rest of the colour team needed to achieve a lush, vibrant look, whilst still retaining natural contrast levels.
Getting up close and personal with some not-so-cuddly creatures on set.
"By the end of the week, we had completed a rough grade of the film with lots of gaps for temporary effects, just to set looks for all the key scenes," Glasman reveals. "We then screened this to the director, editor and VFX team to ensure all were comfortable with the direction of the grade before we continued."
He explains that one of the main elements that helped the most was the CDL – or colour decision lists – metadata format files from set. "Oscar Faura worked with the DIT from Pinewood Post to grade dailies and provided us with looks for each scene as CDL files. These contained all the basic information we needed to use as a starting point. They were great visual references, which we were then able to enhance and adjust directly in DaVinci Resolve."
Working with ILM
Of course, with such a visual effects-heavy production, all this planning between set and the colour grading suite was not enough. There also needed to be plenty of communication between the team at Goldcrest and the primary visual effects vendor: Industrial Light
& Magic (ILM).
CDL files were shared with the VFX team allowing ILM to work on the computer graphics whilst seeing something close to the final look of the film. Goldcrest also had access to mattes for every single dinosaur during the grade, giving Adam more flexibility to adjust the grade whilst ensuring the CG still fitted into the background plate.
"ILM know what they're doing. They were a vendor on the very first Jurassic Park movie in the early nineties and revolutionised the post industry through their work with computer-generated dinosaurs," he adds.
"Originally, the entire film was supposed to be completed using stop motion, but after showing Spielberg's team what CGI could do for the dinosaur movements, it ended up being a combination of both. Today, it's very much the same. For Fallen Kingdom, we had a mixture of both practical on-set animatronics and fully computer-generated characters, and we had to help ensure each remained consistently integrated properly through the grade."
"For instance, there's a whole scene with a velociraptor where the characters are operating on it, and that's all animatronic with a bit of CG applied. There's another where they have to go get some blood from a tyrannosaurus that's locked in a truck; it's quite a long scene and that's mostly animatronics as well."
"I had two assistant colourists working on both these sequences with me, they were adjusting for all the 2D and 3D elements involved, and the CG characters. I then did the frame-by-frame grade using Resolve," Glasman continues. "Throughout it all, we were constantly amazed by what we were being sent through by ILM. It's pretty epic to see all these dinosaurs running away from a massive volcano. There's so much energy to it and it's all completely photo real."
Fallen Worlds
For several scenes they moved away from the CDL file look though. Filming for the island scenes in the second act, where the volcano is erupting, took place in Hawaii under strong sun. "All the shots were really bright and cheerful when they first came in," Adam remembers.
"However, we needed to create a grade that would reflect the idea that the volcano had erupted, generating a massive ash cloud under which the action took place. It's a critical sequence in the film, and one of the scenes where we decided to diverge significantly from the CDLs from set.
"Using Resolve, I sampled everything down and used shapes to create the ash cloud in the sky, as well as retain control of the look for assets such as the skies and dinosaurs. The result was an image that looks subdued, despite being filmed in Hawaii during the height of summer.
Adam used shapes in Resolve to create ash clouds for the volcanic eruption.
Jurassic World: Fallen Kingdom has already earned over $1 billion at the world wide box office. DOP Oscar Faura used the large format ARRI Alexa 65 camera with Panavision Primo 70 and Sphero 65 lenses. He also used the ARRI Alexa Mini for where space was limited using the same lenses to match the Alexa 65 camera. Helicopter Film Services provided the aerial services in the UK with drones and helicopters, working alongside VFX supervisor Dan Barrow and second unit director/DOP Patrick Loungway.
The drone sequences involved shooting background plates at Cragside Manor and in woodland in Northumberland with an Aerigon heavy lift drone carrying an ARRI Alexa Mini and Angenieux 15-40mm Optimo zoom. The helicopter sequences were shot at Loch Long and Glen Mallen in Scotland on Shotover K1 again with ARRI Alexa 65.
The aerial DOP was Jeremy Braben and the helicopter pilot was Ian Evans. The drone pilot was Peter Ayriss.