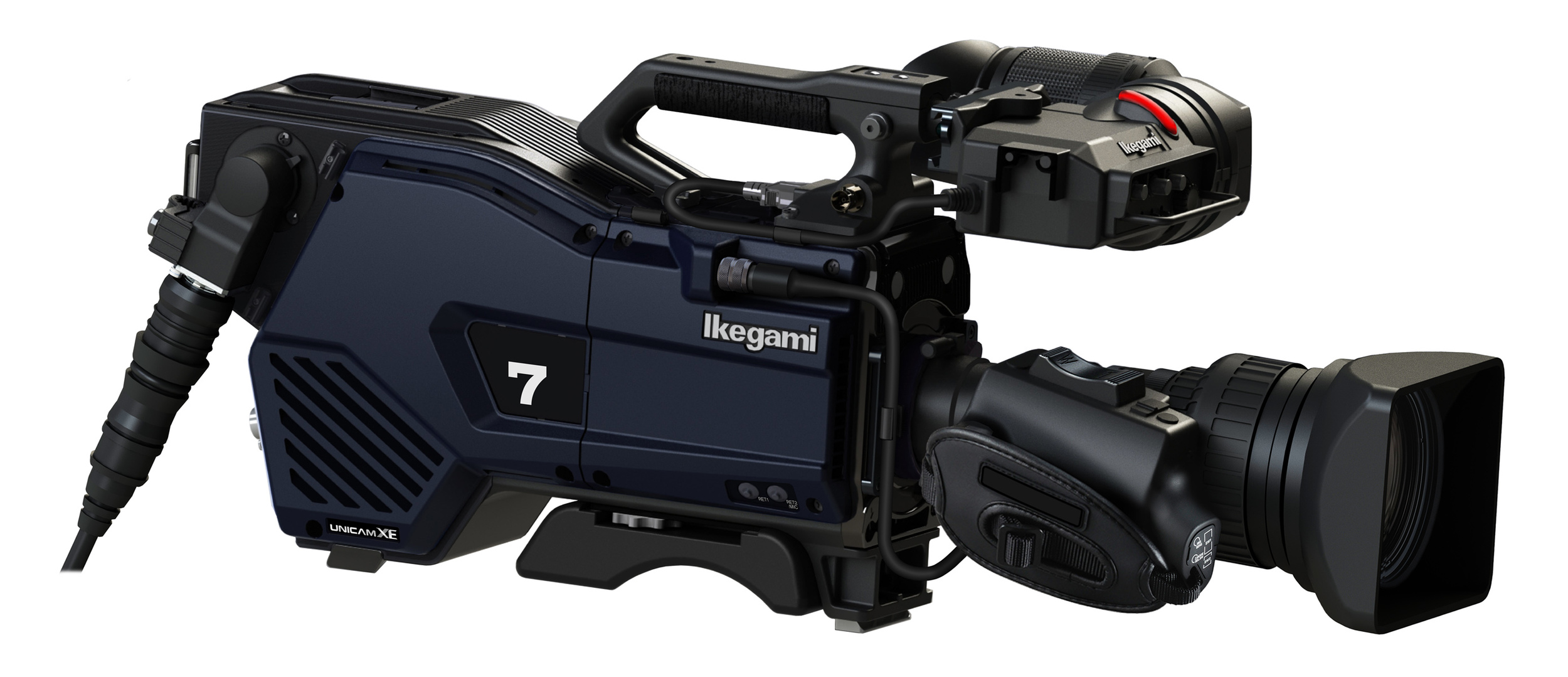 Ikegami's 'de-coupled' UHD Camera With Digital 35mm and Slow-mo options
Posted on Feb 18, 2016 by Alex Fice
Ikegami has announced a UHD portable camera system, the UHK-430, that can de-couple in to a 50 metre remote system and also replace its head with a super 35mm large sensor front end and also a future option of a high frame rate version.
First in Ikegami's next-generation Unicam XE series, the camera uses three newly-developed 4K-native 2/3 inch CMOS sensors which provide full 3840 x 2160 ultra-high definition resolution plus the depth of field required for studio and outdoor production. The camera is equipped with a B4 bayonet mount compatible with 2/3 inch HD lenses.
Two piece construction allows the UHK-430's sensor and lens head to be detached as a compact unit for use on support devices such as long-reach manually-controlled camera poles. In this mode, the head can be operated up to 50 metres from the camera body. The head can also be replaced by other assemblies such as a Super 35mm large-sensor front-end. Camera heads for special applications will become available as part of the UHK-430 product range, including a high frame-rate version.
Additional features include 12G and IP CCU outputs and a new Ikegami processor which allows 40 gigabit/s uncompressed baseband video transmission.
"In its standard form, the UHK-430 weighs just 4.5 kg and comes with a 2 inch viewfinder and portable lens." Commented Masanori Kondo, President of Ikegami Europe. "Dimensions are 149 mm wide x 243 mm high x 340 mm front-to-back. The camera's integral B4 bayonet mount allows direct docking with conventional 2/3 inch HD lenses. 4K content can be produced for demanding applications such as live remote, sports or events just as easily as for conventional HD programmes.
"The new processor enables the UHK-430 to deliver a wide range of features including a 16-axis colour matrix and focus-assist for 4K and HD video modes. BT.2020 extended colour space specification is supported in 4K mode. BT. 709 colour space is supported in HD modes and can also be switched in during 4K operation. The processor also contributes to low power consumption."
Also integral to the camera is Ikegami's newly developed iLog which can be used to achieve high contrast to handle wide dynamic range. Based on logarithmic gamma processing, it allows more image information to be retained for greater headroom and colour grading.
UHK-430's CCU.