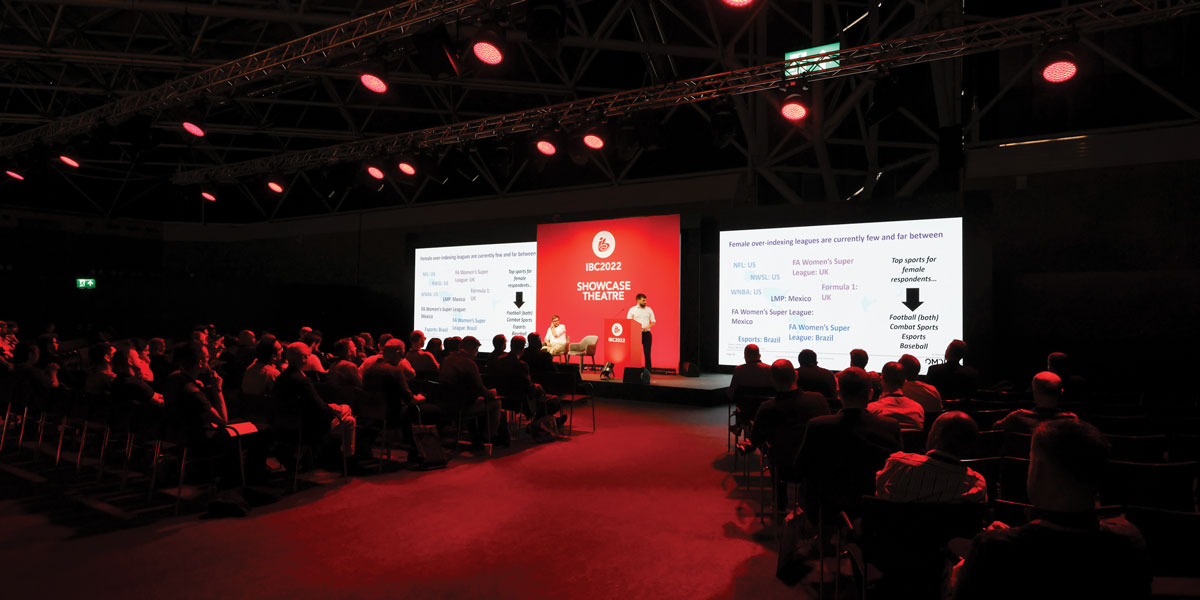 IBC 2023 Preview
Posted on Sep 8, 2023 by Samara Husbands
As the industry prepares to descend on Amsterdam, Nicola Foley takes a look at what this year's IBC show has in store 
Words by Nicola Foley
Offering a packed programme of inspiring content, a first look at game-changing innovations and a chance to connect with key players in the global media community, IBC is an essential calendar fixture. Around 40,000 attendees are expected at this year's gathering, which will once again be held at the RAI in Amsterdam, bringing together members of the broadcast, entertainment and technology sectors for an energising, enlightening look at the tech, trends and topics which will shape our industry in the year to come. 
Bursting to life in the 'summer of love', 1967 – when the hot topic was the arrival of colour TV – IBC has consistently led the conversation at the cutting edge of media entertainment technology. Over a half a century on, we've come a long way since the dawn of colour TV, but IBC remains a pivotal forum for the exchange of ideas and information, continually evolving to reflect the changing landscape around it. 
Broadly speaking, this year's content will coalesce around three key pillars: 'transformative tech', 'shifting business models' and 'people and purpose' – themes that will be explored across the show through presentations, discussions and demos. Once again, you can expect a large exhibition; a conference filled with keynotes, talks, technical papers and structured networking opportunities; as well as the Accelerator Media Innovation Programme, IBC Innovation Awards and Social Impact Awards. Also look out for the Changemaker programme, geared towards shining a light on issues such as sustainability and inclusive tech. 
"We are actively listening to our community on what they want out of a modern trade show", comments Michael Crimp, IBC's CEO. "Among the things they tell us they want are new topics and new ways of learning – and our content pillars give us the scope to provide these. They form a compelling thread that runs through the talks, presentations and panels going on at the conference and at show-floor venues across the RAI. They create a focus for an exciting slate of visionary speakers to address pressing trends, issues, opportunities and challenges in media and entertainment today."
Captivating Content  
Taking place in RAI Amsterdam's Forum between 15 and 16 September, the paid-for IBC Conference will bring together some of the industry's leading voices to present a series of talks, discussions – and the IBC Technical Papers. Exploring the themes set to shape the future of media and entertainment, the event kicks off with an address from Evan Shapiro – Emmy Award-winning producer, NYU professor and cartographer of 'the media universe map', which has been adopted by businesses and analysts across the industry. He'll be charting the new media ecosystem in his talk on plotting the effects of disruption.
Other headliners include Anthony Guarino, executive vice president, global production & studio technology at Paramount; Michael Wise, senior vice president and chief technology officer at Universal Pictures; Richard Berger, chief executive officer at MovieLabs; and Ralph Lee, chief executive officer at BBC Studios Productions.
Beyond the conference, there's plenty more content to seek out: in the show-floor venues – which include the Showcase Theatre in Hall 12, the Innovation Stage in Hall 3 and two theatres in the Content Everywhere area in Hall 5, there will be an array of exhibitor and sponsored content that will include speeches, panels and demos, with many relating to the first two content pillars. The Innovation Stage will also announce the results of the IBC Accelerator Media Innovation Programme, which brings together pioneering media companies and leading-edge technology partners as they collaborate to solve real-world challenges and drive advances across a range of areas.
Hit the Stands 
With over 1000 exhibitors spread across 13 halls, you'll want to get your comfiest shoes ready for exploring IBC. The sheer volume of booths can feel a little overwhelming, but there are a few unmissables in the cine sector we think are worth making a beeline for. A great place to start is in Hall 12, which will house companies showcasing cameras, lighting, lenses, cinema robotics and more. 
Check out Viltrox, which will bring its EPIC series of full-frame anamorphic prime lenses, new Pixel RGB light stick and more. Then, mosey by the Grip Factory Munich stand for a look at pioneering camera-support products including the GF-Primo Ultra, GF-Mod Jib and the GF-Slider. 
Next door in Hall 11, Atomos will be unveiling the latest additions to its expanding range of cloud-enabled monitor-recorders. It's a first chance to see the impressive new Ninja series, plus the world premiere of RemoteView: a new technology that lets you share what's on your Atomos screen monitor and look through any connected camera taking the shot, from anywhere in the world.
Over in Hall 7, pay a visit to LED screen and display solution specialists ROE Visual, which will be debuting new products and offering live demonstrations. The team will also host daily panel discussions with industry-leading specialists in XR, VP and live broadcast, covering topics including 'the challenges of XR in live broadcast studio workflows'. 
"Our stand will be an immersive experience offering an up-close look at our newest products, solutions and technologies that redefine visual experiences," comments Olaf Sperwer, responsible for business development virtual production.
Best in show 
With so much to discover, it pays to do a bit of planning to maximise your time at IBC. Acquaint yourself with the floorplan. Figure out which companies you'd like to connect with and where they're located. Look after your feet (did we mention comfy shoes?), and as blindingly obvious as it sounds, keep fuelled and hydrated. It's also worth taking a look at the schedule to figure out which talks you're most keen to see. 
What you don't need to do, stresses head of content Jaisica Lapsiwala, is plan every second of every day. "I recommend planning a few things – choose the sessions that you really want to go to and put those in your diary," she says. "But don't cram it, because a lot of things that you discover you love, a lot of the people you meet at IBC, will be serendipitous. Plan a bit, but then be really open to meeting people and leaving the door open to conversations. Because you never know where that next meeting can take you."
Meet The Changemakers
Jaisica Lapsiwala tells us what's in store for the Changemakers programme – and what makes this part of IBC so vitally important
Following a successful pilot in 2022, the Changemaker Programme returns this year to shine a spotlight on those driving meaningful change and shaping the culture of our industry for the better. Addressing topics like diversity, inclusivity, sustainability and accessibility, this strand of IBC is free to attend, taking place at The Forum on 17 and 18 September. 
"It's about people and purpose", sums up Jaisica Lapsiwala, who oversees IBC's content programme. "Rather than looking at technical topics, it focuses on media culture. We're covering a broad range of topics, but also bringing together communities who have a vested interest in creating a better media and entertainment culture."
Having enjoyed a warm reception last year, organisers have bolstered the Changemaker Programme: collaborating with a diverse range of organisations to gain insights into the subjects that most need a platform. 
"A lot of research went into this programme – we're working behind the scenes with organisations like RISE, Soho Media Club and Women in Immersive Tech to understand what the issues are," explains Lapsiwala. 
"This year, it's a lot more editorially robust," she continues. "There's more of a narrative, and we're ensuring that we cover a broad range of topics under that banner of 'changemakers'. It's not just gender equality – which you hear about quite often at these conferences – we're looking at ethics, sustainability and the LGBTQ+ community." 
The programme kicks off with a session on inclusive tech from Sasha Scott, head of transformation services for the European Broadcasting Union, and Soumya Sriraman, president of streaming at Qurate Retail Group. Taking a frank look at where we are now and where we need to be, this big-picture, strategic conversation will consider what needs to change and what lies ahead. Meanwhile, Jabbar Sardar, HR director at BBC Studios, will lead a fireside chat on 'putting people first': bringing his experiences to the fore to help others create a culture of empowering employees. There will also be a keynote from Akwasi Ansah, creative director of Netherlands-based inclusive broadcasting station Omroep ZWART, where he'll lay out his vision for a digital landscape that's equitable and accessible. You can then hear from Alexandra Hussenot, CEO at Immersionn and UK lead at Women in Immersive Technologies, in a panel on the matter of ethics in AI. As it grows in prominence in our industry, this discussion will consider the opportunities and limitations of AI.
In addition to the in-person events at the show, the team has launched a Changemakers podcast, sharing stories from people making a difference. Hosted by broadcaster Nadira Tudor, this seven-part series will invite M&E trailblazers to discuss everything from embedding DEI policies to dealing with climate anxiety.
For Lapsiwala, one of the most important aspects of Changemakers is offering the industry a blueprint for enacting change. "It's good to go and understand how others are building stuff into their strategy; it's good to see things through a different lens," she concludes. "There's no right answer to culture and inclusion and sustainability. But the more people we can get together, talking to each other, the more we can change things. For people to go and listen, be inspired and see things from another perspective – and then come out and be able to network with that community will just be invaluable."
Stands not to miss! 
Amaran
Stand 11.B22
Explore Amaran's LED innovations and get clued up on Sidus Link – cutting-edge technologies designed to take your content creation to the next level. You can also get stuck into activities like going live with Twitch streamers and an exclusive creator meet-up in collaboration with the 'INDIE Filmmaker' platform.
Aputure
Stand 11.B22
Step into a realm of LED innovation and engage with Aputure specialists, discovering the future of lighting technology. As well as seeing the latest products, you can quench your thirst at the Aputure 'INFINIBAR', with refreshing drinks and networking opportunities.
ARRI
Stands 12.F28 & 12.F21
Discover how ARRI's camera systems, lenses and accessories in combination with IP-based LED lights from the ARRI Group can deliver truly cinematic images to virtual production, sports and live events, plus boost workflow efficiency. Expect product presentations, case studies and panel discussions. Highlights this year include the SkyPanel family of soft lights and Orbiter, plus the brand's flagship large-format cinematography cameras, the ALEXA 35, and the ALEXA Mini LF. 
Aspectra
Stand 12.C35
Offering a broad range of equipment from major brands such as TVLogic, camRade, Camgear and PAG, Aspectra will showcase products including the prototype armored cover – a high-end camera storage suit made of nylon and anti-theft protective mesh. You can also find out more about the Mini PAGlink Cinergy battery – which enables Mini PAGlink batteries to be linked in series to power high-voltage cameras such as the ARRI ALEXA 35 – plus check out Camgear's newest tripod systems. 
Astera
Stand 12.G44
This leading developer of innovative light solutions for film/event markets will showcase its full, integrated range of lighting solutions, including the newly launched PlutoFresnel and LeoFresnel – two powerful lights delivering the creative potential of fresnel lighting with the practical benefits of LEDs. Gain an insight into the versatility of Astera's products, discovering how they've been used on some of the year's biggest broadcast productions. 
Atomos
Stand: 11.D25 
Atomos will show the latest in its range of cloud-enabled monitor-recorders, such as the Ninja series and the world premiere of RemoteView – a new technology that lets you share what's on your Atomos screen monitor and look through any connected camera taking the shot, from anywhere in the world. There will also be live presentations on topics such as advanced camera-to-cloud workflows and remote live production, an overview of the new AtomOS 11 and speakers from Adobe and Assimilate.
Core SWX
Stand 11.A26 
A team with a passion for empowering creators in the ever-changing landscape of media production, Core SWX believes that a project should not be limited by the availability of power and charging solutions. Pop along to the stand to get to know the range of innovative and reliable power solutions available to the broadcast, digital cinema, professional video, lighting and grip industries.
Creamsource
Stand 12.F33 
The Creamsource team will be on hand to demonstrate its latest technologies. Creamsource's top-spec LED fixtures have high-speed capabilities, IP65 weather proofing and can be counted on for creative use across a range of applications. As well as the flagship Vortex8, visitors can get hands-on with the Vortex4, SpaceX, Micro Range and the recently released LNX Mounting system for the Vortex series. The new foldable yet robust Vortex8 yokes will also be on show.
Deity
Stand 8.C78 
Step into a world of sound recording innovation at the Deity stand, where you can expect demos, discussions and a first look at products still in the making, but poised to redefine the workflow of sound mixers in the near future. A highlight this year is the Deity Theos – a state-of-the-art system designed to make audio recording seamless and stress-free. 
Grip Factory Munich (GFM)
Stand: 12.D31
GFM is set to make waves with their cutting-edge camera support products at this year's IBC. Get ready to check out some of their latest innovations, such as the GF-Primo Ultra, representing a leap forward from the renowned GF-Primo Dolly, seamlessly combining conventional and crab steering. The team will also be showcasing exciting products such as the GF-Mod Jib – a modular but solid jib that elevates your shooting experience with its versatility – plus the GF-Turtle Base, GF-Slider and many more.
Hollyland
Stand 11.B34
Hollyland specialises in video solutions, intercom systems, wireless microphones, cameras and accessories. This year at IBC, the company will showcase many of its regular products as well as its new live-streaming camera, the VenusLiv. The Hollyland team will provide a demonstration of its streaming solution, combining the VenusLiv with the new Lark Max microphone.
IDX
Stand 12.C25
IDX will show its full range of batteries, including the new B-Mount and the updated Imicro Range. The B-Mount range of batteries includes the HV-160B and HV-320B – both featuring iUSB-PD for connecting compatible accessories, including charging and D-Tap outputs. The BL-4SX four-way charger will also be on display. And the updated Imicro range includes an even smaller model – the Imicro-50P – perfect for operators who need a very lightweight, compact battery. 
Motion Impossible
Stand 12.G48
Visitors can check out the ground-breaking AGITO and M-Series Remote Dolly systems, offering the perfect solutions for moving and stabilising cameras in broadcast, film, VR and virtual production. A 'Swiss-army knife for filmmakers', the AGITO offers multiple configurations to suit your filming needs. 
ROE Visual
Stand 7.C26
A leading name in cutting-edge LED technology, ROE Visual will showcase its latest products and technologies, providing a glimpse into the future of visual storytelling and media production. The Ruby LED series will take centre stage, featuring the Ruby RB1.2, RB1.5, and RB1.9BV2-C panels alongside the Black Marble LED floor, the BM2.
Rohde & Schwarz
Stand 7.B21  
Visit Rohde & Schwarz, whose media solutions deliver excellent performance, reliability and security. The SpycerNode2, the high-capacity storage network that launched at NAB this year, has a new version, providing rapid-access cache through NVMe solid-state storage, as well as scaling from a few terabytes to exabyte capacities in multiple locations plus the cloud. CLIPSTER, meanwhile, is recognised as the gold standard in mastering and deliverables. The CLIPSTER 6 Mark 2 sees a 100% speed increase, creating the most complex package of deliverables, including Ultra HD, DCP and IMF, to the tightest timescales. 
Rotolight
Stand 12.A14 
Designing innovative LED lighting products for the motion picture and photographic industries, Rotolight products have pioneered numerous industry-first, patented technologies with over 50 granted patents, designs and trademarks around the world such as the first suite of cinematic lighting effects (CineSFX) and the world's first electronic diffusion technology (SmartSoft).
SHOTOVER Systems
Stand 12.A20 
SHOTOVER Systems designs and manufactures high-performance gyro-stabilised camera systems coupled with the most advanced augmented-reality mapping and mission-management software. Discover the company's range, which offers an end-to-end solution while delivering an unprecedented level of control, versatility and ease-of-use in a compact package, backed by world-class support.
Signiant
Stand: 5.C74
More than just fast file transfers – the Signiant platform is an integrated set of SaaS products that make media content flow easier and more efficient. Visit the stand to learn how Signiant helps media companies of all sizes and view the many new innovations on the platform, including support for cloud-to-cloud operations where both the source and destination are cloud storage endpoints, growing files functionality for both on-premises and cloud storage endpoints, and the Media Engine platform service, which makes it easy to search, preview and interact with media assets.
Symply
Stand 7.C21
Specialising in designing and engineering storage solutions that cater to the needs of content creators, Symply's products are not only efficient and reliable but also cost effective. From the initial stages of data ingest and acquisition in production to post-production and VFX, then also to delivery, archiving and future monetisation strategies, Symply offers a comprehensive range of storage options including RAID, LTO, Cloud, on-premise S3 Object Storage as well as shared-storage appliances.
True Lens Services
Stand 12.A48
One of the UK's largest lens rehousing and service providers, True Lens Services is now recognised worldwide for their lens innovation, with an unbeatable reputation in the design, manufacture and servicing of filming lenses. The company has been very busy this year, working on their most recent project – the Zeiss Super Speeds. Visit the stand to see what the team has been up to and what they're working on next!
Viltrox
Stand: 12.B54
Viltrox will bring its EPIC series of full-frame Anamorphic prime lenses: with 35mm/50mm/75mm T2.0 1.33X, in PL/E/L-mounts, plus PL-mount adapters – including PL-RF, PL-M43, PL-E, PL-L, and more. There will also be a chance to get a first look at the new Pixel RGB light stick, plus lots more on the stills photography gear line-up, including new lens arrivals like the Pro Series 75mm f/1.2 E/Z/X-mount lenses plus a digital full-frame 16mm f/1.8 FE.
Vocas
Stand 12.D25
Vocas will showcase its collection of top-of-the-line camera accessories, with a range catering to models including Sony's FX6, FX9 and VENICE; RED DSMC3 line and the ARRI ALEXA 35. Additionally, it will unveil an array of Prosup sliders and a dolly, guaranteeing smooth and dynamic camera movements. Visitors can also check out the CaseCart, a cutting-edge solution equipped with a wide range of accessories and innovative features. One standout addition is the Digital Imaging Technician (DIT) kit, designed to facilitate secure transportation and easy set-up of essential equipment such as monitors and laptops during production.
Western Digital
Stands 8.MS24 & 8.MS25
Learn more about the high-performance portfolio of Western Digital and its SanDisk Professional line, including the latest embedded flash solutions and large platforms. With its broad portfolio, Western Digital helps production industry pros address data challenges caused by the increased use of AI, special effects, and the transition from 4K to 8K and 12K. This affects not only the storage capacity during the filming/production process but has implications for end devices like TVs and mobile phones that must keep up with the capacity and speed of downloaded data. 
Originally featured in the September 2023 issue of Definition.