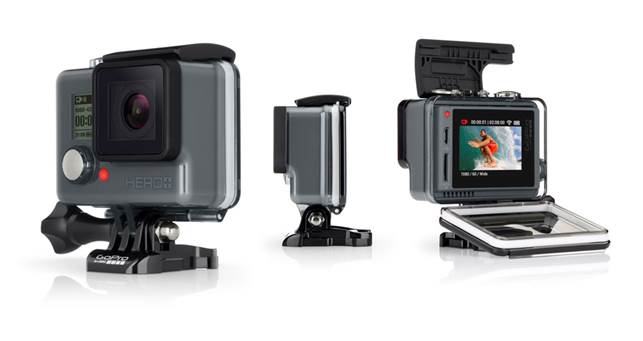 GoPro Goes Back To Basics With New Entry Level Camera
Posted on Jun 1, 2015 by Julian Mitchell
GoPro goes back to basics with their new HERO+LCD camera
GoPro is a massive success as a publicly quoted company but shareholders bring their own pressure and under a previously fluctuating share price and increased competition from other action cameras – like the new Bandit from TOMTOM – and smart phones, GoPro has gone back to their roots with the new HERO+ LCD camera. The new model's specs are not pushing the 'bleeding edge' as founder Nick Woodman commented but allow a bigger market to jump on the brand.
This announcement plus their tie-up with Google as the camera of choice for their new Jump software drive VR tech and their announcement of a quadrocopter coming next year in fact increased the GoPro share price by 7% this week.
HERO+LCD has a Built-In Touch Display, In-Camera Video Trimming, Integrated Wi-Fi and Bluetooth. High definition 1080p60 video and 8MP photos, a touch display and an all-new in-camera video trimming feature. Like the entry-level HERO, the HERO+ LCD is built directly into its waterproof housing.
Waterproof to 131' (40m), HERO+ LCD also includes features like HiLight Tagging and in-camera video trimming. HiLight Tagging lets you mark key moments while recording and during playback so you can find them later, and the video trimming feature allows you to create short clips in-camera for sharing without a computer.
Built-in Wi-Fi and Bluetooth connect the HERO+ LCD to a GoPro App-enabled smartphone or tablet. The GoPro App also allows for content sharing to Instagram, Facebook, Twitter and combines with the new in-camera video trimming feature to form a content sharing solution.
"HERO+ LCD illustrates that even as we push the limits of life capture with bleeding-edge devices like the HERO4 Black, we're also focused on delivering accessible, high-quality capture solutions to anyone wanting to GoPro," said Nick Woodman, founder and CEO of GoPro.
Price with be £249.99. The new camera should be out in the UK in July. June in the USA.
Basic spec are:
•         Touch display for camera control, shot framing, and in-camera playback
•         Built-in Wi-Fi and Bluetooth enables connectivity to the GoPro App and Smart Remote
•         HiLight Tagging lets you mark key moments while recording or during playback for quicker editing
•         In-camera video trimming allows you to create short clips for content sharing without a computer
•         Power on and record automatically with the press of a single button with QuikCapture setting
•         Long-lasting battery delivers a claimed two hours of recording time
•         Supports microSD cards (at least Class 10 or UHS-I) up to 64GB
Introducing HERO+ LCD. Capture incredible moments and relive them on the spot. From July 12th: http://t.co/3znmz8riqv pic.twitter.com/P5WsXU9KFs

— GoPro® (@GoPro) June 1, 2015