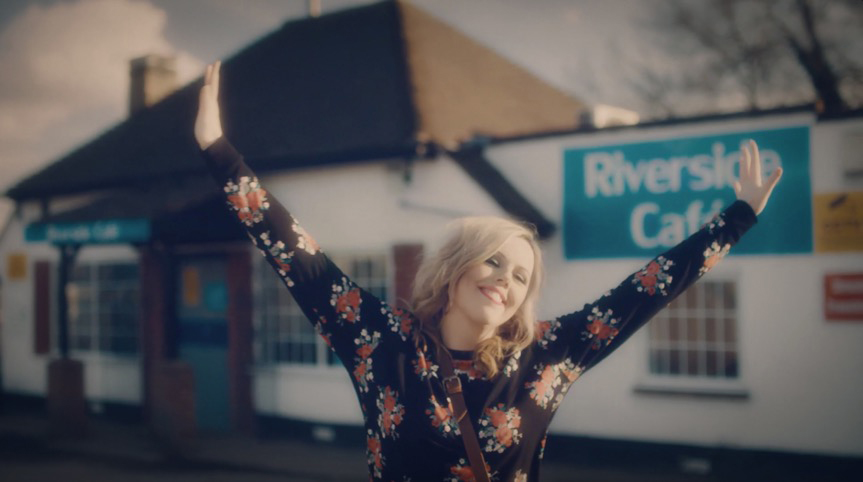 Get your face on
Posted on Feb 14, 2018 by Julian Mitchell
The ARRI Amira isn't best known for use on scripted comedy shows but DOP Benedict Spence found it the perfect camera for E4's GameFace
When director Andrew Chaplin and I shot the pilot for GameFace in 2013 we didn't realise it would be four years until we were allowed to shoot the full six-part series. With GameFace we were attempting to tell a heartfelt story about a woman struggling through life, but also – and more importantly – make it funny. Writer and star Roisin Conaty poured her heart and soul into the script, which is semi-autobiographical, so Andrew Chaplin and I were keen to really do it justice in terms of visual storytelling. Because we had to work to a UK comedy schedule, speed of working was key to completing
the day.
We shot the show over six weeks on location in London, on the ARRI Amira Premium with a set of Cooke 5/i primes, all supplied by S+O Media. Lighting was supplied by Cinelease and included ARRI, Kinoflo and Litegear kit.
I've been shooting on the Alexa sensor since 2011 and I love how it sees the world. The way it handles highlights, skin tones and shadows feels cinematically natural and beautiful, and I know exactly how far I can push it. Technically, there are sensors which perhaps have higher resolution or greater latitude, but none in my opinion feel as good as the Alexa sensors.
Very early on in production Andrew and I decided that GameFace should be a handheld show. The gently observational style would create more of a subjective gaze for the viewer, plus it would allow Roisin and the cast to be more natural with their performances, rather than concentrating on the technical aspects of hitting marks and the like. I also chose to operate the camera myself – I find that being right there on set with the camera allows me to quickly identify any lighting issues, a process which being tucked away with a monitor slows down. Also, I like being able to chat to the cast and crew in between takes, as I think it creates a nice atmosphere on set! The ARRI Amira is without a doubt the best handheld camera I've ever worked with and this, combined with the sensor it shares with the Alexa, is what made me choose it for the show. The ability to slide the shoulder and top handle back and forth to set the balance is the best system I've ever used in a handheld camera. In prep, first AC Dan Villanueva set and balanced a number of settings for the balance (for primes, zooms and so forth), which meant that whatever the camera setup for the particular scene, almost instantly he could set the camera on my shoulder directly on its centre of gravity.
Balance
Fully loaded with lens, matte box, UMD and more, the Amira isn't a light camera, but being able to set the balance perfectly makes a huge difference to how long I can have the camera on my shoulder. To be honest, I prefer a heavier camera – I think the inertia from it makes it move in a very cinematic way.
One of the more recent developments with the Amira is the selection of LUTs that are available, such as ARRI's look library, for example. I find this an amazingly powerful asset, as it can be used to affect the monitoring and metadata for the offline edit, working as a kind of one-light on steroids! It's a fantastic tool to have on set, to make your setups really sing. Andrew Chaplin and I settled on a LUT before production which we loaded into the Amira and which followed all the way through post – and even ended up being used as a jumping off point for the grade. It really is one of my favourite on-set cheats!
We shot in LOG in 4:2:2 HQ, in HD mode, with about 5% of shots in UHD 4:4:4 for technical and post production use. Being broadcast on terrestrial television on E4 in the UK and streamed in the USA on Hulu meant that delivery only needed to be HD, but the Amira's ability to instantly swap between the two can be a lifesaver when needed. I suppose not being able to shoot RAW can be an issue for some productions, but on our UK TV comedy budget it would have been way too much data.
The Cooke 5/i primes were an absolute dream to use. We had an eight-lens set with, the 40mm and 65mm being the most-used lenses on the series. The 40mm is a great focal length – I think of it as a 50mm but funnier! You can get the same sort of frame as a 50mm but with a bit more perspective: it doesn't flatten faces out as much as the 50mm. Being able to shoot T1.4 whenever needed is also a dream – it gave us total control over depth-of-field, which was really handy when we were shooting on location. Also, for night exteriors, T1.4 allowed us to work with very nimble lighting setups, effective in terms of cost and manpower. Of course you also have the 'Cooke Look', very subtle, and lovely on faces and skin tones. The eight-lens set was a luxury, but one I found very useful for our B-Camera days. I knew we had enough lenses for both cameras and I wouldn't have to resort to zooms. If we had gone for a more expensive camera system it may well have been that we couldn't afford such a great set of primes.
I was lucky enough to have legendary gaffer Alan Martin with us for GameFace. A regular with John Matheson and Hoyte van Hoytema, Alan has gaffered huge films in the past and was fantastic to work with. Cinelease provided us with a fantastic lighting package, with
ARRI M series lamps and a range of other kit.
LEDs
I found that I've started to really rely on LED lighting and that was very true for GameFace. As well as having larger lamps lighting through windows, I always have a couple of Litegear Litemats 4s on the floor. They are large enough to be truly soft sources, controllable with egg crates and light enough to rig quickly or boom out somewhere. We also had an ARRI Skypanel S60C, which I love to pieces. It's big and heavy, but being able to select any gel, to eye, on set, opens up a world of creative possibilities with colour. However, even with all the high-tech kit I so often fall back on simple tungsten China balls and covered wagons for night interior work. I love how natural yet flattering they look and when slightly dimmed they really bring out the warmth in skin tone. Plus, they are super-cheap so it keeps the line producer happy!
Overall, GameFace has been exceptionally well received. It's sweet, occasionally poignant but most of all funny. I'm always amused to think how all these technical choices are made in order to bring something as human and fun as GameFace to life.