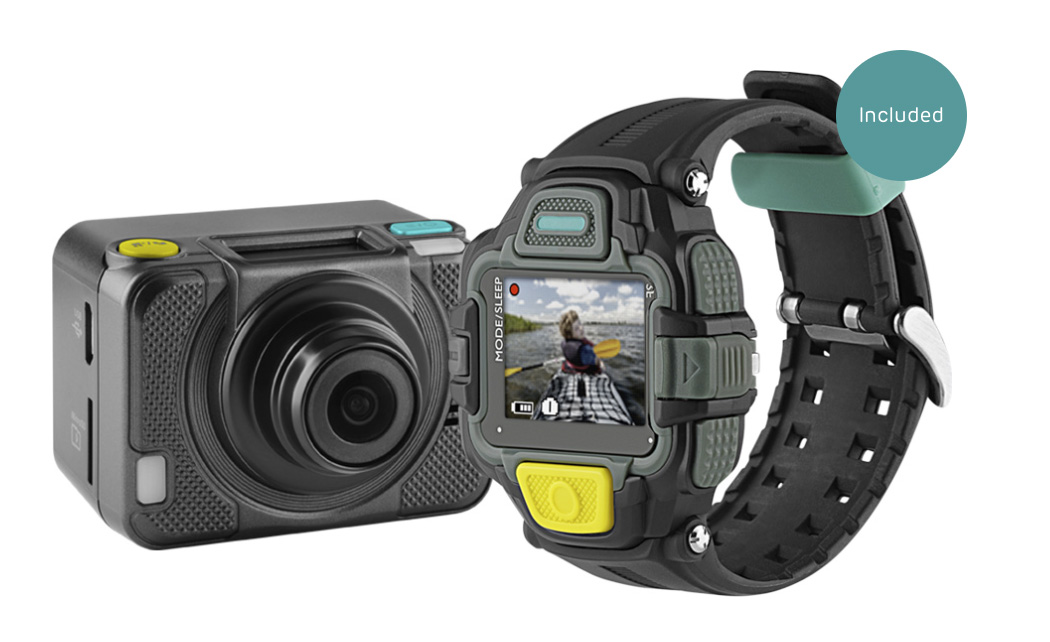 EE Launch a 4G connected Action Camera
Posted on Jun 9, 2015 by Julian Mitchell
The new EE action cam has hardly any recording memory but is expandable. But the idea is to use the EE Network to stream 4G directly to devices. The watch is your viewfinder.
The camera specs of EE's new and first action camera are relatively unimpressive with 1080p 30fps performance (also 720p at 60fps) with a 13MP stills performance. Lens is f/2.8, 3.4mm. You've got a miserly 2.5GB recording storage although there is a MicroSD card slot so you could go up to 64GB.
But the interest is in its connectivity, EE being a telephone/data network wants you to use their 4G network to stream your video live to devices (at only 720p). The camera has no live view but uses the system's wrist viewer to control the camera and frame your shots.
Unsurprisingly there is an App for further control and a GoPro looking waterproof case for a claimed 60 metre depth, there's also a drier protective case, both are included in the price. Permanent live view will give you around 1.5 hours of streaming.
The camera can stream over 3G but the experience might be painful although 3G is well spread out in the UK. EE's 4G coverage is another matter and at the moment hovers mainly over larger cities. Check your coverage here
Prices are like buying a phone contract, the currency is data not cameras.
There are three options.
Launch offer is free for just £10 a month when you share data from your 4GEE phone. This offer is available from today until July 12.
Pay as you go option is get the 4GEE Action Cam for £299.99, pre-loaded with 2GB of data. Or pay £399.99 for 24GB.
Pay monthly option is get the 4GEE Action Cam for only £49.99 upfront and choose between a 2GB or 10GB plan.
In the age of Periscope and Meerkat EE's action cam isn't that thrilling because those two apps have the social aspect to them. Without that you have UStream all over again which disappeared without trace a few years ago.