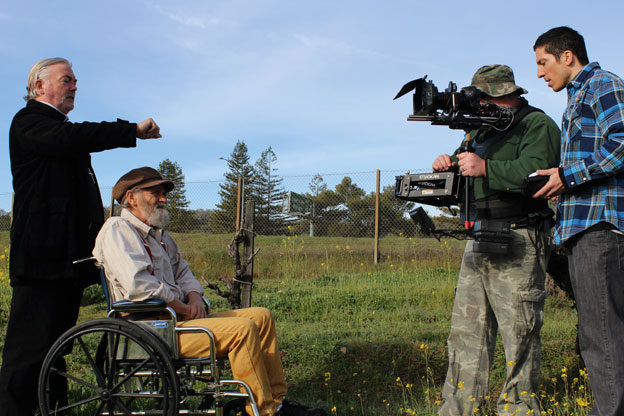 DSLR Case Study: Lie With Me
Posted on Jun 19, 2012 by Alex Fice
Still from Lie With MeNow we are a few years down the road of using stills cameras as movie tools, there is a wealth of information and help out there for those who want to use them. There is using them for small productions and there is shooting with them for an entire movie which is what the Brandi Brothers have done
When you're an independent film maker with a limited budget and a yearning to use film, what camera do you use apart from a film one? This was the situation that Director Jamison Brandi found himself in when he wanted to shoot a film based on a play that had successfully been staged in LA and Washington. The play was Lie With Me and it impressed Jamison so much he bought it from the playwright Keith Bridges and spent six month adapting it for the screen.
Apart from having a name like a drinks order Jamison's primary goal and ambition in life is to make films that look like they were shot on film. His is a classic independent movie story. Film school was all about creating the film look with digital adaptors for video cameras giving him the fix of a shallow depth of field while actually shooting in film seemed something older people did especially when all his peers were surfing on the digital camera wave.
He had some experience with a Sony f900 at school and loved it's clarity and ease of use, but it didn't lessen the yearning if not for film, for the film look.
His production company is co-owned with his twin brother, Jason and together they made the horror film Hide with a Canon XL H1 HDV camera. Although they marketed it at the AFM it didn't give them the break they sought in the film business, so Jamison moved on with Lie With Me. The story is one of a dysfunctional family with years of sexual abuse at its heart. Difficult content but with its appeal of character study started Jamison thinking of how he could shoot it with the budget he had.
Jamison Brandi (left) with his twin Jason and their Canon 7DIt was the movie Like Crazy shot single camera with a Canon EOS 7D (which HD Magazine covered a couple of issues ago) that made him think of going down the DSLR route. "If they could do, we could!", thought Jamison. "The Canon 7D gives you flexibility, you can move around quickly and grab shots you might not be able to get with a big camera. You prop it against a bar and you've got your close-up, you prop it against the pool table and you've got your wide shot. If you look at the footage it looks like you shot on film and taken two days to shoot it. In reality it would take us 20 minutes.
"We were nervous about what it was going to look like on-screen so we paid attention to pulling the best focus we could, it's not easy I'm not going to lie to you. We've had a few years of experience so shooting this way isn't probably the way you want to go as your first film project.
"Focus is the most difficult part of it. If you try to do any kind of panning or whip panning, anything that's going to be really dramatic you're going to break up instantly. We were using 200mm lenses and then on top of that you have the crop factor so in reality you're at 240mm."
He knew that he had six weeks of rehearsals for his actors so he could trust them to a certain degree while concentrating on using the 7D. His team weren't as enthusiastic about the use of the stills camera as he was, in fact the initial idea was to shoot it with Sony's F3 camera which would still give him that 35mm look. But Jamison with the inspiration of Like Crazy driving him on was sure it would be successful. "The team reminded me that only one movie had ever been shot this way and I said 'Lets make ours number two'."
"We started shooting with the thought, 'Lets shoot this not like a play but with a similar sense of feeling.' When you're shooting with something like the 7D you know there are shots you don't want to do, you have to respect it's limitations. But when you're limited like that it brings out your creativity.
"We were not going to spend thousands of dollars a day on all the Prime lenses so we came up with a plan to cover our shooting range. We decided to use the Canon zoom lenses, the 24-70mm and the 70-200m. We didn't want them as zoom lenses but were going to set them at certain focal lengths and use them as Primes lenses in that way.
Jamison put the 7D on a Steadicam rig which was effective even though it looks strange"We had three Zeiss lenses that we were going to use for 'money shots'. I built the shot list with the 7D in mind, I had my wide shots and my money shots which was always going to be something with a shallow depth of field. We were fortunate that 45% of the movie was outside and the 7D likes light!"
Jamison had done his homework about shooting with a HDSLR. Although he liked the immediacy of use with the camera he still insisted that it was built-up in film camera mode with mattebox and follow focus and sometimes even on a Steadicam rig (see pic below).
The homework included two months of trawling through hours of YouTube videos collating hints and tips from people who had already shot this way. Also he would ask every post house he could what they thought about it. All that information and the fact that you can rent a camera for $1000 a week makes it more of a calculated risk.
He was also ready for the Moiré and the rolling shutter issues and with his DoP Jon Edwards tried to avoid anything that would repeats its pattern, a sure way to produce Moiré. They did have the problem when shooting at a winery out of season when all the vines looked the same. "We used long lenses and went as far back as we could go so it was more of a background thing and more soft focus. If you're aware of it you can avoid it."
Jamison also veered from the Like Crazy way of doing things by using a Sigma 8-16mm lens which they were very nervous of using, "We had to use something to give us room in the farmhouse we were shooting in. The rooms were small and the story demanded a bit more drama.
"I asked Jon the DP if we could use it, it is the widest you can go without distortion. I didn't want all close-ups when we came inside from the large vistas we had out there. To me that shouts 'television' and we didn't want that we wanted the film look."
Of course shooting with a codec like H.264 is one thing, then you have to transcode to ProRes which expands your storage requirements by a factor of about five.
Lie With Me is nearing picture lock and Jamison is looking forward to adding more filters to make the footage look even more like film in the grade. But the success of such a risky project is in the preparation and Jamison's research is something that anybody can achieve.